Receiver Anquan Boldin takes part -- next to Eric Green -- in the Cardinals' annual conditioning test Thursday in Flagstaff (For run test info, click here).
FLAGSTAFF -- If there was any question about how wide receiver Anquan Boldin felt about his contract situation, there isn't any longer.
After completing the team's conditioning run Thursday, Boldin met with the media for the first time and proceeded to say, given an absence of a new deal, he no longer wanted to negotiate a new contract with the Cardinals and would not sign an extension.
"For me it's been disappointing, but it is what it is," Boldin said matter-of-factly. "At this point, I'm not even interested in a contract."
Boldin added that the concept of his getting a new deal began two years ago and "I was promised a new deal before the season."
"Right now I don't want a deal," said Boldin, who has three years remaining on his
[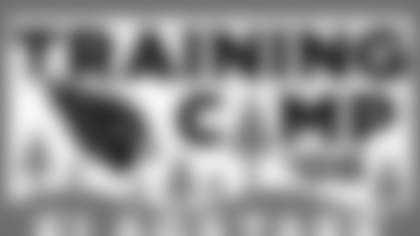 ](http://www.azcardinals.com/news/training_camp.php)
current contract. "People might think I am being funny or saying it just to say it, but for me, I'm tired of it. I wash my hands of the whole situation. My agent is under orders to not negotiate."
Boldin said he felt led on by the team, "but if you ask them, they'd probably say different."
Saying he didn't think the damage could be undone, Boldin added he would play out his contract, which is scheduled to pay him $2.5 million, $2.75 million and $3 million in salary over that time.
While he insisted he never asked for a trade in the offseason, when asked if he'd want a trade now Boldin said "I don't know right now. I can't answer that."
Coach Ken Whisenhunt said he understood Boldin's frustration.
"We are sensitive to the fact Anquan wants a new contract," Whisenhunt said. "The first chance we get we will try to address it. We're going to continue to try and do that. We will go forward and hopefully everything will go smoothly."
But, Whisenhunt added, the Cardinals were also "trying to build a team that can win games" and had to work getting multiple good players and fit them under the salary cap.
Boldin and Whisenhunt agreed on one point – that Boldin's play would not suffer despite the contract rift.
"I will do everything my contract requires me to," Boldin said. "I will outwork anybody on this field. I will show up and be on time. I will perform like Anquan. I don't know no other way."
Boldin's agent, Drew Rosenhaus, was in Flagstaff Thursday. Boldin said he talked to general manager Rod Graves Wednesday, and Boldin said his do-not-negotiate message was delivered.
Boldin renegotiated his rookie contract into the current deal at the start of training camp in 2005, but he said he didn't feel the need to justify getting another new deal.
"I've earned it," Boldin said. "I think my numbers speak for themselves, and (the team) even came out publicly and said I outplayed my contract. I don't have to make a case to anybody why I need a new contract. That's self-explanatory."
Boldin insisted the four-year, $40-million contract signed by Larry Fitzgerald had nothing to do with his desire for his own new contract.
"Larry earned everything he got," Boldin said.
"We never said we didn't want Anquan on our team and as we go forward we want to keep that," Whisenhunt said. "I don't think that's ever going to change.
"I think the reason he is a leader is because of the way he plays and the way he works. I don't think that is going to change. When you talk about professionals, Anquan, to me, is one of the ultimate professionals."
This article has been reproduced in a new format and may be missing content or contain faulty links. Please use the Contact Us link in our site footer to report an issue.