After spending time in his career as both a cornerback and safety, the potential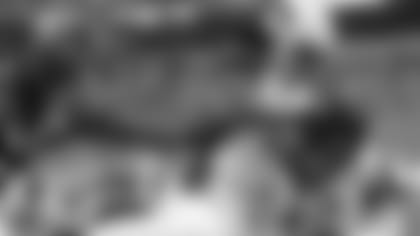 rule change made Matt Ware smile.
"We deserve to get something," Ware said of defensive backs, who stand to gain some ground against pass catchers at the NFL owners meetings this week.
One of the subjects being debated is the force-out rule, which currently allows an official to call a catch good even if a receiver doesn't get two feet inbounds – as long as the official determines the defender has pushed the receiver out.
Under the new rule, unless a receiver is physically carried out of bounds by a defender, he will have to have gotten both feet down.
"Hey, it is an offensive game and defensive backs do have their hands tied with a lot of things," wide receiver Larry Fitzgerald said. "That rule, it could have worked out bad for us against Cleveland and fortunately it worked out OK. I have had a couple catches throughout my career that maybe … could have gone either way and they gave them to me."
The Cleveland game from last season is the one in which most Cardinals fans remember. The Browns still believe tight end Kellen Winslow should have been credited with a touchdown catch on the final play of what became a 27-21 Arizona win, after Browns players thought Cards' defensive backs Oliver Celestin and Antrel Rolle pushed Winslow out.
Under the new designation, officials would not have the ability to overrule the fact Winslow did not get two feet down.
Owners are expected to vote on the change by Wednesday.
"You can't worry about it, but (defensive backs) are already taught, if you are running by the sideline or by the end line in the end zone, to push you out," receiver Jerheme Urban said. "Now they could do it when you are in the air, it definitely plays into their hands."
Urban said it will likely shrink the field a little bit for the offense, but Fitzgerald said receivers would find a way to cope.
"We have been doing this such a long time it is second nature to drag your feet or tap your feet whatever you need to do on the sideline," Fitzgerald said.
Added Ware, "You can't touch a (receiver) other than that. So this would be good for me."
HAIR TODAY, BUT TOMORROW?
While the potential rule change suggested by the Kansas City Chiefs – forbidding long hair covering up nameplates or numbers on the back of the uniform – has been tabled for a potential vote in May, count Fitzgerald as one of the players who isn't thrilled it is an issue.
"I don't think they should dictate how we wear our hair," Fitzgerald said. "We should all be able to say how we wear our hair. But we are just hired hands here. We do as we are told."
Fitzgerald insisted he could find a way to tuck his long locks under his helmet if needed.
"If that's what it would take to keep it, that's what I will have to do," Fitzgerald said. "But it definitely would be a pain to do it every week."
Ware looks noticeably stronger and said his weight is up to 225 pounds from 212 of last season. Ware did say he wanted to play at 220, however, so it would be easier to keep up with pass receivers. …
While the team continues to talk with a handful of free agents, no new signings were expected Tuesday. * * *
This article has been reproduced in a new format and may be missing content or contain faulty links. Please use the Contact Us link in our site footer to report an issue.