Briefly, I talked to Karlos Dansby yesterday after Adrian Wilson's press conference was over. It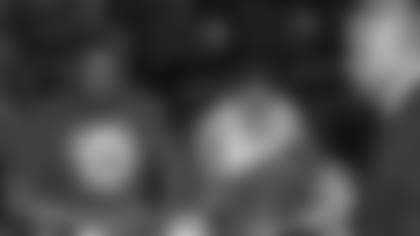 wasn't at length. There was no reason for it. Since Dansby hired Todd France, Dansby has been polite but careful whenever he talks about his own contract situation, referring questions to France repeatedly. I asked Karlos if he had planned to come all along, and he said Adrian asked him to come, which Dansby didn't have a problem given their friendship. So does Dansby (here with his wife, talking to GM Rod Graves after Wilson's announcement) expect Wilson to come to his presser? "He'll be there," Dansby said.
That's assuming there is one for Dansby, at least in Arizona. Does the fact Wilson is sticking around for sure influence Dansby's desire to stay? Does he still want to make a splash in free agency regardless? One thing seems certain – unless the Cards re-do Dansby's deal and lower than $9.7M cap figure, it doesn't look like there will be any other extensions done (see Boldin, Anquan). The Cards look like they need to clear space with some contract restructurings and/or other maneuvers just to sign their rookies.
Looking at Wilson's contract, he is due a roster bonus of $3 million in 2011 (which was apparently considered "guaranteed," probably by Wilson's side, in that original $18.5M "guaranteed" number. A roster bonus is far from a guarantee, especially two years down the road). If reports are right that Wilson now will make $8.5 million in salary this season (a raise from the $4.75 million he had been scheduled to make), I figure you could deduce Wilson received a $7M signing bonus or some combination of bonuses in this first year. Adding $7M and $8.5M and $3M gets you to that $18.5M in "guarantees." And if Wilson did get $7M in bonuses to spread over five seasons (cap-wise, and that's assuming there will be a cap beyond this season), the deal is very much front-loaded.
It means the Cards' cap space has got to be very limited, since Wilson's cap number is expected to be a little more than $10M, when it had been $5.5M. Shaving another $5M off the cap gives the team a lot less space – they were already one of the teams with the least amount of cap room. (Ballparking about $1M now? I'll have to see if someone can confirm that).
Everyone wonders what it means for Boldin. Perhaps absolutely nothing. Take the cap situation out of it. Take out the possibility the Cards want to get to a point where they are addressing extensions only when a player is about to get to the final year of his deal. Financially – in a rough economy for everyone, including your local NFL teams – multiple big extensions are tough in a given year. The Cards will dole out about $19M to by the end of the calendar year, they'll give Wilson roughly $15M, they'll already be giving Dansby at least $9.7M. Like any business, an NFL team tries to organize a budget. With that much cash outlay already, fixing Boldin's 2009 costs at $3M or so wouldn't be crazy, even if Q wouldn't be that happy about it. As Wilson noted yesterday about his new deal taking some time, "it's a lot of money being thrown around."