From Nathan Palmer via azcardinals.com:
"What are your thoughts on the D.J. Humphries contract? I think that he was slightly overpaid but coming off a 16-game season he would get more in the market. I like the length."
I've said this before and I will say it again -- you are paid what the market says you should be paid. So you can't call Humphries overpaid and in the same sentence acknowledge he would've gotten more in the market. This is what Humphries costs for 2020 and beyond. (And I strongly disagree with those commenting that he wouldn't have gotten such money on the open market.) I know that bothers some, but it's reality. Someone was going to pay Humphries this kind of money. It is fair to argue that you would rather let him go, but then, who replaces him? Are you rolling the dice with a rookie offensive lineman at No. 8, with a class that seems to be garnering up-and-down analysis on what each player will be long-term? And if you franchise Humphries, he was going to make $16M for this year alone, and then you are back in this position next year. I think, given the length and the marketplace, the pact makes sense for both sides. I understand not everyone agrees.
From Charles Oliver via azcardinals.com:
"Darren, I understand that the 'C' on uniforms means you are a captain. But, what do the stars mean? Some stars are white and some are gold, what do the colors mean?"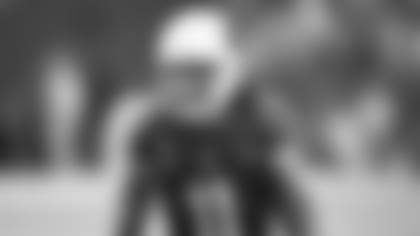 The gold stars mean how many years a player has been captain, to a maximum of four -- so Larry Fitzgerald, who has been a captain more than four years, is totally gold going forward.
From J McGill via azcardinals.com:
"I would like to see the Cards bring back Brett Hundley to back up Kyler Murray. I think he did a great job backing up Kyler when he was injured. What do you think?"
I think Brett is a good fit with this team, in this offense, and backing up Murray. So yes, I'd like to see him return. My guess is that will happen, but we will see.
The new league year -- which is the day free agency officially begins -- is March 18 at 2 p.m. Arizona time. The franchise tag -- which might've been in play for the Cardinals for Humphries but now is unlikely to be used -- can be applied Feb. 25 through March 10. Those are the same dates to use the transition tag.
From Tom Cowley via azcardinals.com:
"Realistically, which positions that are a need would you think we have the best chance (availability/financially capable) to get this March in free agency? The draft is a different source since those guys are really one year away from being effective starters. How many need spots can we fill given our budget? No basketcases need apply, I hope -- enough already!"
Curious to know who you think are already "basketcases." That seems odd to me. As for positions, we'll see. We don't know the prices for anyone, or even who exactly will hit the market. So going off The Athletic's latest list of the top free agents available (and everyone's list is different, and that can include the Cardinals), there are enough possibilities on the defensive line, at inside linebacker, pass rusher and maybe offensive line -- where the Cards can pick up help and afford it. Now, will it be the top guy available at each spot? No, and that's for multiple reasons.
From David Brown via azcardinals.com:
"With Larry Fitzgerald re-signing for next year; do you think the Cardinals would be wise to bring Antonio Brown in to see if he has any serious football aspirations left? I think with Brown and Fitz in the same lineup, defensive coordinators would have a hard time setting up defenses to stop the Cards. I realize that Antonio would have to change his entire attitude, but with Fitz around he might be able to make the change. I read your columns daily and am impressed with your football acumen."
I appreciate the compliment, David, and hope you understand when I say, in terms of Brown, I do not think that would be wise. Brown has talent. But the risk would be far too great, and there is no reason to throw an unnecessary wrench into this situation.
From Joe Cardea via azcardinals.com:
"Darren, why not draft a top tackle at number 8 along with keeping D.J. Humphries. Give the rookie a couple years to develop at right tackle or as a swing-tackle backup. I've been reading that college offensive lineman take time to develop. Then put the rookie or Humphries at whatever position they've earned. Is it that crazy to switch tackles from side to side? With salary inflation paying Hump starting LT money today will probably be reasonable RT in a few years. And we get two good tackles."
These are reasonable talking points, but mostly, the Cardinals can't afford to take a player at No. 8 overall to stash him. It was one thing when the Cards were strong and drafted Humphries at 26 and kept him on the bench. At 8, and with a team that needs upgrades, you need someone who can walk in and play a role. You can have the same concept with a second-round pick, or third-round or fourth-round.
From Michael Travers via azcardinals.com:
"Hello Darren, love reading your content and listening to your podcast. Thanks again for this forum. Recently there has been a lot of chatter about the Cardinals and potentially Arizona being a destination for free agents. According to sportrac.com, the Cardinals have $51M available cap space for 2020 with a league average of $41M. (This question came prior to the Humphries signing.) Now this is a considerable amount. In the recent past after the team self-scouts they have filled obvious holes (ILB, CB, Pass Rusher, OL) but unfortunately, not all panned out. This year with a head coach who favors the offense and a general manager whose job is to fill both sides of the ball, and understanding you cannot give away any secrets, could there be some free-agent surprises, like A.J. Green, Amari Cooper or Jack Conklin?"
Well, I appreciate the idea that you'd think I had any secrets to give away. Could there be a surprise? I would doubt it, at least in the context you are setting up -- some big-fish free agent (although count me as someone who love to at least look into Chris Jones if he becomes available.) I'll be curious to see what Conklin's price will be, but with Humphries re-upping, I don't know if they are spending a mint on another tackle. Spending big dollars on a free-agent wide receiver doesn't seem smart, not when you could in theory grab the best of a great WR draft class at No. 8. If that's the idea, to get a stud WR, then I'm drafting one first and spending FA dollars on defense.
From Hewidar Hasso via azcardinals.com:
"Hey Darren, if we were to re-sign both D.J Humphries and Kenyan Drake, how much cap space would we have? Would it be enough for Chris Jones and a solid lineman like Conklin too? Because if that works out, we could draft a WR/DL/LB and in the second round (depending on our 1st round pick) take a WR/RB/OL. What do you think Darren? My last question is, who do you think is a better WR just in terms of scheme fit, NFL-ready and skillwise, CeeDee Lamb or Jerry Jeudy?"
There is no way to know how much cap space would remain after signing your own free agents because the structure and price of the deal determines what that cap hit would be. Is it conceivable you could sign all four of those guys? Yes, but it would likely eat up much of your room and I don't see putting big money in two tackles. In terms of your draft idea, we'll see -- you leave a lot of fluidity there -- but I would be shocked if they drafted a running back in the second round. As for Lamb vs. Jeudy, I can't sit here and say I really know. Obviously both have been great in college. I like that Jeudy is called a polished route runner, because that is a hard thing to nail down, but it seems like who is the better WR is in the eye of the beholder.
From Robert Laycock via azcardinals.com:
"Would you expect the Cardinals to target defensive linemen in free agency such as Chris Jones or Leonard Williams? Is the cap space there to go for the top guys available on the D-line?"
Yes, I expect the Cardinals to chase a defensive lineman (or two) in free agency. Who would be TBD. The cap space will be there for a "top" guy, but they will have an amount they are willing to go to for any particular free agent target and we'll see if it is enough. I would understand interest in Jones; Williams has never really done anything that would make me want to chase him (unless his price tag came way down.)
From Thomas Krepelka via azcardinals.com:
"This focuses more on the NFL in general than just the Cards: Why does the NFL push the Scouting combine almost two months before the draft, but leave the free agency period to begin in March, between the two events? Wouldn't it make more sense to have the draft before free agency? The NFL can still cash the checks associated with the combine, draft two weeks later, then open free agency the next week?"
For starters, the NFL wants you and everyone else to pay attention for as much of the year as they can. as of now they get nearly four months of buildup to the draft, and still give free agency enough breathing room for that to be a big deal. They aren't squishing it all together in a month's time with the combine. Also, there are a ton of in-house meetings, player visits visits and workouts/pro days that still happen post-combine for potential draftees. Time is needed for all of that.
From Steve Drumm via azcardinals.com:
"Darren! What was your favorite Super Bowl commercial?"
The Bill Murray Groundhog Day one was pretty good.
From Ed Sierra via azcardinals.com:
"The David Johnson situation made me wonder, has there ever been a team to successfully use a trio of running backs? With all the talk of Johnson getting traded/switching roles (I know, I know), I was wondering how likely this scenario would be."
Sure, teams in the 1970s, like the great Miami Dolphins teams of Larry Csonka, Jim Kiick and Mercury Morris. But no, really most teams don't have the offensive philosophy -- nor the desire -- to use three backs. The Chiefs at times used three backs this season, but not really out of want but out of need. And when it comes to Kliff Kingsbury, he barely liked using two backs. No matter who the starter was for the duration of the 2019 season, he was the guy who got the vast majority of the work in any one particular game.
I have no idea. I have never seen him play. I've seen the stats and read the accounts and clearly, he has some of those traits. But I'd like to see him on a practice field going against NFL defenders before making any judgement.
From Rojo Rouge via azcardinals.com:
"Since it is apparent it will be difficult, if not impossible, to trade David Johnson -- and even then the Cards would have to pay much/most of his salary (not to mention the cap hit) -- doesn't it make the most sense to plan to have him as one of the top three running backs next year? Let's say we do re-sign Drake, but he gets hurt, wouldn't it be good to have Johnson as an option at that point? We are paying 10 million if we release him, so we may as well get some value out of it. I personally believe he can contribute to the team in a positive way (check out his receiving highlights from 2019 before he got hurt). He will be motivated to show he can still play at a high level and that has to be better than 10 million for nothing, right?"
In theory, you are correct, and Steve Keim basically said the same. Since you are paying him all that money, he might as well be an option. And that still could happen. But part of this equation is always the human element. These guys are not robots, they are not just names on a depth chart. Johnson was not happy he was demoted. In this case, he might not have a lot of flexibility, but it's something to keep in mind as you mold your roster.
From Brett Lawrence via azcardinals.com:
"I watched some XFL and even though there is a noticeable dropoff in talent, I liked the kickoff formation. But what I liked most was the added strategy of the 1-, 2-, or 3-point extra point. I would love to see this in the NFL. Thoughts?"
Of the XFL rules changes, the kickoff is the one I could see getting the most serious consideration, given how the league has carefully tried to analyze kickoffs over the past few years. But the extra-point try is intriguing. It could certainly alter second-half/late-game strategy decisions. I don't know if I'd be all in, but it's something I'd consider.
I do not expect that, but until all the London games are announced, I'll never say never.
From Bill Dunning via azcardinals.com:
"How about some trade talk? I've got three proposals: Patrick Peterson for Trent Williams (let D.J. Humphries walk in free agency and extend Williams). Andy Isabella for N'Keal Harry (each 1st year disappointing WR gets to go back to the team near their glorious college days). David Johnson to the Texans for a 7th rounder (his salary prohibits much return value). Have I nailed it? Should Steve Keim fear me?"
I haven't seen you, Bill, so I can't say if Keim should fear you, but he is a former offensive lineman ... I mean, if you're asking about fear that you've suddenly become a GM candidate because of the above ideas, um, well, probably not. (And Bill did send in this question prior to the Humphries news.)
I'm not sure why the Patriots would give up on Harry when his disappointing first season was basically injury-related. Don't know why the Texans would take Johnson with that salary. And I'm trying to figure out what the Cards would do if they deal Peterson, other than have a gaping hole at CB. They've already made clear they want Byron Murphy in the slot -- so you'd be searching for a cover corner, and counting on Robert Alford, who missed the entire season, to be your No. 1 CB.
From Garth Short via azcardinals.com:
"Darren, is there a WR on the team, not including Fitz or Kirk, that the team expects to have a breakout year in 2020? And, if so, who is he?"
I mean, it's February. I'd hope they have expectations they'd all break out. Chances are they won't all do so, but the idea is for all the other guys to make big strides in their first full offseason -- which is crucial to every player after a rookie year -- and then see where that goes. Obviously the spotlight will be hot on Andy Isabella, Hakeem Butler and, to a lesser extent, KeeSean Johnson.
From Stevie Henderson via azcardinals.com:
"I love mysteries, Darren, but it's been a bit challenging trying to guess which questions you are answering when the answers appear before the questions. Is this a postseason thing to keep our minds' engaged? I still enjoy the mailbag, though."
As I noted last week, we are working on the issue, which is only on the app. For this we apologize. If you get to the mailbag on azcardinals.com, you'll be fine. I'll be honest, while some of the text is mashed together (including some questions and answers), everything I've seen still has it in the correct order.
From AndyStandsUp via azcardinals.com:
"If Daryl Washington was to come back, what percentage would you place as the club to change uniforms? Would it be like a Fitz-retiring question every offseason or whether Kent Somers could hit a 3 over you in pickup?"
Impressive that you come back from the dead to hit on multiple meme-ish-type examples. And these days, there is no way Kent is nailing a 3 over me.
There were are. Needed to build to a big finish. (And TJ's contract, I'd think will be based on his health.)