The mini-bye is over, the stretch run of the season is here, and the Cardinals open their postseason push with a rare game in New England this weekend, without Tom Brady but very much with Bill Belichick -- Kliff Kingsbury's first NFL coach. As usual, it's on to the questions, and if you have one for a future mailbag, send it along here.
From Rich Yanse via azcardinals.com:
"Hi Darren, I want to talk about a very big problem I see. And it's been all year, even in our wins. The wide receivers aren't getting open. And it isn't their fault, it's the play call. I don't expect you to watch film, but on our first drive vs Seattle, we had a play where our 3 WRs all ran out about 7 yards, then turned around and just stood there facing Murray. It's a called a curl/comeback route. We ran that play back in high school. We were (and still are) unathletic bums. Why on earth is that play even in an NFL playbook? What is the average depth of a Murray throw? Three yards? Kliff has THE LEAST explosive offense in the NFL. You aren't a play caller. So I ask you, as a journalist, do you or your compatriots ever ask Kliff about his stagnant offense. Not 'Why is it bad.' The question should be 'why do you choose the plays you choose?' when they clearly aren't working. A complete rebuild of the playbook may be in order."
Well, Rich, I gotta agree to disagree here. There are plenty of times receivers have been open. I'm not going to document it all, but to go with that hyperbole is IMO disingenuous. The 'curl' play -- and I have covered the NFL for more than 20 years, so yeah, I know what a curl is -- that you referenced looked like it was against a zone, so I am guessing (without talking to anyone) that the idea is that you sit down in the zone's open spot, and we can talk about whether Murray should've thrown quick to DeAndre Hopkins and taken the five yards. Murray averages 6.95 yards per pass attempt, which is 16th in the NFL -- so right in the middle of the pack, and better than Brady, Newton, Stafford, Brees, Jackson and Roethlisberger.
I'm not going to say there aren't times when I would think Kliff Kingsbury should have gone in a different direction with a playcall. He isn't perfect. But it's hard for me to fathom a call to rebuild a playbook that currently generates 414 yards a game (best in the NFL) and 28.7 points a game (seventh in the NFL.)
From Robert Malicki via azcardinals.com:
"One big negative storyline for the Cardinals in this season is the too high number of pre-snap infractions by the offense. Why? There's no crowd noise so what gives? Vance Joseph the DC seems to have a well-disciplined squad despite the inordinate number of backups and FA's he's had to adjust to. Whereas Kliff Kingsbury, who is the OC, and a mostly intact O-line overall, continually disrupts our offense with these lack-of-discipline penalties. Is the play called too slow and anxiety over the snap, or Kyler still not having a handle on his cadence, or Kyler being spooked by defensive calls pre-snap which unsettle the O-lineman, or, even, Kingsbury not 'coaching up' his players? On my high school team, of many years ago, our Coach instilled the fear of the bench on us for what he called 'gotcha' penalties. Get caught, you sit! And you paid a price for it before the next practice."
With all due respect to your own experience, I'm not a big fan of drawing parallels between high school football and teens to NFL football and professionals. Obviously, penalties are an issue. But Kingsbury isn't the one committing them, the players are. I'd have to study when these things are happening to potentially hazard a guess (I don't know, for instance, if false starts are happening in the waning second of the play clock), but let's take that for instance. If Justin Pugh or D.J. Humphries has a false start, is that a coaching issue? I mean, don't you think those guys know already they can't false start? Ultimately, those kinds of penalties are about staying focused most of the time.
From Neal from Rhodesia via azcardinals.com:
"Do you get the impression Kyler likes Kliff? We aren't children, liking your co workers/boss is irrelevant. Working together effectively is the only thing that matters. But there are fairly legendary storylines in NFL history of great QB/Coach combos who didn't get along, but had great success. I just see frustration in Murray, in response to a lot of Kliff's game management decisions/playcalls. But Murray is such a professional, he never says anything. I would love to have this conversation without it being awkward for you. Perhaps what we see on TV is pretty indicative of the situation? Cheers."
I find this to be a somewhat odd question. Are there times when Kyler would like Kliff to make a different decision? Sure. Has it devolved to the point where Murray doesn't like his coach? No. Judging anything/any relationship based on a brief shot of something on the sideline (and interpreting body language without any direct knowledge) is a dangerous thing. Murray has actually said multiple times how happy he was to come play for Kliff and that he enjoys the relationship. But theirs, like anyone's relationship, won't always be unicorns and glitter.
From Jerry Mackenzie via azcardinals.com:
"Do you think it is time to put Patrick Peterson aside? He was responsible on covering on two touchdowns and had a pass interference for 47 yards and a resulting kick for three more points. That is 17 points."
Actually, I think he was only on the hook for one touchdown, at least according to PFF (and I don't know what his duties were). But more to the point, put him aside? Really? For whom? Jonathan Joseph? Prince Amukamara? I know Peterson isn't playing at the level he has been at in the past. The bar, understandably, is high. But it feels like some fans are losing logic through anger (not that you are angry, per se -- speaking generally here.) He has played some very good games this season. And on a defense that has already lost so much personnel to injuries, I think you better be smart about who you have left.
From Glenn Dawson via azcardinals.com:
"I promise im speaking from a place of calmness. When do we replace Dre Kirkpatrick at No. 2 CB? His play on the field is a far bigger issue than his penalties. We have Joseph and Amukamara. Both long-time, good CBs in this league. I don't think it's necessarily fair to say 'the coaches know who the best player is' when we regularly see Chase Edmonds, the superior RB, behind the starter Kenyan Drake. It's also seems 'the backup' RG Justin Murray is a better player than Sweezy. Is it time we give someone else a look?"
I mean, I guess I understand Joseph potentially, but he just got here and he's around in large part because No. 4 cornerback Kevin Peterson remains on IR. So it's a depth problem. As for Amukamara, the fact he has yet to be elevated probably says something. I do thing it's fair to say the coaches know what they are doing. Chase is a better piece in the offense when he doesn't have to do everything. And I think Drake, while having a slow start, has been better. I do think there was a chance Murray would've stayed in the lineup, but he's hurt, so that's moot. I guess I wonder sometimes when everyone wants to see all these benchings is if the next step is truly considered.
From Jake Benson via azcardinals.com:
"Hi Darren! I want to talk about P2. I love the guy. He's a natural leader, future Hall of Famer and Ring of Honor guy. Nothing really needs to be said about his diminished play. I actually don't think he's necessarily bad in coverage. It's his tackling. Which has in fact gotten worse in recent years. P2 has a big decision coming in free agency. I think the Cards will offer him a deal and that number will be significantly lower than what he wants. I guess the question is will any team offer him the deal he wants? You know P2 better than we. Do you think he would accept a lower number (let's say under $10M) and the role of #2 CB? Robert Alford might be No. 1"
I don't know. Given COVID restrictions, I have not had the chance to have any kind of discussion with Patrick on the subject. He's a proud man and know what he has accomplished. This offseason is going to be one of the most interesting in NFL history because of COVID and potential financial restrictions. We will see. The only way he'd be No. 2 CB, however, is if you had a No. 1. Alford hasn't played in two years and was gimpy the year before that. I don't know if you'd go into anything counting on him, period, much less as the No. 1. That position will likely have to be addressed sooner rather than later. But I think in the end there is a lot to sort out for P2.
From Jean McArdle via azcardinals.com:
"What is the number 8 on the jersey representing?"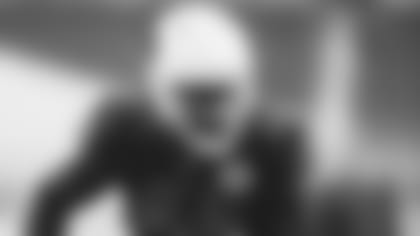 From Raine Voights via azcardinals.com:
"Darren, I have some great news! Everyone can finally get off of Isaiah Simmons' back!! The rookie played an amazing game against Seattle and in my eyes now deserves more opportunities. Now my question is why does Kyler not target D-Hop more? Usually when a QB gets a weapon like that you think 'oh no, he is going to force him the ball' but to me Kyler does not target him enough."
Well, I don't know many who were on Simmons' back. Seems to me people had issue with the coaches, not Isaiah. As for targeting Hopkins, there are times where yes, you'd think Murray would look his way more. But again, they've been pretty productive and Hopkins does have an NFL-leading 912 yards, so let's not make it sound like Murray has forgotten about him. The defense is going to do things to make it harder to get the ball to a three-time NFL All-Pro.
From O'ren Ishi'i via azcardinals.com:
"Hi Darren. In regards to the penalties problem, we've seen Cardinals teams over the years who also struggled with penalties. I'm wondering if you can think back over your 20 years covering the team, can you think of a time when we had a flaggy team, and the team was able to fix the problem mid-year? If so, how?"
Off the top of my head, nothing rings a bell. Usually, you get 10 games into a season, you are what you are in most aspects of your team. Again, some of the penalties are in the game situations. Holding, PIs, those are going to happen. It's the pre-snap stuff you have no excuse not to purge. With the Cards battling for a playoff spot, you hope their focus increases from here.
From Cedric Leon via azcardinals.com:
"Coach Kingsbury has been the HC/OC now for 26 games. He has said the phrase 'I have to do better/ call better plays' (or something of that nature) in 15 of them. Yes I've kept track. After several wins he's mentioned that as well. At what point does he give play calling to someone else? I sincerely believe Kliff's play selection is holding Kyler back. We are 'the No. 1 offense' in spite of Kliff, not due to him. Jim Harbaugh's Colin Kaepernick offense would seem to be perfect for Kyler. No, I am not saying we fire Kliff. I'm just asking about OC duties."
The whole reason you hired Kliff in the first place was for the very duties you are saying he shouldn't have, so explain to me how you are splitting hairs between not firing him but not letting him do that? Also, there isn't anyone who would take the Ravens offense over the Cardinals offense right now. Last year perhaps. But right now? No. Look, if Murray was struggling, OK, I'd get it. He's not. The offense could be more consistent, but to listen to some talk about it, you'd think they were having Wilks-era-level issues.
From Nate Dawg via azcardinals.com:
"Hey D. Sorry to do it to ya, but I'm a draft junkie. Looking at this roster, where you think we going in 2021? I'd say DL or CB. But then again maybe the need is temporarily inflated due to injuries? I don't know."
The thing is, Mr. Dawg, is that I don't think you're sorry at all. Nonetheless, Sitting where we are right now, I would say cornerback or pass rusher. So much can change, though, and with regard to the first round, I'd be open to a lot of positions. Defensive or offensive line wouldn't be terrible either.
From Nathan B via azcardinals.com:
"Mike Tyson v Roy Jones Jr fight on the 28th? Who ya got?"
I don't expect to be watching, unless by some quirk they have it on in the team hotel before the Patriots game. Not a huge boxing guy, especially for something made up like this one. You know there's supposed to be a rule with no knockouts? How do you go into a fight with that mindset?
From Tommy Krepelka via azcardinals.com:
"This is an overall philosophical question regarding the ever-improving offense: When asked about his offense in Year 1, Kliff Kingsbury referenced 'an illusion of complexity' yet it seems the Cardinals use very little motion, almost no play-action, and rarely try to scare opposing defenses with misdirection, faked jet sweeps, or building off plays as the game progresses. Do you know where the Cardinals rank in motion matrices, or the use of misdirection?"
Last I saw the Cardinals are around 19th in the league at 10 percent of the time in terms of motion at the snap. So they could certainly do it more often. I'll be honest, I expected it to be incorporated more. We will see if that changes as Kliff gets more and more comfortable in the pro game.
From Drew Foster via azcardinals.com:
"I live in Arkansas and I travel to Phoenix every year to watch a game. It's hard to plan, not knowing when the Cardinals will begin to sell tickets. What is the policy on selling tickets and why are they waiting so long to announce things? COVID? It's very frustrating. I guess I would just like to have a heads up so I can purchase tickets, plane tickets, And a motel room."
Um, yes, it's COVID. I understand the frustration, but the Cards were always going to be extremely cautious when it came to fans in the stands this season. With the way things are spiking, we'll have to see just where that goes for the final three home games.
From Gary Gammiero via azcardinals.com:
"Hello Darren. At the end of Thursday night's game with the Seahawks do you think Larry was interfered with by Bobby Wagner ? Larry thought so but didn't make much of an issue to the ref. The Cards had to play on with seconds remaining. Also do you think Andy could have caught that ball by the pylon on the second last play of the game? Maybe if it was Hop or Larry they could have since they are taller and have big hands? I know the Cardinals didn't play their best game but they could have still tied it,amazingly. Kyler and the Cards never quit!"
I wouldn't have thrown the flag on the Fitz play. By the letter of the law I could see it, but IMO I didn't have the problem with the no call. I thought Andy was open had Kyler thrown it sooner. Yes, it's possible Hopkins or Fitz finds a way to come down with that but it's questionable if either would've been fast enough in the first place (and the defense plays those guys differently than Isabella, so apples and oranges.)
From Stephen Grange via azcardinals.com:
"Firstly, huge thanks for all the hard work you guys do on a daily basis covering the team, gets better every year. (Having a successful team to cover must be of some help I would imagine.) You touched briefly in a comment a few weeks back that the team no longer uses the 'virtual QB' system. That seems odd to me as a mature QB found it so useful (Carson Palmer) and yet a decision has been made to not utilize it for a young and growing QB. Do you have any insight as to who and why that decision was made?"
Some things click as a learning tool for players and other players, not so much. The QBs that have come in since Palmer weren't necessarily fans, and we've also gone two head coaches past that as well. I don't know specifics nor who made the final call, but it feels like Kyler is doing fine with his learning curve.
From Hartford Englewood via azcardinals.com:
"Hi Darren, exciting times here in Arizona! So impressed by the way the Cards have progressed this year! I've noticed other teams like the Giants, Bengals, Broncos, etc. release uniform schedules at the beginning of the year, and I was wondering why the Cardinals don't do the same. Do the Cardinals not know for some reason which unis they are wearing? Or have they just for whatever reason not done it? As a fan who loves to coordinate with the colors the team wears it would be suuuuuper helpful. Thanks!"
It's been talked about, but sometimes things can change so we've stuck to putting it out on a weekly basis via social media.
By Jim Guye via azcardinals.com:
"Hey Darren, I know you're a big Suns fan too. What do you think about landing Chris Paul? And have you asked Larry about it?"
I think it was the right move at this point for the franchise. Time to stop treading water. I think his presence will help Deandre Ayton too. I have not had the chance yet to ask Fitz, but it is in my plans.
From Wes Franco via azcardinals.com:
"Hey Darren. Thank you for all the coverage! I've been a Cards fan since '01. I was 7 at the time. Kyler (as well as a good portion of fans) has said that he does not like the jerseys. I agree with him. They were cool for a few years but by the time our 2008 Super Bowl run came around, they felt outdated. I would be immensely supportive of a throwback transition to our early 2000s-late 1990s look (with the flag on the away jerseys and the bold all-red home jersey). Any chance this could happen if not permanently, at least as an alternate? With the new wave feel of Kingsbury, Murray and Hopkins, all that's missing is an updated look that Kyler likes and that younger generations like myself can get behind."
Couple of things: The jerseys were all of four years old in 2008 and they were outdated? Also, what would happen if Kyler didn't like the old-school look? As I have mentioned many times, I don't believe there are any plans right now to change the uniforms. But I know that won't stop the mailbag suggestions.
From Joseph Cammiso via azcardinals.com
"Don't know if you are cherry picking these question but I have to ask. Black Jerseys and red pants needs to happen. Can you personally ask Mr. Bidwill about this? Tell him I inquired. Also was watching some old Larry highlights and I would love to see us play with the old white Az flag on the arm jerseys we used back in 2004. Those, ugly at the time, would be cool to see now. Are uniforms up to the club? Is it up to the league? I know a few years back the throwback uniforms were all the craze along with color rush, now it seems to have gone away. I love our jerseys the way they are we don't need new ones. It just would be cool to use different combinations i.e. black tops, red bottoms."
Mailbag suggestions like this one, for instance.
It is up to the teams but I do believe there needs to be league approval. (Although uniform combos would be purely the team's choice.)