Arizona Cardinals Fan Of The Year
Captain Morgan Fan of The Year
The NFL #FanOfTheYear contest celebrates exceptional fandom and commitment to community through the game of football. The NFL is proud to announce the 32 #FanOfTheYear nominees whose love for football goes beyond the game. These fans spice up the game through their elite fandom and also serve as a positive and inspirational influence within their communities.
Visit nfl.com/fanoftheyear today to discover the stories of these extraordinary fans and vote for the nominee you think should be crowned the ultimate fan of the year!
Susan Haluzan, who emigrated from Canada to the United States two decades ago but who always had a fascination for football, turned her longtime love of the Arizona Cardinals into a deserving turn as the 2022 Cardinals Fan of the Year.
Haluzan, a single mother of two, works in the medical field in consulting and sales and became an American citizen in 2016. Her love of the Cardinals can be tangibly seen not only when she is in her seats in Section 231 but at any Cardinals-related event -- training camp, draft parties, tailgates, and road games, including on the international level.
She is active on social media, especially about her Cardinals exploits. Outside of football, she loves to get involved and over the years has volunteered for multiple charitable events across the Valley. Haluzan is also likes to travel, hike and run marathons – including the Boston Marathon.
Susan Haluzan: The Arizona Cardinals 2022 Fan of the Year
GMFB host Peter Schrager talks about the Arizona Cardinals 2022 Fan of the Year winner and NFL Fan of the Year nominee Susan Haulzan. You can vote for Susan at nfl.com/fanoftheyear
2021 - Robert Freedman
Born 11 weeks early, Rob weighed 1 pound 10 ounces. If he lived, he wasn't supposed to walk or talk. With determination and never feeling different Rob began on life's venture. He is currently an instructional assistant at a local high school where he is known as the biggest Cardinals fan on campus. season & a fan since 1993.
Rob has been a season ticket member since 2007 and is the creator of the 'AZ BirdGang Nation' Facebook group which has over 13,500 members and counting! Every season Rob treats every Cardinals Game Day as a holiday. He brings a lot of passion to the Cardinals fan base.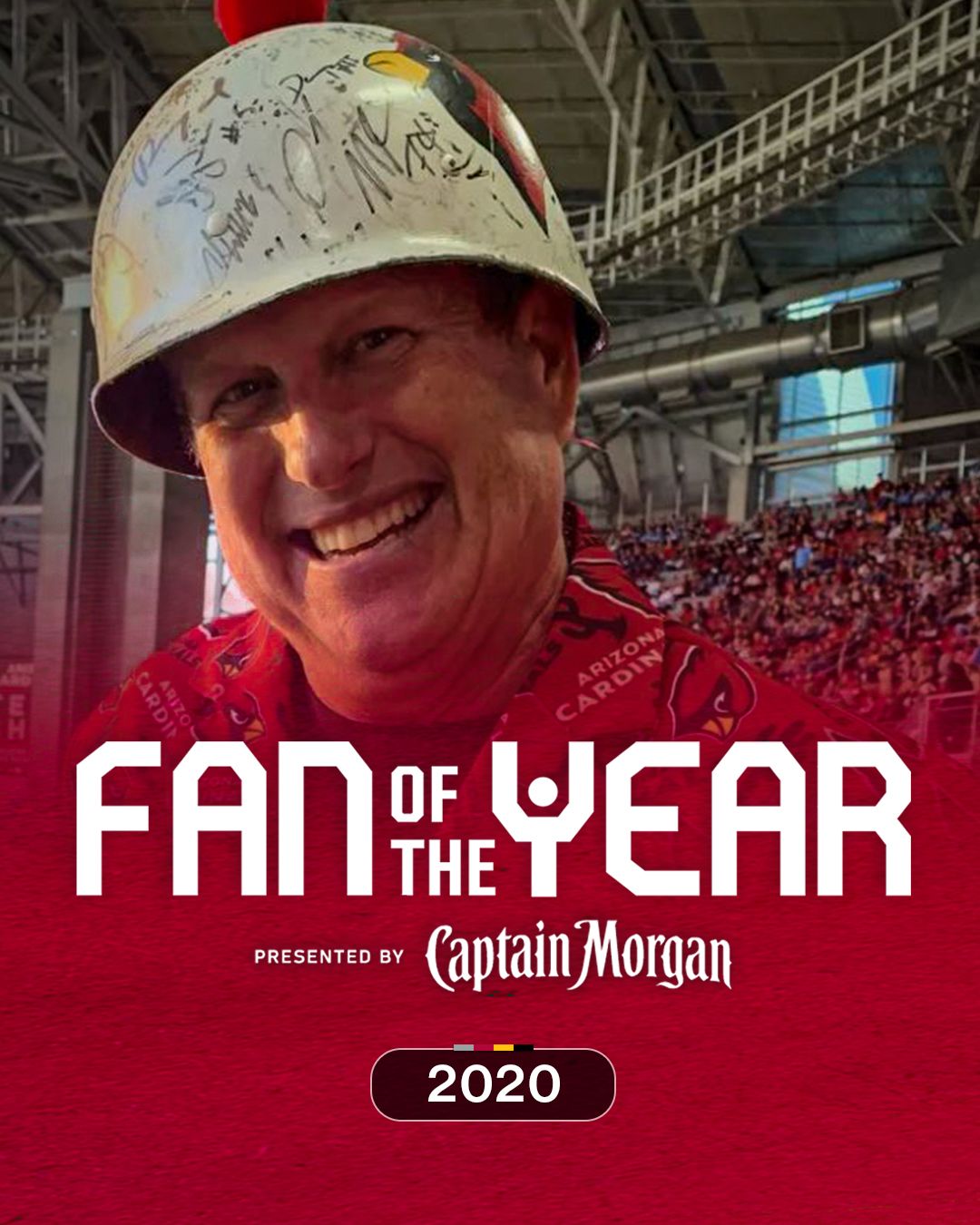 2020 - Tim Tekukve
Tim has been to every home game, multiple away regular season games, and numerous playoff games for the Cardinals including the Super Bowl in Tampa along with his son, brother and father representing three generations of season ticket holders at the big game. Family, friends and co-workers often refer to Tim as the biggest Arizona Cardinal fan in the world. Tim can always be found in a good mood, and when the Cardinals win, it becomes a FANtastic mood.