Five practices in May – with players in shorts and without pads, no less – doesn't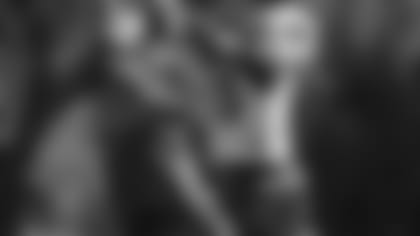 But there are signs the Cardinals are in a much better place now than they were at this time last year. For instance, the potent Cards' offense that had turnover and penalty problems in 2007? The unit had no interceptions or fumbles during their long weekend of work, and only two false start penalties.
"We are working on it," coach Ken Whisenhunt said after the final minicamp practice Sunday morning. "We didn't have as many mistakes, and if that is an indication, then it's a good sign.
"But it's a lot different when the bullets are flying, even in the preseason, and guys are trying to make the team."
Whisenhunt is encouraged by his defensive depth, believing a rotation in the front seven will make the unit that much more effective. He also sees the benefit of an offensive line that is intact for a second straight season – one of the few times the Cards have had an offensive line together for two straight seasons.
"The communication there is light years ahead of where we were last year," Whisenhunt said. "I think it will help us as far as meshing in the run game and in pass protection working as a unit."
The rookies are now required to leave. The Cards' organized team activities, which are voluntary for non-rookies, begin May 20. In the meantime, Whisenhunt said, he told the first-year players to study their notes because much more information would be thrown at them once they return.
Anquan Boldin and third-round draft pick Early Doucet already had a budding relationship before Doucet was picked by the Cardinals a couple weeks ago.
Doucet had followed Boldin's career when Boldin was at Florida State, through Boldin's ACL injury and time at quarterback. Then he tracked down Boldin's phone number through a mutual friend before his final season at Louisiana State, and the two talked on the phone and traded text messages not only during the football season but also the time leading to the draft.
Boldin was a hero to Doucet. Now he's a teammate.
"It is weird because you see him on TV, a Pro Bowl wide receiver making big plays on a big stage and then you are in the same locker room with him," Doucet said. "It seems surreal sometimes."
Boldin chuckled at the idea of Doucet looking up to him, insisting he hadn't thought about it. He did admit thinking "that's cool" when he learned the Cards drafted Doucet because they would work together.
"I just try to help him out," Boldin said. "Any young guy that comes in, I try to help."
"He is still a superstar but he is expecting me to get the job done," Doucet said. "There can't be any more of the deer-in-the-headlights look. I just try to do everything he does, follow in his footsteps."
Running back Edgerrin James has been in a light-hearted mood minicamp weekend, and there could be several reasons for that.
For one, the Cardinals didn't draft a running back high – Tim Hightower was a fifth-round choice and won't unseat James anytime soon – so James remains the unquestioned starter. Second is the stability of the offense, which James said is so much better defined than it was during times in 2007.
"Last year, we really didn't even know who we were," James said. "Now, I think from a coaching staff standpoint, they know exactly what they want and what they have."
But the biggest reason is because James has stayed away from Arizona since the end of the season, a process he always regards as important.
"If you stay around this is becomes mundane and kind of boring," James said. "For me, that's always something that makes me miss the game, getting totally away and rest and recovery. I (do) train. When I get bored, I train. I hang with my cousins, and the University of Miami, so I am always around them and I am always training.
"As far as being with the guys and playing football, you look forward to that because you have been away. If I had been here every week, I'd be like, 'Same old (stuff)' "
James is expected to take part in at least some of the voluntary OTAs that begin later this month.
Whisenhunt said quarterback Matt Leinart looked confident during minicamp and handled the offense well, in addition to looking sharp on this throws. Backup Kurt Warner also looked very good during his work. …
Cornerback Dominique Rodgers-Cromartie, who weighs 184 pounds right now, said the team is hoping to see him bulk up to "at least 195." Adding the weight, he said, wouldn't be a problem.
"It's just kind of hard to maintain it," Rodgers-Cromartie admitted. * * * Contact Darren Urban at askdarren@cardinals.nfl.net. Posted 5/4/08.
This article has been reproduced in a new format and may be missing content or contain faulty links. Please use the Contact Us link in our site footer to report an issue.