Larry Fitzgerald has proven he'll catch whatever Kurt Warner throws up.
TAMPA, Fla. ? It took a little while, Kurt Warner admitted.
The Cardinals quarterback arrived in Arizona believing he needed to check down to a secondary receiver if guys like Larry Fitzgerald and Anquan Boldin were covered. Then he got a tip from then-Cardinals quarterback Josh McCown.
? ?Open? for these guys is a little different,? ? McCown told Warner.
Warner couldn?t believe it. Many of McCown?s throws were dangerously into traffic. But Warner quickly realized he could trust his star wideouts.
?I came to understand you can make that throw,? Warner said. ?It?s one of those things I?ve had to change in my game with these guys, because they play the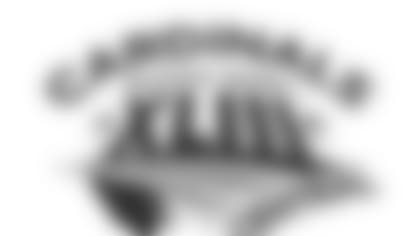 game a little different than other receivers I have played with.?
That trust took more than a year for Warner to develop. But both Fitzgerald and Boldin have proven to Warner the faith was earned.
Fitzgerald in particular has put that trust to the test on the playoffs. In each of the first two postseason games, Fitzgerald went up to grab a ball among two defenders.
?He?s gotten a little more confident in my ability to go up there and make that play, but it?s something that I always want to just make sure I?m doing it right so he has confidence to keep throwing it to me,? Fitzgerald said. ?It?s not natural for him to just throw it up. He likes to be able to see favorable positions, leverage and things like that. I?m fortunate that he?s trusting me a little bit more.?
The Cardinals have only gone three days without practice, but it seemed longer before the team finally headed over for a workout Wednesday.
?It?s all about the football game,? coach Ken Whisenhunt said. ?This is not a media event, this is not a family event. It's about keeping that business-like approach we have had on the field.?
The Cards get to practice at the Tampa Bay Buccaneers facility, a brand-new state-of-the-art complex owned by their NFC brethren.
The media and family obligations are not over. The players have a final media session first thing Thursday morning, and an extra team charter flying in players? families (along with the rest of the Cardinals? staff) comes in Thursday afternoon.
?The team that is successful (Sunday),? said Cardinals cornerback Rod Hood, ?is the team that understands this is football.?
FITZ AND OTHER OFFSEASON TALK
Fitzgerald reiterated Wednesday about how he was willing to re-work his contract to aid the Cards in their efforts to update Boldin?s deal.
?If it was to keep my brother Q here, or anybody else here, I would definitely help out,? Fitzgerald said. ?Being in the cellar of the NFL for so long, this right here (being in the Super Bowl) is such an honor. To be playing in such a great game, anything I can do to help.?
In a broader look, general manager Rod Graves again addressed some of the Cards? impending offseason work and the desire for non-free agents to get new contracts.
?Everyone wants to size their deal up on a year-by-year basis, and that?s simply hard to do when you are trying to manage a salary cap,? Graves said. ?No one wants to wait their turn. Everyone feels I need to judge my pay on this year?s market, and if I?m not satisfied, let me go knock on the door and see what else I can get. To me, that steals away opportunities to get deals done for players who deserve the attention at that point.?