Cardinals' special teamers Sean Morey (diving) and Jerheme Urban (85) make a tackle on Cowboys kickoff return man Tony Curtis Sunday.
After the block, after the touchdown and after the celebration and grass lodged in his facemask, Sean Morey heard from his exuberant teammates.
"You finally earned your paycheck," some of them joked, and Morey laughed hard – in part because he knew it was true.
"You get so few opportunities to try to influence the course of a game or change the outcome," the Cardinals' special-teams ace said, a few days after his punt block won the game against Dallas. "It just feels good to contribute."
Technically, Morey is a wide receiver for the Cardinals. He is also on the roster for one reason, because he excels on special teams. That makes him something else, in the eyes of special teams coach Kevin Spencer. Spencer called Morey "a dinosaur."
The term fits in an era when head coaches are loathe to carry specialists on the team beyond the kicker, punter and long snapper. With only 53 players on a roster and only 45 available on game days, it's not easy to keep a guy whose impact on offense or defense doesn't have a lot of upside.
Cardinals radio analyst Ron Wolfley made four Pro Bowls as a special teamer with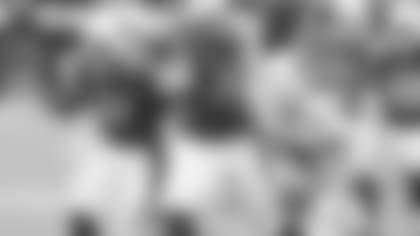 the franchise. When he played in the 1980s, he said teams would carry a handful of players who were special teams specialists.
That's changed because of the salary cap and other specialization, to the point "I don't think I would have made it in today's NFL," Wolfley said.
The weeding out of such players, Wolfley added, has made special teams "a dying art in the National Football League, in my opinion."
As important as Morey – a co-special-teams captain with Aaron Francisco – is, it is Calais Campbell who has played the most special-teams snaps this season. Campbell played on only one special-teams unit in college but plays on every grouping as a Cardinals rookie.
Eventually, Campbell figures to become a starter on the defensive line and his special-teams play will be scaled back, but for now, Campbell said, "it's a way to get on the field."
"I'm sure everybody would rather be a starter on offense or defense," Francisco said, "but that's not in the cards for everybody."
With chances few and far between, Morey and his mates reveled in a Dallas game that turned on their play.
Francisco said the effort was a major boost to a special-teams unit that hadn't played particularly well in the return game of late. That feeling was wiped out on the first play, when J.J. Arrington returned the opening kickoff 93 yards for a touchdown.
To then close the game with the Morey block/Monty Beisel touchdown may have been the ultimate special-teams afternoon. Spencer acknowledged he wouldn't be human if he didn't celebrate his group's big day.
Then again, Spencer also picked at mistakes – the botched onside kick, a player lining up wrong on a rush, the Cardinals rushing too many at another time – that didn't make the game perfect. Campbell also muffed a kickoff that should've cost the Cardinals points, except Cowboys kicker Nick Folk came up with his own special-teams mistake when he missed a field goal.
"I always say a prayer, 'Dear Lord, let us not hurt the team today,' " Spencer said. "That's the worst thing in the world to feel, that in our 20 to 25 snaps we did something to hurt the team."
Wolfley hates the term "special teams," preferring instead to refer to it as "transition." He also has the ultimate respect for Morey and any other player who can perform well in the transition game.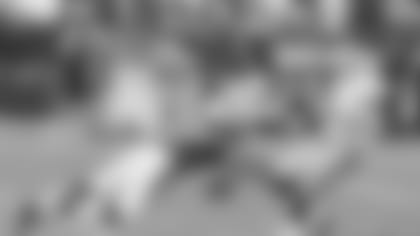 Sean Morey blocks Mat McBriar's punt on the game-deciding play against the Cowboys.
"The number one prerequisite to playing special teams well is to be courageous, to have no fear," Wolfley said. "There are a lot of starters in the NFL who would
stink* as a special-teams player, because it's about mass times velocity equals kick-your-butt. Period."
Morey said he trains religiously year-round because he knows it is a luxury for a team to keep him around. Spencer said Morey, in his eighth season, already was cut after being a Pro Bowl alternate in Philadelphia.
Coach Ken Whisenhunt said it is Morey's preparation and dedication to his role that has kept Morey on the roster.
"The reality of this game is there are very few people who aren't on the bubble every year," Morey said. "I know inevitably this career will end. I don't take anything for granted.
"I want to play until I'm 40. I know realistically that's not going to happen, but if you do everything you can to prepare … you are doing your job."
Running back Edgerrin James and cornerback Rod Hood were both absent from Wednesday's practice. Whisenhunt said both had been excused to tend to family matters. …
The Cardinals had four players sit out their lone bye week practice Wednesday because of injury: tight end Ben Patrick (knee), wide receiver Anquan Boldin (facial surgery), safety Aaron Francisco (quadriceps bruise) and defensive end/linebacker Travis LaBoy (groin). …
Whisenhunt said like the players, the coaches can use some time off provided by the bye week.
"We could go ahead and keep going; we're in a pretty good groove right now," Whisenhunt said. "But when you do have this chance then yeah, it is a great opportunity to get away.
"It is six weeks non-stop of basically every day. And the stress, it is such a roller coaster, just last week's game against Dallas, so many ups and downs. It's nice to not deal with that and relax."
This article has been reproduced in a new format and may be missing content or contain faulty links. Please use the Contact Us link in our site footer to report an issue.