When Bertrand Berry saw the scene of Haason Reddick crying with joy in the aftermath of Reddick's five-sack game against the New York Giants Sunday, the former Cardinals defensive end felt it.
"I almost got emotional with him because I know what that moment is like," Berry said. "I had that same moment against that same team 15 years ago. It's funny it turned out that way."
The emotions weren't just about Berry's own four-sack game (against Kurt Warner, even) in 2004. They were about seeing his student break out in a way Berry had envisioned when Reddick came to him in the offseason to learn more about the pass-rushing craft. They were about seeing a player tap into his talents, along a path Berry once took himself at the outset of his career.
"He wasn't broken but at the same time I think he had suffered from neglect, if you will," Berry said. "I saw a lot of myself in Haason."
Reddick's struggles to adjust to the NFL game have been chronicled often since he was the first-round pick of the Cardinals in 2017. The hope was that they could turn the college pass rusher into a rangy inside linebacker. It never worked, in part as the Cardinals cycled through three head coaches and resulting defensive coordinators during his first three seasons.
He was finally moved to his comfort zone of edge rusher at the end of last season. And with the most important year of his career coming up – Reddick will be a free agent after the season – Berry reached out.
After retiring from the NFL, Berry stayed busy doing TV and radio work, until about three years ago, he was asked by a friend to help coach at an Under Armour camp for teens. He enjoyed it more than expected, did it more often, and got to the point where he decided to open up his own pass-rushing school in the Valley. The man known as "B-Train" when he played named it "Train's Station."
Starting a little over a year ago, Berry only had one client. It has grown to near 50, ranging from high school and college and pros – including Reddick.
"Local guy, you look at his resumé, he was in the league for years, and it just made sense," Reddick said. "He's a good dude and I felt he was genuine."
Finding that connection was crucial. Berry, who was a one-time third-round pick, also was moved around early in his career from defensive end to linebacker and his NFL career stalled enough that he played a season in the CFL. Eventually, he became a sack machine in Denver and signed a big free-agent contract to come play for the Cardinals in 2004.
"I was like a kindred spirit," Berry said. "It allowed him to trust me and know I had his best interests at heart.
"It was fun to see him grow, let his guard down, open up and asking questions about different situations, different moves. This is really only just beginning with me and him."
Reddick said he needed the help, having essentially been away from pass rushing for three years. Sharpening those techniques and skills had to be done.
"I looked at him for advice and he was also a guy who believed in me," Reddick said. "He let me know he believed in me and been with me since Day One, which made it even better with the ups and downs that I had. It's good to find people who have been in your corner."
Reddick impressed in training camp. And that improvement made didn't just help Reddick as he pushes for a new contract, but also the Cardinals, who have gotten unexpected yet desperately needed production after the season-ending injury to Chandler Jones.
"A guy like that who's stuck with it, who didn't let the noise get him down, didn't let any sort of frustration get him down, just kept working and now has a game like that, you couldn't be happier for him," coach Kliff Kingsbury said. "It'll keep progressing."
Berry and Reddick traded texts Monday morning. Reddick sent the message that "Hard work paid off."
"I told him, 'Absolutely but it's not finished,' " Berry said. "I went directly into my coach's mode best I could and said 'Don't settle. Don't ease up.' "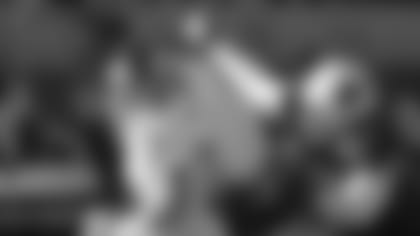 Berry, watching the Giants' game on TV, saw Reddick's first sack and, while he didn't see a five-sack game coming, he could tell Reddick was going to have a good day.
Then Reddick notched a third sack, and Berry shot Reddick a text: "Man, I SEE you."
"Then he got to four, and you can't even print what I said after that," Berry said, watching Reddick surpass Berry's own effort against the Giants so many years ago. "And then five and I just put the phone down (thinking) 'Oh my goodness.' "
Normally, Reddick, who is from New Jersey, would've have a boatload of family and friends to have seen his performance live. COVID robbed that opportunity, but the game was still on local television and Reddick said those closest to him were "blowing up my phone during the game, sending highlight after highlight after highlight."
It was another high in a roller-coaster career of highs and lows for Reddick, who went from playing four total games because of injuries his last two years of high school to walking on at Temple, playing his way into first-round status, struggling with his position change, and now reaching double-digit sacks in an NFL season.
Reddick didn't hesitate when he was asked what his walk-on self would've said to the idea he'd have five sacks in a pro game and win a Defensive Player of the Week award. He'd have said he'd look forward to it, because "I've never doubted myself."
The frustration has often been evident on Reddick's face over the years – and Berry said he felt it when Reddick first showed up to Train's Station – but Reddick wouldn't ever say as much. He fought hard to excel in whatever position the Cards put him in, and it meant something to him to succeed in that role.
But he's where he belongs now, on the edge. The Cardinals would like to re-sign him, but 26-year-old 10-sack players don't often reach the market. Berry also noted that notching five sacks against the Giants, in the biggest media market, pushes the accomplishment to a greater height -- and resulting attention -- than if it had been against, for instance, the Jaguars or Texans.
"It's one for the history books," Reddick said. "No matter what people say or what happens from here on out, they can never take that day away from me. It's going to go down in history and hopefully it'll be one (record) that sticks around for a while."
Berry is hoping it's a launching point for his pupil – to a big contract, to a long career, to many more sacks to come.
"You're just rooting for him because you just know if he gets into a situation where he can show what he can do, you know he's going to take off," Berry said. "Sunday was that moment for him.
"He is so deserving of that moment."