With NFL teams limited to 80-man rosters for training camp, the Cards will have to consider carefully the amount of players at each position -- such as four quarterbacks.
With the demise of NFL Europe – and the accompanying demise of the three-to-six roster exemptions teams got in training camp for using players who played in Europe – rosters for training camp 2008 will be limited to 80 players.
It sounds like a lot, but, given the likelihood of injuries coming up in camp along with the need to sometimes rest veterans, 80 players isn't a lot.
But Cardinals coach Ken Whisenhunt said after Wednesday's organized team activity that he didn't see roster size as a problem – at least, right now.
"It depends on whether you get injuries or not," Whisenhunt said. "I don't anticipate that unless we get a bunch of nagging injuries like pulls or nicks that will keep guys out and if you do, you just have to adjust your practices accordingly."
Whisenhunt expects every player on the roster currently nursing injuries or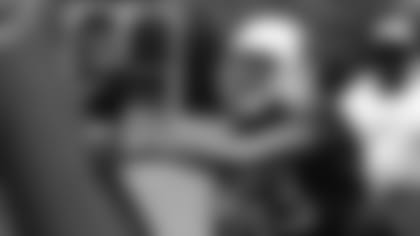 rehabbing from offseason surgery to be ready by the beginning of training camp. That will help at the outset of camp.
The Cards currently have 82 players on the roster, although the seven draft picks remain unsigned and technically do not count toward the 80-man total. As the picks sign, two players will eventually have to be released.
But the roster limit will likely have an impact in one area for sure – specialists. The Cards have historically brought in at least one extra kicker or punter (or a player who can do both) to both challenge the incumbents and provide an extra leg.
"Most times you go to camp with five or six specialists," Whisenhunt said. "Maybe this year we will look at it differently."
That would mean kicker Neil Rackers and punter Dirk Johnson are virtual locks to be on the final roster. Rackers isn't as much of a surprise as Johnson, who is a veteran but who kicked in just one game last year.
"With competition, you always get better," Johnson said. "But I know what is good or what's not. I don't need someone beside me punting to know.
"It's nice to look at guys for the coaches, but when you are talking about (keeping) say, an extra lineman, those guys are a little more valuable than an extra punter or kicker."
Cornerback Dominique Rodgers-Cromartie had an up-and-down practice day Wednesday, something that should probably be expected from a rookie, even if he is a first-round draft pick.
"Every young guy comes in learning," Green said. "But he's done well. He's impressed every one of us with his speed and his technique."
Whisenhunt noticed how his first-round selection "flashed" and added Rodgers-Cromartie was "learning."
"I think he was surprised a lot with some of the accuracy of quarterback's throws on this level and how things happen," Whisenhunt said. "But he does show he has the ability to close on the ball and he has good closing speed. A lot will be determined when he gets the pads on but physically, a lot of the things we thought about him before the draft have shown up on the field."
The offense won the right to have one less "gasser" at the end of practice when the offensive linemen caught more punts than the defensive linemen – two catches to one (in five attempts). Reggie Wells was the hero, making a catch on the last attempt to break a tie fashioned through catches by Levi Brown and Alan Branch. The drill is used to promote team unity and competition. …
Third-string quarterback Brian St. Pierre was sharp throwing the ball. …
Whisenhunt said the Cards will not begin to experiment with the radios in the helmets of defensive players – a new rule approved this year, so coaches can call the plays rather than signal them in – until training camp. Whisenhunt also said the players who get the radio may change on a game-to-game basis depending on the defensive packages that will be used. …
Whisenhunt said the information is "starting to pile up" for the young players, "so you see a few more mistakes and things aren't quite as smooth as earlier."
"But the effort has been good," Whisenhunt added. "And I like the focus and intensity."
This article has been reproduced in a new format and may be missing content or contain faulty links. Please use the Contact Us link in our site footer to report an issue.