Free safety Antrel Rolle (21) takes on wide receiver Larry Fitzgerald at practice.
FLAGSTAFF – Antrel Rolle was always going to play safety.
Some thought it was going to be – or, at least, should have been – as soon as Rolle arrived in the NFL. There were questions about Rolle's ability to play cornerback even when the Cardinals made him the eighth overall pick in the 2005 draft.
Rolle always insisted he would be fine at cornerback. Even now he said he could have remained at the position if he had so decided. Instead, a season after Rolle couldn't beat out Rod Hood or Eric Green as a starter, both Rolle and his coaches figured a change would make sense.
"I always knew I would eventually get to the safety position," Rolle said. "I just
[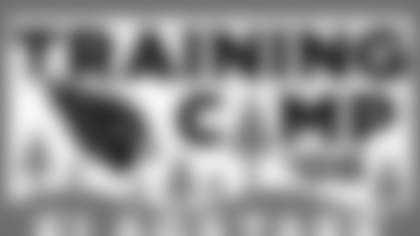 ](http://www.azcardinals.com/news/training_camp.php)
It wasn't going to be last year. There were still too many unknowns with Rolle as a cornerback. The Cardinals had not had particularly strong coaching for the position under Denny Green, and the new staff needed time to sort through its roster. The Cards weren't sure who their starting corners would be either. Rolle was in the mix.
Besides, the team had just signed free-agent Terrence Holt to play free safety.
"We weren't going to make any drastic changes," defensive backs coach Teryl Austin said. "We were going to give him a chance to be a starting corner, which we did, and we just let it play out.
"We were thinking, 'Hey, we know he's a good football player, but do we have him in the right position?' We just thought he could be an outstanding safety."
Holt, who had a poor season, was released. The Cardinals, ready to shift Rolle, took Dominique Rodgers-Cromartie in the first round of the draft to fortify the cornerback spot.
Rolle was free to be a free safety.
The transition is not simple. Rolle not only is learning free safety, but also strong safety. In most nickel and dime packages, Rolle will continue to play cornerback on the slot receiver, not only allowing someone like Aaron Francisco to play at safety but also emphasizing Rolle's talent at the spot.
After a performance like Rolle had against the Bengals last season as an inside corner (three interceptions, two for touchdowns) the Cardinals didn't want to waste that talent. Rolle likes the idea of staying with his cornerback roots, at least part time.
As a cornerback, Rolle only needed to know where his receiver was going. At safety, he has to know what everyone on the offense is doing.
Coach Ken Whisenhunt joked that Rolle "has the ability to talk a lot a lot (so) it's probably a good fit for him."
As long as Rolle figures it out.
"That's a lot on my plate," Rolle said. "I spend a lot of my downtime studying film and the playbook. Once I get that part of my game down pat, then I will start looking ahead.
"It will definitely be an ongoing process but I hope to have at least 85 percent of it down before camp is over. Going into the first game, I plan on having it down pat. That's the goal."
Drafted as a corner, Rolle may be where he always belonged.
"Those corners know they have to hold their own," Rolle said. "I am going to give them all the help that I can."
This article has been reproduced in a new format and may be missing content or contain faulty links. Please use the Contact Us link in our site footer to report an issue.