DeAndre Hopkins has gone up against Jalen Ramsey many times before.
When Hopkins was with the Texans and Ramsey with the Jaguars, the two shared the field in seven meetings, one of the best receivers in the NFL and one of the best cornerbacks in the league seeing each other up close often in the AFC South.
That circumstances would bring them back together in the NFC West, meeting for the first time Sunday when the Cardinals host the Rams, only provides for an excellent subplot.
"It's football, no one stays on the same team forever," Hopkins said. "Looking forward to going against him."
The Rams are playing coy with how much Ramsey will see Hopkins (and even when a cornerback travels, like Patrick Peterson has during his career, there are always some times when they aren't on their assigned man.)
"Jalen gives us some flexibility that you have the ability to play strong coverage or travel with whoever you need from the opposing team," Rams coach Sean McVay said. "But Jalen is so much more to us than just somebody that does that. He's playing all over the field.
"You definitely don't want to be so predictable that the only thing he's doing is just traveling around with DeAndre all day. Those two have tremendous respect for one another. They're two of the best in the world at what they do."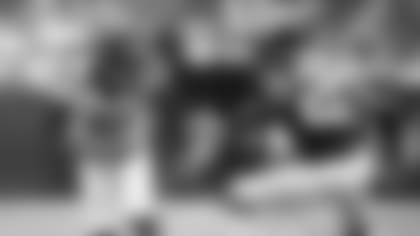 Hopkins has 396 yards when covered by Ramsey over those seven lifetime games, according to Pro Football Focus. He had 507 yards receiving (on 44 catches) against the Jaguars total in those games.
It'll be the second straight game Hopkins has faced an elite corner. Reigning NFL Defensive Player of the Year Stephon Gilmore covered him much of the day in New England. The Cardinals have to find a way to get their best pass catcher going; in November over four games, Hopkins only had 20 catches for 263 yards, and 43 of those yards came on the Hail Murray touchdown.
"You just want to make sure that you're maximizing what he can do and do things to try and keep him involved in the game," coach Kliff Kingsbury said. "Gilmore's one of the top players in the league, so is Ramsey. So, that's going to be a great matchup when they do ask those guys to cover Hop one-on-one, and you just want to make sure that he's still a viable part of your offense for the quarterback to go to."
If Hopkins can have a big day, he probably will have more to say on the subject.
"I definitely will have my popcorn out watching it from the sideline for sure," Peterson said. "It's going to be another clash of the titans."
FITZGERALD STATUS REMAINS UNCLEAR
When asked if wide receiver Larry Fitzgerald was ruled out for Sunday, Kingsbury would only note that the veteran remained on the COVID list – which was certain, since the earliest Fitzgerald could be brought off would be after 10 days. That would be Saturday.
Whether the Cards would make Fitzgerald active for a game Sunday after Fitzgerald hadn't practiced for a week-and-a-half is in question, although Fitzgerald's knowledge of the game would make him a candidate more than most.
THOMPSON OUT AGAINST RAMS
Safety Jalen Thompson (ankle) is out for Sunday's game. Defensive linemen Angelo Blackson (illness) and Rashard Lawrence (calf), as well as safety Charles Washington (groin) are questionable.