Twelve years ago, Kristi Brown emptied her savings account to fly to Tampa for the Cardinals' Super Bowl showdown against the Steelers.
She's back this week, as decades of unwavering fandom has Brown in the running for enshrinement in Canton.
The Cardinals superfan is one of three finalists for induction into the Pro Football Hall of Fame as the winner of the Ford Hall of Fans program. Brown has already received an all-expenses paid trip to Tampa and two Super Bowl tickets to Sunday's matchup between the Buccaneers and Chiefs.
The cherry on top would be a knock on her hotel door Friday afternoon from David Baker, who will alert the winner of their Hall of Fame enshrinement later this year. The other finalists are Raiders fan Wayne Mabry and Browns fan Ray Prisby.
"I'm not going to be calm at all," Brown said. "Just waiting for the phone call to hear if I was a finalist, I was sitting there shaking. I'm going to have to sit there for an hour or so waiting to hear if David Baker is going to knock on my door. I'll probably be standing at the peephole."
Brown began going to Cardinals games with her mom and dad when she was three years old. Once old enough, Kristi and her brother, Kyle, went in on season tickets together.
The Sunday tradition of attending Cardinals games began at Sun Devil Stadium and spanned through the 2017 season at State Farm Stadium. Toward the end of that long stretch, Kyle, who had moved to Missouri, would fly into Phoenix for the game and leave that night.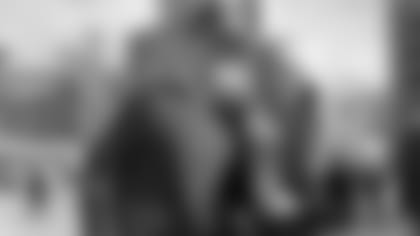 But Kristi had to give her tickets up in 2018 after her son was diagnosed with Chiari malformation, a neurological disorder. The medical issues led to mounting financial difficulties.
"After going to every game for 20-plus years, it hit me really hard when I had to give up those season tickets," Brown said. "That's your life. That's what you do. It was a big change, and the first couple of years, I had a really hard time not going to the games. But then I thought to myself, 'I'm still a diehard fan whether I'm there or I'm at home. I'm still watching the game.' Financially, it just couldn't work. In hindsight it's cool because I get to watch the game with my kids. I get to teach them about the game and get them excited about the Cardinals."
Brown was a Cardinals cheerleader in 2010 and 2011, a memory she treasures to this day – even if it came with some close calls at times.
"If you take one of the biggest fans and put them down in the action, how can it get any better?" Brown said. "I always kind of giggled that I would get in trouble sometimes from my captains because I wasn't paying attention to what I was supposed to be doing, instead paying attention to the plays."
Brown was a season ticket member for every year of the Bruce Arians era, and now gets to see the former Cardinals coach compete for a Super Bowl ring.
There will only be 25,000 fans in attendance because of COVID-19, and Brown will be one of the chosen few.
"I can't wait," she said. "I did go to the Super Bowl when the Cardinals were in it, but I was just living in the moment when that Super Bowl was going on. I think I maybe took two pictures the entire time. This time I'm like, 'I've got to soak everything up a little bit more and have some memories.'"