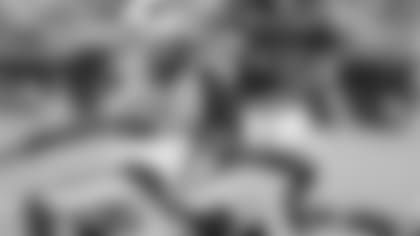 With a block from Jerheme Urban, Beanie Wells runs 20 yards for his first NFL touchdown Friday  night against the Packers.

Beanie Wells finally got a chance to play in an NFL game Friday night, and finally had a tangible reason to beam the wide smile he often wears.
The rookie running back had 46 yards on seven carries and two touchdowns, including one 20-yard scoring run that drew the oohs and ahhs of a crowd searching for things to cheer in a 44-37 loss to Green Bay.
"I had a lot of butterflies going," Wells said. "It was definitely up and down like a roller coaster. To finally put on that jersey and actually get out there, it hit me when I got that first carry in the NFL."
The first carry was a run right to the outside in which Wells gained 11 yards on first-and-10. It was a performance on his gimpy ankle as well; Wells acknowledged he still isn't 100 percent and "I felt I didn't have much of a burst today."
It was certainly a good start, however.
"He wants to prove himself," quarterback Kurt Warner said. "That's how we all need to be playing. That's the one thing you hope, is that guys aren't getting a little complacent after the success of last year. … (Beanie) played like a guy who had a little bit of a chip on his shoulder. We all need to take something from that."
With St. Pierre out with a bad back, Matt Leinart played the entire second half and played well. He made one mistake, trying to throw a long touchdown pass on a broken play that turned into an interception when he had a wide-open receiver in the flat. But otherwise, the lefty nearly orchestrated a miracle comeback, albeit against the Packers' backups.
If Early Doucet had held on to a two-point conversion – the Packers returned the subsequent onside kick for a touchdown, accounting for the final margin – the Cardinals likely would have won.
"It was fun," said Leinart, who finished 24-of-38 for 360 yards and three touchdown passes. "We are trying to win every game, preseason or not.
"A lot of situations came up in the second half just trying to win, two-minute situation, working with time outs. There was a lot of action to draw (experience) from."
Fourth-string quarterback Tyler Palko didn't play, but he is expected to get time in the preseason finale next week in Denver.
Pro Bowl receiver Larry Fitzgerald had his most intensive work (and likely his only intensive work) of the preseason, catching five of the six passes thrown his way for 75 yards.
"He is going to be a big part of what we do," Warner said in what is probably a massive understatement. "My whole job is to see what the defense is doing and get the ball to the right guy. If there is any chance to get it to 11 (Fitzgerald's number), to get it to 81 (Anquan Boldin), I'm going to do that."
Running back LaRod Stephens-Howling left with a concussion after a questionable hit on a run, while linebacker Pago Togafau fractured a bone in his right foot. Tackle Mike Gandy came out of the game as a precaution after feeling some tightness in his groin.
Sitting out were receivers Boldin (hamstring) and Steve Breaston (knee), St. Pierre (back), defensive lineman Keilen Dykes (quad) and linebacker Ali Highsmith (ankle).