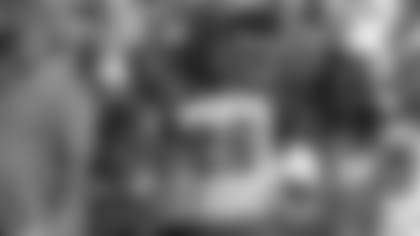 Beanie Wells strains to listen to a play while sitting out the team portion of practice for the Cardinals.

FLAGSTAFF – Beanie Wells was back on the practice field Sunday, wearing his gear and helmet on head.
The rookie running back, who hadn't practiced since spraining his right ankle in his first workout Aug. 1, went through individual drills but sat and watched team work without getting put in for any plays.
"I thought I was practicing today," Wells said, laughing. "But I didn't get any reps."
Wells continued to joke that he'd have a talk with coach Ken Whisenhunt and lobby for more playing time, saying with a grin, "I'll get in coach Whiz's face."
Whisenhunt said the move was precautionary because the Cardinals don't want Wells to have a setback. As for Wells' request for more reps, "I think Beanie is going to be begging to get some reps off here in the near future," Whisenhunt said. "So be careful for what you wish for, right?"
Wells said he felt fine running and accelerating. He said he felt the ankle some at the end when he would slow down at end-of-practice sprints, but attributed that to not being warm having done little during practice.
Whisenhunt said Wells looked good. Wells' play will be progressed as the week goes, Whisenhunt said, as long as his ankle responds well daily.
Wells actually dressed out in Pittsburgh Thursday, but Whisenhunt had said he wanted the No. 1 draft pick to go through the process of getting ready and warming up for a game even if he wasn't necessarily going to play. Wells didn't.
In some ways, Sunday was just an extension of a difficult NFL start for Wells, although he said he is handling his time down better than at first.
"Definitely at the beginning I was real frustrated, with that whole injury bug stigma from college," Wells said. "To get it (hurt) here on a freak play, I was devastated. But I have a lot of great guys around me, coach Whiz, coach (Curtis) Modkins and the players, who are keeping my spirits up."
The right knee injury to wide receiver Steve Breaston is a sprain of the posterior cruciate ligament and a bone bruise, Whisenhunt said, but the coach added that Breaston was day-to-day with swelling and he wouldn't rule him out of playing Saturday against San Diego.
"Steve is probably one of the toughest guys we've got, so I would never rule him out," Whisenhunt said.
Whisenhunt said he hopes receiver Early Doucet (shoulder) can return to individual drills soon, but there still isn't a real timetable for his return. Doucet said last week he still wanted to play against San Diego.
The most serious injuries are safety Dennis Keyes (right calf strain) and the ongoing issues with tackle Elliot Vallejo (dislocated right kneecap) and defensive end Keilen Dykes (quad strain), all of whom are like out at least another couple of weeks. Cornerback Michael Adams sprained his left ankle, but Whisenhunt said he expected Adams to be back in a couple of days.
Tight end Anthony Becht (hamstring) returned to practice. …
A wildfire that broke out in the Coconino National Forest southwest of Flagstaff spread some significant smoke at one point in the afternoon Sunday, but Whisenhunt said he never considered taking practice inside. "What were the counts per million of ash?" Whisenhunt quipped. "If it gets up to where it would have been more than we could take, I would have been concerned about it. I think we were still under the threshold."