With the passing of Bill Bidwill Wednesday, memories and anecdotes about the Cardinals owner came quickly from those who knew him, including players and coaches. A sampling of many of those stories:
Adrian Wilson: Now the team's director of pro scouting, Wilson was an all-pro safety drafted by the Cardinals in 2001 and was a key component of the team that made the Super Bowl in the 2008 season. At one point, Wilson took a break from his speaking duties on Super Bowl media day to sit and chat with owner Bill Bidwill. "He was just talking about how special that moment was, that group of guys. We didn't know how big that moment was at the time, but I know for Mr. B it was very, very special, in terms of reaching that point."
"I was never in the locker room before a game, so he would have to come and find me and tell me to be the S.O.B. I'm meant to be. That was really one of the things he liked about me moreso than anything. I was always myself and he always used to tell me, 'Continue to be who you are, and everything will fall into place.'"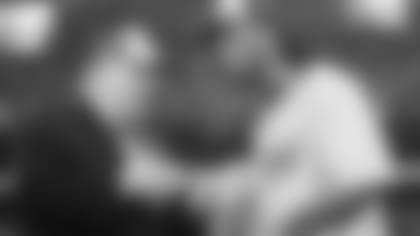 Larry Fitzgerald: "The thing I really cherished about him was his selflessness and commitment to the community. I pride myself in trying to get out (into the community) and be positive anywhere I can go, any organization or non-profit, I think I can help. I can't tell you how many times I would go around the city, people would say, 'You know, Mr. Bill Bidwill was here two weeks ago, made a really nice donation to our foundation, nobody ever really helps us and he's been really helpful' and I'd be like, 'Wow. This is a reoccurring theme.' His name is always coming up, but it's not like you read it in the paper or see it on TV or hear it being talked about or recognized. It was something he was passionate about and he wanted zero fanfare, and I always respected that about him."
"He was always great to me. I would always mess with him. He used to wear this fishing vest sometimes, and it had all these pockets. He would see me coming and he'd start running, because I'd always run up to him and pat his pockets and be like, 'Mr. B, contract year coming up. Where's the money at? Where's the money at?' He'd always be chuckling and laughing and running from me. ... Once he stopped coming by the facility, I would always stop by the holidays or his birthday and see him, make sure to let him know I was thinking about him. I truly miss the times we shared together."
Hall of Fame tackle Dan Dierdorf: "He would not be what anyone called an absentee owner. He was there every day, he was at the practices, he was a constant. It's a sad day. ... I know that Mr. Bidwill liked me, and I liked him. And he'd come and sit by me on a bus and we'd be on our way to the hotel (and tell bad jokes.) The one thing I have to give him credit for, he didn't recycle bad jokes. Somehow he had a source that would supply him with fresh jokes. They were horrible, but he never repeated himself, and I always appreciated that."
"(My career) concluded with me walking in and telling him that I was going to retire at the end of the season because my knees were so bad I couldn't get through a practice anymore. I'm in his office and it's just the two of us, but he actually got tears in his eyes. He came over and shook my hand and said, 'Thank you for 13 wonderful years.' That's what I'm thinking about today with a heavy heart."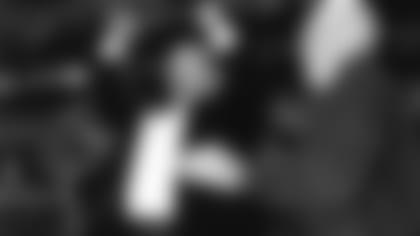 Former quarterback Jake Plummer: "He's a guy who was around, in the building all the time. Seeing all the coverage (today) takes me back and I smile, because it takes me back to his real dry sense of humor and that smile on his face. ... That wily little grin on his face where you'd be talking to him. He was a walking historian with the game of football.
"Friday lunch, they'd bring in the food and he was always there. It was kind of funny, a lot of guys were scared of him, but I'd always go sit and chat with him. Same with Pat Tillman. A lot of guys said, 'he's the owner, he's off-limits.' But he really loved to engage and talk to his players. He wasn't really going to reach out and engage them himself, but if you sat down with him, he loved it."
Hall of Fame cornerback Aeneas Williams: "One of the things that came to mind was a game where I picked up a fumble and ran it back 104 yards against the Redskins (to set an NFL record) and I was told that Mr. B went out to Sun Devil Stadium the next day to measure how deep in the end zone it was, to make sure that there was an accurate measurable for that particular play. To see Michael now running the team and carrying on Mr. B and his mom's legacy and to see the fan base, the stadium and all of those things going on in Phoenix, it just tells me of a man who was key to the transition because he knew the family and the organization is in good hands."
Former all-pro fullback and longtime analyst Ron Wolfley: "So many memories come flooding back. I don't know if it was just me or the fact I wore a camouflage headband and listened to Guns N Roses and Metallica ... but he seemed to be fascinated with me. I can't tell you how many times I would be the first guy in the locker room and had my headphones on and I was listening to my Guns N Roses four hours before the game and had the camouflage headband on and I was spatted up and ready to play and invariably I'd be looking down and just rock (back and forth) getting ready.
"And suddenly, there were the wingtip shoes, the dress shoes, beautiful black leather shoes that would appear in my vision. I'd look up, Mr. B, there he would be holding his cup of coffee, looking at me over the top of his glasses. When I looked up, he'd just grin at me. I would say, 'Hey, Mr. B.' And he'd turn and walk away and you'd see his shoulders (bouncing). He obviously was laughing."
Wolfley, on Bidwill's charitable exploits: "My father always taught me it wasn't what you did for a living, it's who you are that matters. Although Mr. B did not experience a great deal of success as an NFL owner, he experienced a ton of success as a man."
Former Cardinals General Manager Rod Graves: "Mr. Bidwill was one of the greatest men I've known. He was more to me than just an employer. He was my friend and my teacher. I felt the support and encouragement that is rarely present in the workplace. He taught me how to be a better professional."
Former Cardinals coach Dave McGinnis: "He was one of the original families. Bill Bidwill made the move to the Midwest to open up TV, he was willing to make the move out West, then he was willing to make the move from the NFC East to the NFC West. He was always a guy who had the benefit of the league in mind. He had great respect for the fiber and fabric of the National Football League. He was a very honest man to work for. If he told you something, you could count on it. I'm very thankful that he saw fit to name me as interim coach and then saw fit to give me my first head coaching job in the NFL. I had great respect for him as a man and as a true, old-guard owner in the NFL."
Hall of Fame quarterback Kurt Warner: "It is a sad day for all of us in the Cardinals family hearing of the passing of Mr. B. I will remember fondly all the time I spent with him and the moments we shared together. Among my favorites were our conversation on the way to Tampa Bay for Super Bowl XLIII, the numerous interactions on the practice field and my most fond memories, the lunches we shared at the facility, in which I got to hear football and personal stories from a man that had a huge impact on the game and a community I love! To know Mr. B was to know a man that embodied kindness, humility and generosity. A man, although much of the time out of the spotlight, that had tremendous impact on the strides and successes of the NFL as a league. Though he never graduated from his bow tie, he was very forward thinking and ahead of his time in terms of making advances for all people in the game of football. I am extremely grateful to Mr. B for extending me an opportunity to rebuild my career and help build on the great tradition of the Arizona Cardinals. I will do my best to carry on his incredible legacy as a Cardinal and in the community. He will be greatly missed."
Former defensive tackle Darnell Dockett: "RIP Mr. Bidwill – glad to have known you for over a decade. Well wishes to Mike and the family. Wish I could of got you that Super Bowl. Birdgang forever."
Hall of Fame running back Emmitt Smith: "Condolences to the family of Bill Bidwill. I was grateful to have the opportunity to extend my career with the Arizona Cardinals and I'll never forget him or the Cardinals family."
Arizona Governor Doug Ducey: "A dad. A husband. A giant of the NFL and an Arizona icon – Bill Bidwill never forgot he was part of our community, and he showed it throughout his long and remarkable life. Bill was passionate about many things, but especially his faith, family and the Cardinals football team he loved so much. He served his nation in the U.S. Navy and gave back generously to his community, starting and advancing numerous charities. Bill brought the Cardinals to Arizona over three decades ago, helping pioneer Arizona's professional sports identity. He was pivotal to bringing Arizona's first Super Bowl to the state in 1996, as well as two more in 2008 and 2015. He stood out among NFL owners for his kindness, good nature and leadership, and was an early proponent of bringing more diversity into the team's front office. Living to the age of 88, with five children, 10 grandchildren and one great-grandchild, his was a life truly well lived – and his impact and legacy will love on. My deepest condolences go out to the entire Bidwill family during this difficult time."