Bill Bidwill, sole owner of the Cardinals since 1972 but a part of the franchise since his father bought the team in 1932, passed away Wednesday. He was 88.
The quiet Bidwill shunned the spotlight, but loved to reminisce and tell a good story, whether it be an anecdote from his time serving in the U.S. Navy or his days growing up around the Cardinals.
Bidwill's wife, Nancy, passed away in August of 2016. He is survived by his five children -- Bill Jr., Michael, Nicole, Patrick and Tim -- and 10 grandchildren and one great-grandchild.
"Our dad passed away today the same way he lived his life: peacefully, with grace, dignity and surrounded by family and loved ones," Cardinals President Michael Bidwill said in a statement. "We are overwhelmed by the support our family has received, not only now but throughout the latest chapter of his life. We are especially grateful to the nurses, doctors and other caregivers whose endless kindness and compassion in recent years have made our dad's life so meaningful.
"Above all else, we will remember him as a man devoted to the three central pillars of his life – his immense faith, his love for his family and his life-long passion for the Cardinals and the sport of football."
Wide receiver Larry Fitzgerald was one of a number of players, present and past, who expressed their condolences to the Bidwill family. Fitzgerald, the team's top pick in 2004, had grown close to Bidwill over the years.
"Once he stopped coming by the facility, I would always stop by the holidays or his birthday and see him, make sure to let him know I was thinking about him," Fitzgerald said. "I truly miss the times we shared together."
As a youth, Bidwill served as a ballboy for the then-Chicago Cardinals. He played high school football at Georgetown Prep in Maryland – he was named to that school's athletic Hall of Fame in 2016 -- and was named a Cardinals vice president once he attended Georgetown University.
Bidwill joined the Navy following college before coming to Chicago to help the family's business interests – which included the Cardinals – in 1956. He worked for the franchise full-time beginning in 1960, the year the franchise moved to St. Louis. After Bidwill's mother Violet passed away in 1962, Bill and his brother Charles Jr. – better known as Stormy – inherited the team. Bill purchased Stormy's share of the franchise in 1972, and the Cardinals moved to Arizona in 1988.
Bidwill was an early proponent of front office minority hiring in the NFL. He brought in Bob Wallace to be the team's general counsel and chief contract negotiator in 1981. Bidwill also hired Adele Harris, an African-American woman, to be a public relations assistant in 1971. Harris left three years later to attend college, and when she returned to the club in 1978, she became the first minority female executive in the NFL when she served more than 20 years as the team's director of community relations.
In 2004, Bidwill promoted Rod Graves to General Manager and named Dennis Green head coach, making the Cardinals the first franchise with minorities in both posts at the same time.
In 2010, Bidwill was honored with the Tank Younger Award – signifying an NFL official who has made an impact in minority hiring – from the Fritz Pollard Alliance. Dedicated to philanthropy (often without any fanfare), Bidwill supported multiple charities throughout his time as Cardinals' owner, including the creation of Cardinals Charities, the team's philanthropic arm dedicated to supporting worthy Arizona causes.
Bidwill helped bring Super Bowl XXX to Arizona in 1996, the first of three Super Bowls played in the state thus far, and worked with son Michael to shepherd the construction of State Farm Stadium, which opened in 2006.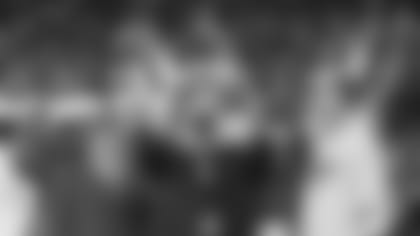 "Bill Bidwill was part of the NFL family his entire life, starting from his days as a ball boy through his time as an owner," NFL commissioner Roger Goodell said in a statement. "Although never one to seek the spotlight, Bill had an incredible sense of humor and he made extraordinary contributions to the NFL. Bill's vision brought the Cardinals, the NFL and multiple Super Bowls to Arizona. He was a leader in embracing diversity and employed the first African American female executive, and the first African American general manager and head coach tandem. We extend our condolences to Bill's family and the Cardinals organization, which along with his faith, meant so much to him."
On the field, the Cardinals made an amazing playoff push in 1998 to reach the postseason for the first time since moving to Arizona. In 2008, the Cardinals won the NFC Championship and played in the Super Bowl for the first time, losing a heartbreaker, 27-23, to the Pittsburgh Steelers. The team also reached the NFC Championship game in 2015.
"My greatest memories of Mr. B were when he would come join us for lunch after practice," former Cardinals quarterback Kurt Warner said. "Sometimes he'd just walk through. Other times he'd take a seat, or if he was on his own I'd seek him out and ask him questions and talk to him and ask him to share stories with me. He loved sharing old stories about football and about the organization. That was fun.
"I felt like in that 2008 (Super Bowl) run, I felt like he was more a part of things than before or even a little after. He understood how special that turning of the corner was. To get to know him not just as the owner of the team but as an individual and I got to hear him through his voice. I enjoyed that."
Photos of Cardinals owner Bill Bidwill over the years