Russell Wilson started it all in Arizona, at then-named University of Phoenix Stadium, a rookie who had shockingly beat out high-priced free agent Matt Flynn as starter and proceeded to nearly beat the Cardinals in his first NFL game.
It was close – Kevin Kolb's TD pass to Andre Roberts gave the Cardinals a 20-16 lead with a little more than four minutes left, and Wilson then led what would become an 18-play drive of his own, only to fizzle out in the dying seconds of the clock with three straight incompletions at the Arizona 4-yard line.
The Cardinals escaped that Wilson comeback, but he has been a pain to the Cards – especially at now-named State Farm Stadium – over his decade.
It's fitting then, if Wilson is playing his final game as a Seahawk Sunday, that it would be trips to the desert to bookend his time with Seattle.
"He's still making plays with his legs, he can make every single throw, he's very smart at the line of scrimmage," Cardinals defensive coordinator Vance Joseph said. "I haven't seen any different.
"He's a little older. Some things change with physical abilities, but I haven't seen that with Russell. He's still the same guy."
The end with the Seahawks wouldn't be about retiring. But his future became a topic last offseason, with potential trade destinations leaked to the public, and with the Seahawks stuck with a losing record (6-10) for the first time since Wilson arrived, there is plenty of speculation of what the Seahawks might do with their quarterback – or what he might want to do to move on to a new situation, a la Tom Brady.
It would have to be a trade, with Wilson still under contract.
"My plan is to win Super Bowls," Wilson told Seattle reporters Thursday. "And my plan is to win them here. It's that simple."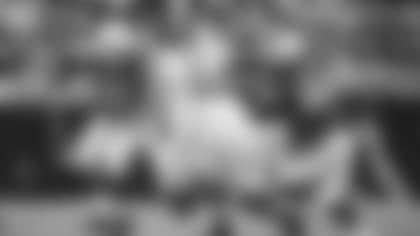 That's the backdrop with which Wilson and the Seahawks come to the desert. With his 20th game against the Cardinals to be played, he does have a winning mark – 10-8-1 thus far – although over the years the Cardinals have also made life tough at times. They have sacked him 63 times total.
Earlier this season, in a 23-13 win (and Wilson coming of his finger injury), the Cards sacked him four times and held him to 207 yards and no touchdowns.
"He's still a dynamic quarterback," defensive tackle Corey Peters said. "We have to rush (him) as a group. We can't go after this guy one on one. We know the competitor he is."
He's the guy that has 29 touchdowns and only eight interceptions against the Cardinals over those 19 games (and three picks came in the Cards' home win last season, which still went to overtime.) Like Kyler Murray to Cardinals opponents, the number of times Wilson has found an escape on a broken play and broken the Cardinals by running or throwing for big yardage are too numerous to count.
"That's very hard," Joseph said. "You can call a perfect defense versus their offensive concept and the first play won't get you, it's the second(ary) play Russell provides with his legs. Once he starts moving and scrambling, he can take off and run for 20 or 30 yards like Kyler does or he can throw for a touchdown. It makes it almost impossible.
"Absolutely that's frustrating but that's part of it."
If the Cardinals win Sunday, it would be the only time in Wilson's career the Cards would have swept the Seahawks in a season (in 2016, the Cardinals won in Seattle and tied in Arizona.)
Maybe he'll still a division foe in 2022. Maybe Wilson moves on.
But the Cardinals know he's the focal point that they must stop to finish the regular season with a win Sunday. Which has been pretty much the script since that opening day in 2012.
"He is still a great player and a Hall of Fame quarterback," Joseph said.