The
Cardinals dominated the Packers from start to finish in Sunday afternoon's 38-8 victory. The defense registered nine sacks, four turnovers and a pair of touchdowns in its best performance of the season. The most memorable defensive play came when linebacker Kareem Martin forced a sack-fumble of Packers quarterback Aaron Rodgers and defensive tackle Cory Redding returned the loose ball for a score. It was Redding's second career touchdown and effectively put the game on ice even though there were still nearly two quarters to play. Redding, Martin and defensive tackle Ed Stinson broke down the play in this week's edition of Cardinals Film Room.
The situation: The Packers had a third-and-7 from the Arizona 49, trailing 24-0 with 9:47 remaining in the third quarter.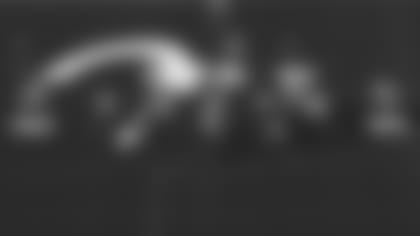 The right side of the defensive line is clear on the play-call, as Redding aims to create space for linebacker Dwight Freeney: "So we had a 'Tex' game on. I was supposed to penetrate through the 'B' gap, get in between the guard and the tackle and have Freeney loop underneath me."
On the left side, defensive tackle Ed Stinson and Martin do an audible. Stinson: "We were going to run the 'Tex,' which me, the tackle, penetrates and gets high, and Kareem is supposed to come under. But there was a miscommunication with the play. Coach said double pick but (linebacker) Kevin (Minter) called it differently. So Dwight just called the front and me and Kareem kept it straight."
Martin attacks Packers right tackle Josh Walker instead of looping under: "We got the call and it was kind of hectic. We were running a stunt on one of the sides. I'm not even sure if we ran it on the right side but it worked out perfect. They might have been playing for the (stunt) and I went around the edge on him. (The stunt) was on the other side in my head, which I think was right. We'll see in the meetings on Wednesday."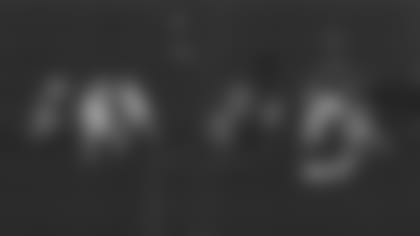 The Packers' left side handles the rush, so Redding's responsibility changes: "They jumped it. They knew we had something on, so they manned it pretty much. So I stayed out on (tackle Don Barclay, No. 67) and Freeney stayed on (guard Josh Sitton, No. 71) and I didn't really get a chance to pick it the way I wanted to. So when I pushed and got up the field, I just stayed on the tackle. Now I've got contain, because (Rodgers) likes to boot out, to scramble and make plays with his legs. I'll at least stay out and make sure there's a body presence out here."
Martin blows past Walker: "We watch a lot of film throughout the week and we saw the type of setter he was. The whole week our game plan was to press the pocket because Aaron Rodgers, he likes to scramble. That was a big thing on that play, just squeeze him. We had so much going on on the front that he didn't have anywhere to go and he had to step up, and I was right there."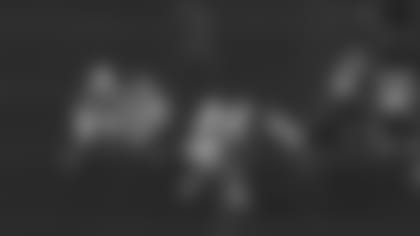 Martin not only gets the sack, but forces a fumble: "Whenever you're going for a sack, they teach you to wrap with one arm and swipe with the other arm. The quarterback's most susceptible to a fumble just because he's holding the ball with one hand. I think that's just my mentality. Try to get my hand on that throwing arm and that ball will come out. "
Redding sees it come loose immediately: "When I saw him start to go down, I was like, 'Oh, snap.' So I'm just going to stay out here just to make sure he doesn't spin out of it and come out. And then the ball pops out. I saw it right away."
As Stinson points out, Martin's two career full sacks have resulted in scoop-and-scores: "It seems like every time he hits the quarterback it's a fumble for a touchdown."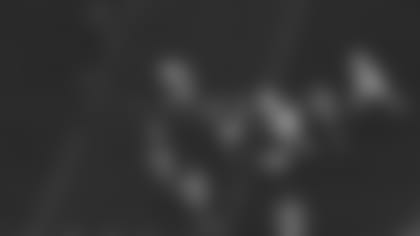 Martin pounces up to recover the ball but is beaten there by his teammate: "As soon as I slung (Rodgers), my eyes went straight to the ball. I thought I was going to be the one to get the recovery. When I hopped over him, Cory came up in my peripheral and went and scooped. At that point, it's like, 'OK, be a blocker.'"
Redding focuses on grabbing the ball cleanly, but doesn't consider diving on it: "I said, 'OK, just pick the ball up and don't fumble it.' You know what I mean? Because that's one of those things. A D-lineman tries to get the ball and they fumble, fumble and the (offense) jumps back on it. So just pick up the ball and don't drop it. I knew nobody was in front of me. Everyone was behind me and (Eddie Lacy) was the only one there. At least I had some wiggle room to try to get this ball and get as many yards as I can."
Stinson gets a small block on Lacy and Redding then shoves Lacy to the ground. Stinson: "I saw Lacy trying to catch him, so I just tried to help as much as I could and push him out of the way. Cory finished him off (laughter). It was awesome."
Martin is impressed by Redding's stiff-arm: "I saw him shrug him off on the field, but after watching it on film I was like, 'Oh, man.' And Lacy's a big guy. To see him do that, I was like, 'That's a strong man right there.'"
Redding explains how the return unfolded: "I pick the ball up and I'm running. I look to my left first. I want to see who is close. And then I felt my arm being tugged. He hit my wrist, so when I felt that I pulled (the ball) tight and I just shoved. I didn't even know if it was my guy or their guy. I just knew somebody was going to get pushed. So I knocked his hand down and I shoved him at the same time. I looked to my right to make sure it was red jerseys, then I looked to my left and saw a red jersey. I knew I had a convoy, so I just ran to the end zone."
Redding's Ric Flair strut in the end zone earns praise, and he says there was no pre-planning: "That's just spontaneous. Any time I get a sack, I know I'm going to do Ric Flair or some kind of funky dance. I've done a few things for my kids off of a cartoon, off of Despicable Me. It's like, 'Vector, committing crime with both direction and magnitude. Oh, yeah.' So I did that a couple times last year, but I didn't know what to do. My go-to is Ric Flair because I've been doing that since my Detroit days."
The dance was easy to find on social media, which is how Martin watched it: "I actually didn't notice it (live). I saw it on Twitter afterward.  All I remember was the Jumpman going into the end zone, or whatever he calls it. But I did like the Ric Flair touch to it. That was pretty cool."
Stinson can only dream of the rare big man touchdown: "I wish it was me on the other end of that. I don't know what I would have done. I would have flipped into the end zone or something."
Redding knew he couldn't go down after getting tackled four yards short of the end zone by Lions quarterback Matthew Stafford on his Week 5 interception: "Everybody was just saying, 'You made it to end zone this time.' I was like, 'Yeah, I would not be denied this play.' I told myself, 'I've got to make it to the end zone' because Kevin Ross, the DB coach, was on me all week when I didn't make it against the Lions. All the players, all the coaches were like, 'Come on, man.' You don't think about that when you're doing it. Until afterwards, you're like, 'I could have stiff-armed him, I could have spun or shoved.' So I said if I get that ball again, I've got to get home. I can't let these guys rag me two times in a season."
Images of the Cardinals cheerleaders during the Week 16 victory over the Packers