The Cardinals !were playing catch-up for most of Sunday's 23-21 loss to the Patriots, but grabbed the lead briefly in the fourth quarter. It came on a seven-play, 79-yard touchdown drive headlined by a spectacular 45-yard run from David Johnson. While the Cardinals running back is only one game into his second season, he has made a habit of turning normal carries into highlight reel plays. Johnson finished the game with 89 rushing yards, 43 receiving yards and a touchdown. Johnson, quarterback Carson Palmer, tight end Jermaine Gresham and center A.Q. Shipley broke down the big gain in the return of the weekly Cardinals Film Room series.
The situation: The Cardinals had a first-and-10 from their 43 with 11:08 left in the game, trailing 20-14.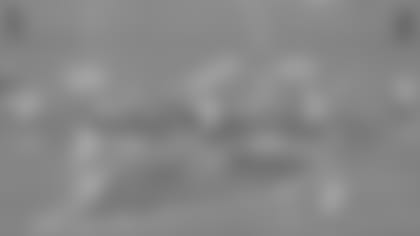 Gresham prepares to block for a run-of-the-mill carry: "It was one of our staple plays that we do. Pretty much a gap-scheme run play."
Johnson knows he will be running behind right guard Earl Watford and right tackle D.J. Humphries: "Pretty basic downhill running off to the right side. Follow the double team and see what holes are open."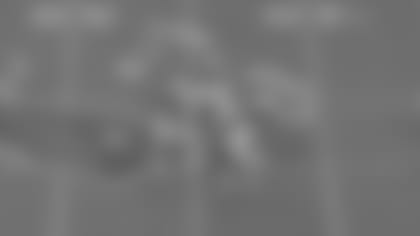 An aggressive Patriots defensive lineman fires into the backfield as Gresham sets up to block: "That was (Jabaal Sheard). He kind of tried to shoot the gap. I was just trying to push and run him by the hole. David stuck his foot in the ground and made a hell of a cut. "
Johnson is forced to improvise immediately: "As soon as I got the ball, I saw (Sheard) come in and I had to make a jump cut to the outside. Then I saw the corner (Logan Ryan) come down really fast, so I tried to cut it back inside. Basically, that's when the instincts took over."
Shipley has a good view of the play unfolding: "I'm sealing (defensive tackle Vincent Valentine), so I'm right there. I'm watching the whole thing."
The jump cut is natural for Johnson: "When you play running back, especially with the speed of the game, instincts take over a lot. Guys are closing in on you quick, so me having to jump cut is when I see a guy coming at me, I see the way my guy is blocking for me and I need to get to that hole -- that type of thing. I need to get to the inside or the outside, and a jump cut is very effective."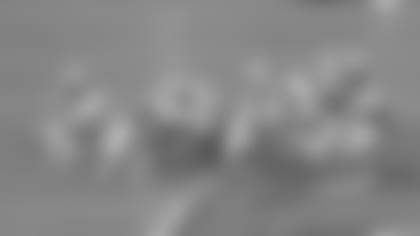 As the Patriots swarm, Johnson thinks the run is over for a short gain: "(Valentine) had his arms around me, a big guy, and there were, what, three other guys getting ready to get on the pile-up? I was basically just trying to fall down forward. Luckily, I think the defensive lineman tried to swing me. As a big guy, his momentum is probably carrying him to the right. It forces him to swing me, and I think that's what effectively ended up helping me out."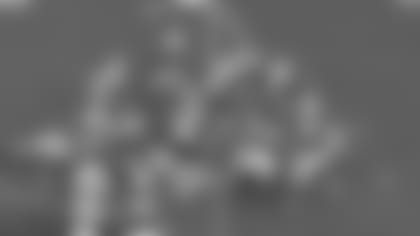 Johnson wriggles free and uses his hand to stay upright: "I tried to just keep my balance and then look up field to see where else I could go. I tried to look up and see where my green grass was, and luckily there was a lot of green grass on the right."
Palmer has seen this type of run before: "It reminded me of his run in Philadelphia. It was probably a similar yardage run, 50-something yards, 40-something yards. A lot of guys around him, a lot of guys trying to wrap him up and nobody wrapped him up."
Shipley becomes a spectator with a great view: "I tripped up right there, so I looked up and at that point he's running down the sideline. Incredible run."
Johnson stiff-arms safeties Devin McCourty and Duron Harmon to extend the run, a weapon he's used often in the NFL: "My arms are a little longer so that helps out a lot, and stiff-arms are just natural instinct as a running back. It's very effective against the smaller DBs."
Gresham watches in amazement: "By the time I looked back at him, he was coming out of two tackles. That's when I saw the two stiff-arms. He's very unique. He's a rare talent in the pass and run game both. He's special."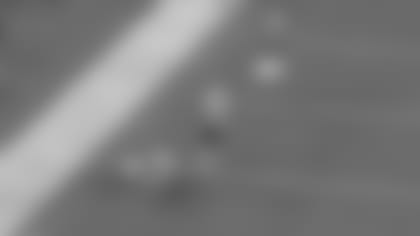 Johnson turns the corner and thinks he will beat Sheard to the end zone: "I did not see (McCourty). I actually thought he got tripped up by the guy (Harmon) who was trying to tackle me. All I saw was (Sheard) and I was just trying to out-run him. I didn't even see that corner, and luckily, I'm glad he didn't punch the ball out, because after watching film he definitely did go for the ball."
Shipley knows the Cardinals have a game-changer in the backfield, evidenced again by the run: "We saw it last year. Chicago was kind of his breakout game. He got three touchdowns – one receiving, one running and one return. So (the coaching staff) knew that, and they just started sprinkling him in more and more. He's a special player. There's no question about it. We're fortunate to have him back there."
Images of the Cardinals cheerleaders during "Sunday Night Football"