When
the fourth quarter began on Sunday, the Cardinals were losing the turnover margin 4-0 but found themselves ahead in the game, 24-20. That lead was in jeopardy, as the Browns were within field-goal range and looking for more following a Chris Johnson fumble. Their chance to take the lead went up in smoke when safety Rashad Johnson intercepted a pass in the end zone. The Cardinals scored on their ensuing possession and were never threatened again. It was the Cardinals' first forced turnover of the game, and a huge one. "I thought (the interception) was the turning point of the game," coach Bruce Arians said on Monday. Johnson, cornerback Patrick Peterson and cornerback Justin Bethel broke down the play in this week's edition of Cardinals Film Room.
The situation: The Browns had a second-and-9 from the Arizona 27, trailing 24-20 with 15:00 left in the fourth quarter.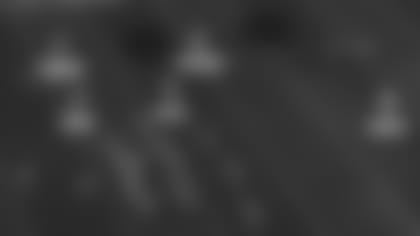 While safeties have to crash down in run support, Johnson isn't creeping up on this play: "I see the slot formation, and the first thing that I'm thinking is I don't really think they're going to run the ball to the boundary here, so I'm expecting a pass."
Bethel's original assignment was zone coverage: "It was a Cover 3. I was the curl-flat player. That was a play they actually re-did because of a penalty (a false start on Browns left tackle Joe Thomas), and Pat was like, 'They're about to run the out-and-up.'"
Peterson recalls the play from film study: "I saw it. I forgot who they ran this play against. It was either Baltimore or … I forget what game it was, but they ran this play. They needed a (deep) shot. They hadn't given us anything different all game. This was their opportunity to try to get something different on us."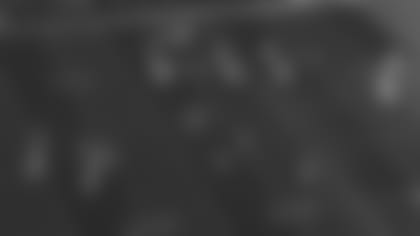 Johnson expects an out-and-up from Browns wide receiver Taylor Gabriel and it comes to fruition: "You can see here he's not really trying to make it a tight out. He's running at an angle to get it back up the field. I could see it from my positioning that he wasn't getting his head back and looking as though the ball was coming."
Peterson already knew Travis Benjamin's route and covers it well: "Rashad could see me on top of the post, so he knew I didn't need him anymore. That's basically what the middle field safety is there for. And now he's just being a ballplayer. The ball is still in quarterback (Josh McCown's) hands and he's already going (for Gabriel) because we play off each other so well. He knows where the ball is going and beats the quarterback to the punch."
With no other receiver in the area, Bethel leaves his zone to continue covering Gabriel: "I hit him and went to go look. I saw that nothing was under me and him start to turn, so I just ran with him. Pat stayed with his man, so pretty much we ended up playing it like man (coverage)."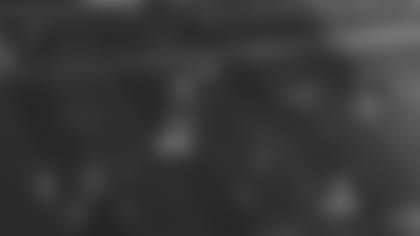 Johnson's decision to leave the middle of the field is a calculated gamble: "Since (tight end Gary Barnidge) goes under the 'backers, we know Tyrann (Mathieu) can push to the middle and I can actually run further to the outside. That's what I saw. I saw the guy go under and I just knew that Ty would run to the middle, so it allowed me to run more over the top. I have trust in Pat, and at the same time Tyrann is pushing here, so we've got double (coverage) on both of those guys."
Peterson has Benjamin locked down: "Rashad saw that I had him clear because we knew what was coming."
Johnson takes the correct angle as the ball gets released: "At this point, I'm pretty sure he's going to throw it to the end zone, just from his shoulder angle. I'm trying to find the ball and get the trajectory of it, and I'm trying to block the sun out."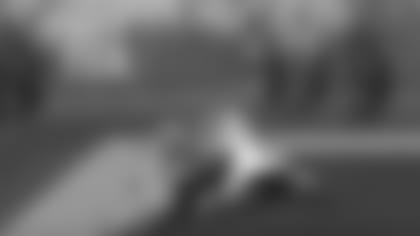 With the running start, Johnson has time to get in position for the pick: "It gave me an opportunity to size it up and see where I was at. I could see Justin and the receiver next to me, so I knew I had some room to get my feet down without it being a big deal."
Bethel jokes that it could have been his interception if Johnson wasn't there: "When I turned around I saw the ball and I cupped my hands ready to catch it. I told Rashad, he came like an archangel out of nowhere. He swooped in and took it. After watching it, if I caught it I might not even have got in. The dude grabbed my facemask and I might not have gotten my feet in bounds. 'Shad was there to make a great catch and get his feet down."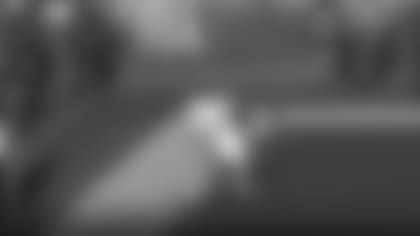 Johnson keeps his feet in for his fourth interception, which is tied for second in the NFL, one behind Raiders safety Charles Woodson: "I pride myself on making plays to help my team win. Just seeing my name mentioned next to Charles Woodson's name in a category is humbling in itself. I just try and do whatever I can to be the best I can on Sundays. If that means catching picks, that's part of it."
Bethel isn't surprised Johnson diagnosed the play correctly: "If Rashad tells you a play is about to happen, it doesn't matter what you think, just go out there because it's about to happen. He's definitely a really intelligent guy and knows the game. He makes plays like that all the time."
Johnson can get lost in the shuffle of a star-studded secondary, but Peterson knows his importance: "The guy's very, very talented. His value and what he means to this team is very underrated. His play has been talking very big and hopefully we can do something to keep him (a pending free agent) around here for a long time.'"
Top images from the Cardinals' Week 8 victory over the Cleveland Browns