Tight end Rob Housler set up a first-and-goal from the 6 with his catch-and-run
The Cardinals didn't have much offensive success in Sunday's 35-6 loss to Seattle, but they did take a 3-0 lead early in the second quarter. Kicker Chandler Catanzaro made a 27-yard field goal to cap the drive, which was highlighted by a 13-yard screen pass to tight end Rob Housler. Housler, quarterback Ryan Lindley and left tackle Jared Veldheer broke down the play in Cardinals Film Room.
The situation: The Cardinals had a second-and-9 from the Seattle 19 with 10:11 remaining in the second quarter of a scoreless game.
Housler will only be open if Seahawks linebacker Bruce Irvin (No. 51) rushes the passer: "You cross your fingers, truthfully, because with any screen you want good pass rush. Setting up, you need to sell it. With Bruce in a two-point stance I was a little hesitant as to whether he was going to rush or not, but he did. It's all about selling it and beating that guy. If you can't beat that guy, the whole play's dead."
Lindley could have checked out of the play if he thought Irvin would go with Housler: "It was tough to tell because Irvin's kind of a hybrid guy. He's a down lineman in those sub-packages but he's also a linebacker, so you never know. We hadn't seen much on the film where he plays as a D-end and covers the tight end like that, but just the way he was standing, it kind of looked that way. At first it looked a little gray, not exactly how we drew it up, but that's ball. You've got to kind of make plays out of it."
Veldheer abandons protection to set up the screen:"They must've bit on the run pretty good. Maybe it wasn't man-to-man. The picture was really clear of what was going on, there wasn't crazy congestion going on. Go clear and kick out and hit the first thing."
Housler blocks Irvin and then releases him toward Lindley: "I was a little worried for a second because I held onto that guy a little longer than I usually do, but we locked eyes and he got the ball to me. I tried to sell it as long as I could and then turn and make myself available to him, because it's not an easy throw. On a play like this you know you've got to win. You know you're the quarterback's only option and you never want to waste a down against these guys."
Lindley keeps his eyes toward the middle of the field but feels the play is developing favorably: "I feel like if I stare Robby down, it gives (Irvin) more of a reason to sit on Robby and hold onto him. Just giving him that wiggle room to work with. At that point, I kind of knew, 'Hey, we got the look we want.' It was kind of a half-rush, and Robby did a good job. He said (Irvin) was kind of holding on and Robby just tried to spin him upfield, throw him off and get the separation he needed."
Veldheer said the blocking and the pass were in sync: "The timing is all supposed to be the same. You're supposed to, in theory, get out at the same time. I don't know if we (he and center Lyle Sendlein) should be that close. Maybe we're a little too close. But I have the flat/kick-out responsibility and he takes the guy inside out, in the alley."
Housler catches the ball five yards behind the line of scrimmage and sees plenty of room: "Once you get past that initial guy and you can sell the protection, you can chalk up those guys getting knocked down (by Sendlein and Veldheer). We've run this play a few times and they've always done a great job. I saw a lot of grass but also there are a lot of guys that can cover grass pretty well in that secondary. For me, it was all about getting upfield, getting the most of it, and ball security."
Lindley is glad to see the rush and fires the ball over Irvin's head: "On screen passes, I was always taught in college, if you get hit that's kind of a good thing, because it means those four guys coming at you haven't read it and haven't come back to the line. There's not one way to teach (getting the throw out). You have to feel it on screen throws. Right there it was changing your arm angle to get out of Bruce's radius. Sometimes it's a screen pass at the line of scrimmage and you have to float it over a three-technique or something. It's really something different depending on the situation. That one ended up working out well."
Housler fakes outside to make cornerback Byron Maxwell keep contain, and then cuts between the blockers: I knew I had some space if I could get Jared's block set up, so I tried to set the corner on the outside of Jared there. At this point, I was trying to set that outside block up and get one-on-one with the safety. I couldn't see Bobby (Wagner) coming from the inside but you know you have an opportunity if you can get that block set up."
Veldheer successfully holds Maxwell at bay the entire time: "Getting your hands on the guy in space, that's the toughest part. Once you have that part done it's just trying to run your feet. Because then they are looking for the ball. They're no longer going forward trying to juke or get around you. At that point, use your mass, use your force, drive your feet and get them out of there."
Lindley watches the play develop along with everybody else: "It worked out well. Just how you draw it up. You want to give him room and a lane to run."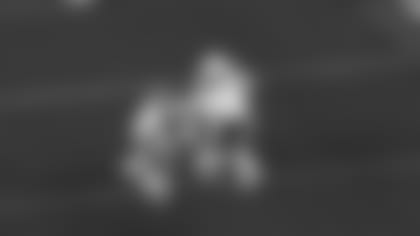 Housler wraps both hands around the ball as safety Earl Thomas makes the tackle: "I saw Earl coming from a distance and he's a ballhawk, he's the kind of guy who goes for the ball. It's important to get points every time you get down there. You want seven instead of three, but not turning the ball over and you want points every time."
Tight end screens aren't very common, but Housler's speed makes them work. Veldheer: "Rob has shown he can do some good things when he has the ball in his hands. It would've been nice to put that in the end zone. It's good to have a nice gain but ultimately you want to score on that play."
Lindley credits Bruce Arians with the right play-call for that point in the game: "He's one of the best I've seen at feeling out the game, knowing when to call certain things. If we get a hard rush, call screens, call a draw. There's a whole chain of command. The line will talk to (offensive coordinator Harold Goodwin) and I'll talk to (quarterbacks coach) Freddie (Kitchens) and we'll all kind of filter it. Sometimes there are things that we see but it's the fast pace of the game and we don't see the big picture. Whereas (Arians) sees, this is what the safeties are doing, this is how they're playing them inside. He does a great job of that, and he also does a great job of taking in what we see. He knows that, hey, if it's something he sees and we see it, it's the time to go with it."
A sequence of images detailing tight end Rob Housler's 13-yard gain on a screen pass which set up a field goal