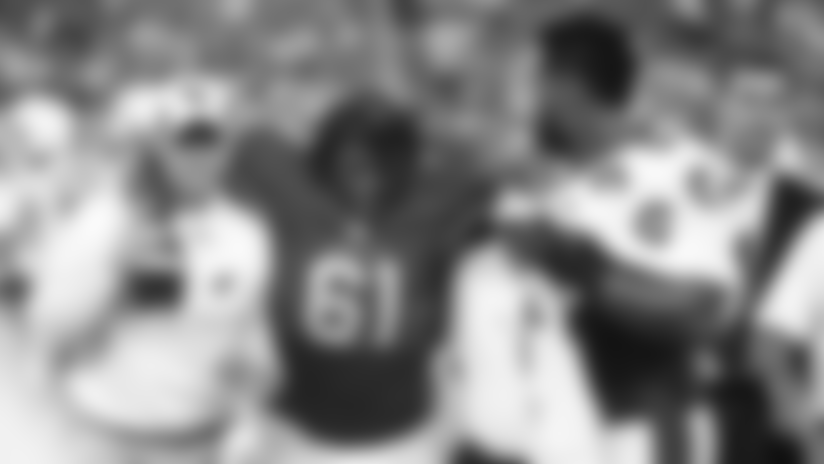 Defensive tackle Darnell Dockett comforts rookie guard Jonathan Cooper (61) as Cooper is helped off the field Saturday night. Cooper broke his leg during the Cardinals' 24-7 preseason loss.



When asked about the good, the bad and the ugly of training camp earlier this week, Cardinals coach Bruce Arians said the bad would be injuries but "we haven't been that bad."
That changed Saturday night at University of Phoenix Stadium.
The Cardinals suffered a laundry list of injuries in a 24-7 loss to the San Diego Chargers, the most devastating being a broken left fibula for starting left guard and first-round draft pick Jonathan Cooper. Cooper could be out for the season, although Arians said there remains hope Cooper could come back later on.
MRIs are coming for running back Rashard Mendenhall (knee), tight end Rob Housler (ankle), tight end D.C. Jefferson (knee), linebacker Matt Shaughnessy (ankle), wide receiver Andre Roberts (quadriceps) and defensive tackle Dan Williams (ankle). The seriousness of those problems vary, but it was a brutal night with which to deal.
"We can correct the way we played," Arians said. "We can't correct the injuries."
Cooper's injury will be the hardest. There was a reason Cooper was taken seventh overall, the
linchpin of an offensive line overhaul. Now, for a second straight season, the Cards lose a starting offensive lineman long-term during the preseason – tackle Levi Brown went down last year – and the Cards must scramble.
Veteran Chilo Rachal has been Cooper's backup and would be one option to step in. Starting right guard Daryn Colledge was last year's left guard and could move back with his backup, Paul Fanaika, getting into the lineup on the right side.
"I'm not taking anything off the table yet, but right now, I'm the right guard," Colledge said. "Chilo stepped in and played and we scored a touchdown. I would assume tomorrow he's the left guard but I'd also assume that it's an open competition between him and every other guard available."
Arians said he didn't know what direction the Cardinals would go yet.
"That's why they preach depth," center Lyle Sendlein said. "But we're all hurting. It's territory we are familiar with and we wish it didn't happen."
That will be the lingering problem from Saturday. The Cards (2-1) at least can immediate flush the rest, which featured what Arians called "probably the dumbest first 30 minutes of football I've ever seen."
"You never see that kind of game coming the way we had been practicing," Arians said. "It's disheartening but we will come back. We will learn from it."
There were missed blocks and dropped passes, poor routes and bad throws. Cornerback Jerraud Powers was flagged for three pass interference calls by himself. The special teams was anything but, allowing a blocked field goal, a blocked punt and a 44-yard punt return.
"We'd take one step forward and two steps back it felt like the whole day," wide receiver Larry Fitzgerald said.
The sequence that underscored the problems of the first half came late. Trailing 7-0, the Cardinals put together a good offensive drive, reached the red zone and should have ended with a touchdown when facing third-and-goal from the San Diego 8.
Palmer hit an open Rob Housler cutting across the end zone – except the tight end had the ball ricochet off his body for a painful incompletion. On the next play, the 26-yard field goal by new kicker Dan Carpenter was blocked with pressure up the middle.
The Chargers methodically moved down the field and had a first down at the Arizona 1. With 36 seconds left in the half, defensive end Calais Campbell hit running back Ryan Mathews to force a fumble bouncing well wide of the line of scrimmage. Safety Rashad Johnson got out to scoop it up, but when he got hemmed in, he somehow decided to lateral to linebacker Sam Acho.
Acho caught the ball, but was immediately hit by tight end Antonio Gates, forcing a second fumble. The ball popped in the air at the Arizona 3, where tight end John Phillips grabbed it and rumbled into the end zone.
"That," Arians said, "was absolutely asinine."
Said Johnson, "Just a dumb play. No excuse with what happened."
There was a bright spot, with the Cardinals running for 120 yards on 18 carries. Mendenhall, before he left the game, gained 47 yards on six carries. Ryan Williams got back on the field finally and gained 10 yards on two carries, while Alfonso Smith was the choice as No. 2 running back and he responded with 44 yards on five carries.
Carson Palmer (12-for23, 122 yards) also completed a 16-yard touchdown pass to Michael Floyd. Defensively, there were two more turnovers forced, including an interception by linebacker Jasper Brinkley. The other was Johnson's ill-fated fumble recovery.
Arians wasn't happy with the performance, but acknowledged he wasn't overly concerned because the Cards had done well in camp and the preseason up until this point. His message? "Don't do it again. Please don't do it again."
The injuries can't be asked away, however, not even nicely. The loss of Cooper not only is a blow to the offensive line, but it's an emotional blow the Cards much quickly overcome.
"That's the price you pay in preseason sometimes," Arians said.