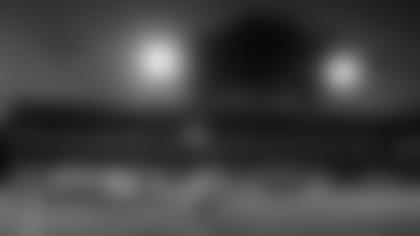 The Cardinals, with a capacity crowd on hand at Lumberjack Stadium, take part in their first night practice Wednesday (AP photo).
FLAGSTAFF – The point of the night practices at training camp is to give the players a slightly different look at a workout, at a new field under different conditions.
It's usually also a place to really hit.
The Cards closed out their night work Wednesday at Lumberjack Stadium with seven plays inside the 5-yard line in a live goal line situation. The defense ended up the overwhelming winner, keeping the offense out six of seven plays, including a perfect three-for-three stoning of the first-team offense by the first-team defense.
"What's on the line? Pride. And bragging rights," linebacker Karlos Dansby said.
"And right now, we've got bragging rights."
A fade pass from Kurt Warner to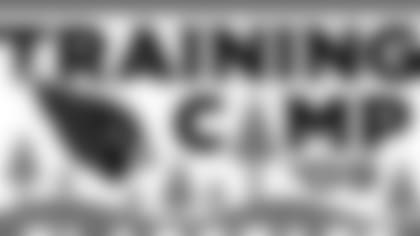 Larry Fitzgerald on the first play ended up out of bounds. Then Tim Hightower was stuffed from the 2- and then 1-yard line, first by a jackknifing Darnell Dockett and then a wall of bodies that looked to be led by Gabe Watson.
"They did a good job, but when we get down there, we have to find a way to get in the end zone," Hightower said.
Jason Wright scored the lone touchdown on a run that was heatedly disputed by the defense, but coach Ken Whisenhunt overruled their pleas. The final play never happened, when the snap couldn't be completed from center Ben Claxton to quarterback Brian St. Pierre.
"We pride outselves now on stopping you from scoring, and we did that today against one of the top offenses in the league," Dansby said. "We are building our morale as a defense. This is just one building block."
Among the other highlights under the lights: A nice diving grab of a Matt Leinart pass by Lance Long, and a Dominique Rodgers-Cromartie over-the-shoulder interception of a Warner pass intended for Anquan Boldin – who then grabbed DRC's undershirt and held him in place while DRC fruitlessly tried to run.
The Cardinals had two defensive linemen end up sidelined Wednesday, with Jason Banks out beginning in the morning with a bad knee and Keilen Dykes on the sideline to begin the night practice with an undisclosed injury.
The players joined a growing list of those on the sideline: running back Beanie Wells (ankle), receiver Early Doucet (shoulder), linebacker Chike Okeafor (back), tight end Anthony Becht (hamstring) and fullback Dan Kreider (hamstring).
Whisenhunt said Wells was improving at a faster clip than expected and there was still a chance Wells could play in the preseason opener. "We'll have to see how he goes through the weekend," Whisenhunt said.
The coach added Doucet's range of motion is coming back but said it would be next week before the Cards had a better gauge of his return.
Cornerback Bryant McFadden did return to practice after sitting a couple of days with a bad ankle.
Warner rolled his eyes during his media talk Wednesday when his hip pain was brought up for a third straight press conference. He insisted again he would have no problem playing, although he did say he was about "85 percent." …
Warner, on why he signs dozens of autographs each day: "I felt from day one is goes beyond the football field, that what I am trying to accomplish is more big picture than just football. It's just one way to get to know the fans and let them know they are important to me and I want to impact them on ways beyond that. What's important is the interaction, even if it's just a few minutes, to let them know you appreciate them." …
Whisenhunt said he was pleasantly surprised at the blocking of tight end Dominique Byrd, and while it still needs improvement, Byrd is "in the thick of the tight end competition."