INDIANAPOLIS – Kelee Ringo sees himself in the mold of Patrick Peterson, a technician at cornerback that had not shortage of confidence.
"As a corner you need to be a fearless-type person," said Ringo, the Georgia product who prepped at Scottsdale Saguaro High School. "Knowing you have the utmost confidence in yourself, because one wrong step and it can be a touchdown. Coming out that with that swagger."
Confidence is necessary, yes, but Cardinals coach Jonathan Gannon – a defensive guy – is looking for speed first. And the Cardinals most definitely will be looking for cornerbacks.
Marco Wilson is the top corner coming back. Byron Murphy is an impending free agent, although he could re-sign. Veteran Antonio Hamilton is also a free agent, and 2022 rookie Christian Matthew is still on the learning curve.
Additions, maybe in free agency but almost certainly in the draft, are coming.
"That's another position where we need to we need to add some players," GM Monti Ossenfort said.
NFL Network draft analyst Daniel Jeremiah said it is a deep cornerback draft, with about 20 players worthy of picks in the first three rounds – players Jeremiah said should be starters in the NFL.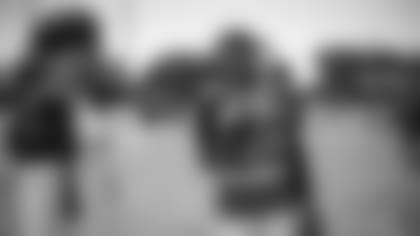 The top of the group, players that could be in the mix for the Cardinals if they were to trade down from No. 3, include Oregon's Christian Gonzalez, Penn State's Joey Porter Jr., and Illinois' Devon Witherspoon. With such a high pick in the second round (34th overall), Ringo could be a possibility.
"The confidence in playing this position, you're out there on an island by yourself," said Gonzalez, the brother-in-law of Cardinals quarterback David Blough. "That's what I live for. Big matchups. Anytime I get to go up against a great receiver week in and week out, that's my favorite thing to do.
"Watching (Jets rookie of the year) Sauce (Gardner) and those rookies (in 2022), it's great to see that. They are tall, long, lengthy type of corners and I'm like them, so the fact they can do it, I know I can do it."
Wilson has made strides in his development, but with a new coaching staff, evaluations will include all the holdovers on the roster – including presumed starters. The Cardinals should benefit from two high-level safeties in Budda Baker and Jalen Thompson, but in a passing league, stockpiling cornerbacks is necessary.
"Their game on the perimeter is, can you deny the football when you need to deny the football?" Gannon said. "I'm looking for coverage first and then there's some other traits that we look for. But that'll be fun to sit down and evaluate those guys and start stacking them up."