Panthers wide receiver Steve Smith, here breaking a tackle of cornerback Rod Hood during an October game, will be a tough matchup for Cards cornerbacks.
Dominique Rodgers-Cromartie didn't cover star Panthers wide receiver Steve Smith once when the Cardinals played in Carolina back in October.
But that doesn't mean the rookie cornerback doesn't know all about Smith.
"That's one of the things they have been drilling into me," Rodgers-Cromartie said. "Every time he goes against us he gets a big play, and that's one thing I have to be cautious of."
In the past five games against Arizona, Smith has per game averages of 7.4 receptions, 110 yards and a touchdown. In the Panthers' 27-23 win this season,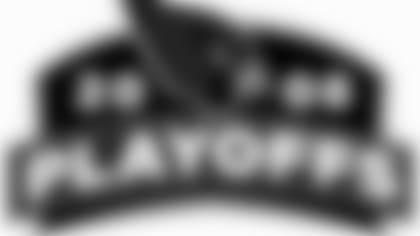 Smith had five catches for 117 yards and two scores, including a 65-yard catch-and-run in which cornerback Rod Hood and safety Antrel Rolle each failed to make tackles along the sideline.
Coach Ken Whisenhunt challenged the play at the time and the Cards were convinced Smith had stepped out of bounds on the play, but the play stood.
Smith made it a difficult day for Hood, who had played well against Dallas' Terrell Owens the week before. Hood, who also was beat on a long 18-yard touchdown bomb to Smith, said the Panthers' excellent running game plays into the Cards' coverage of Smith.
"It does make it harder on us, because we have to be there to help in the running game and at the same time be ready if they put it up top," Hood said.
The emergence of Rodgers-Cromartie should help on Smith, who had 78 receptions for 1,421 yards and six touchdowns this season. Rodgers-Cromartie was barely playing at the time of the teams' first meeting, with Eric Green manning the other starting cornerback spot.
"That's when I was going through my learning curve and not getting much playing time," Rodgers-Cromartie said. "I think I have a better understanding of the game now.
"All I can do is go off what I see on film. (Smith) is a physical receiver; they like to get him the ball. And they will get him the ball."
Doing "enough to get me going but not enough to aggravate" his hamstring strain, wide receiver Anquan Boldin talked about his injury Wednesday but didn't have a whole lot of information to deliver.
"I'm just taking it one day at a time," Boldin said.
Boldin said the hamstring gave out around the 10-yard line at the end of his 71-yard touchdown catch-and-run against Atlanta. He sat out of practice Wednesday.
He clearly wants to play and said he would like to say he is playing "no matter what." But he also acknowledged he has to be smart. Boldin added that even if he doesn't take part in practice during the week, if his health permits he will still be prepared to play.
Whisenhunt said Boldin's opinion will play a role in what happens Saturday.
"This is the same guy, you ask was he open and every time they'll tell you they are open and when you look back at the film, it's not necessarily true," Whisenhunt said with a smile. "(But) Anquan is a guy who knows his body because of what he plays with. That has some merit if he thinks he can go. That's been my experience with him."
Boldin doesn't want to hurt the team either by playing injured.
"If you can't go, you can't go," Boldin said. "No matter what the situation is."
Other than Boldin, tight end Ben Patrick (knee) also sat out practice for the Cardinals. Defensive end Travis LaBoy (ankle) was limited in his work, while tight end Leonard Pope (knee) worked a full practice.
For the Panthers, who had a bye last week, the only player not to practice fully was guard Geoff Hangartner, who has an injured ankle. * * * Contact Darren Urban at askdarren@cardinals.nfl.net. Posted 1/7/09.