Cardinals general manager Rod Graves (left) does a radio interview and coach Ken Whisenhunt (right) signs an autograph Saturday at the NFL scouting combine.
INDIANAPOLIS – Whether the Cardinals can get a restructured contract done with wide receiver Larry Fitzgerald by the time free agency begins remains unresolved – the two sides seem to be set in their positions right now – but Fitzgerald's status is not.
Fitzgerald will be a Cardinal in 2008. He won't be traded. And while the Cards desperately want to lower his bulging salary cap number that is more than $16 million, they'll live with it if they must.
"If we can't (reach a deal), we will move forward with that number," general [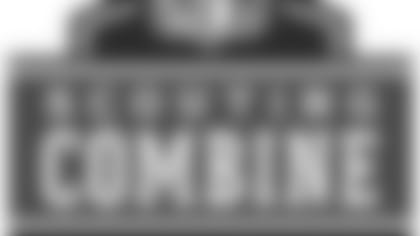 ](http://www.azcardinals.com/fanzone/combine.php)manager Rod Graves said while addressing the national media Saturday at the scouting combine. "Larry is a core player. We are going to do what we have to do to keep that core in place."
Asked if it was possible to keep both Fitzgerald and fellow Pro Bowl receiver Anquan Boldin long-term, Graves said "it is certainly our intention to keep both players."
Negotiations between Fitzgerald and the team have been ongoing, with the Cards offering a deal they say will make Fitzgerald the highest-paid receiver in the NFL. Fitzgerald's agent reportedly is looking for a contract that will exceed the $27 million in guarantees Detroit rookie wideout Calvin Johnson got when he was drafted.
But Johnson also signed a six-year deal, longer than what Fitzgerald is believed to be seeking.
Graves was asked about having other players restructure or possibly take pay cuts. He said he could not rule anything out.
"I think (a player's) responsibility to their teams, once they get what is considered acceptable money -- it may not be acceptable to them, but on most evaluations it is to an acceptable level to the player -- then the player must become vested in the football team," Graves said. "In many cases we have seen players willing to restructure deals, willing to do something that insures the progress of the team as far as talent-building … to keep the program going in a positive direction. That's what I expect our players to do."
The lingering Fitzgerald issue would have an effect on the Cards' free-agency plans. Coach Ken Whisenhunt was asked about the Cards' interest in free-agent-to-be guard Alan Faneca, who played for Whisenhunt and offensive line coach Russ Grimm in Pittsburgh.
Whisenhunt was careful in his evaluation – Faneca remains a Steeler for the next week – but said "I'd be lying if I wouldn't tell you we had interest in him because Alan is a good football player and we have interest in all good football players."
Faneca, 31, will be one of the top offensive linemen on the market. But he is expected to be looking for a large contract, and unless the Fitzgerald contract is reworked, the Cards would seem to be unable to get into the bidding – especially with their own free-agent-to-be, linebacker Calvin Pace still a top priority.
Based on the chatter around the combine, Pace is expected to draw significant interest once free agency begins Thursday night.