Linebacker Clark Haggans celebrates after a sack of Raiders quarterback JaMarcus Russell during Saturday night's 24-0 Cardinals' win in Oakland.
OAKLAND, Calif. – Cardinals coach Ken Whisenhunt said he felt it in pregame about his defense, that "our guys were ready to play."
The Cardinals' defense, changed up slightly with linebackers Travis LaBoy and Clark Haggans getting their first starts in place of Bertrand Berry and Chike Okeafor, made life fairly miserable for Raiders quarterback JaMarcus Russell during the Cards' 24-0 win.
Gerald Hayes, Monty Beisel, Darnell Dockett and Haggans each had sacks, while the Cards held the Raiders – who had averaged 236 yards a game rushing in the first two preseason games – to 54 yards on 19 rushing attempts.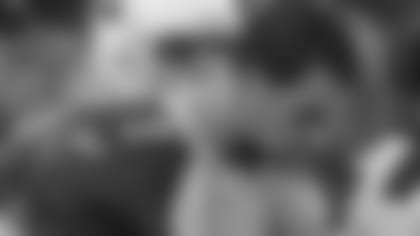 "We grew up last year and we have a lot of experience," said linebacker Karlos Dansby, who had an interception. "We are just playing together now, man.
"We just came in trying to stop the run. That was our point of emphasis. I guess they are trying to get JaMarcus some work (with a lot of passing) and like I said, I appreciate it because I got a pick. It's a real good thing."
The Cardinals have only had one regular-season shutout since 1982, that coming in 1992. It was only the Cards' second preseason shutout since 1992. Arizona blanked Dallas in 2003 in Emmitt Smith's first game as a Card.
 While the shutout might have limited meaning because of the preseason, it "means a lot to the guys in there," Whisenhunt said, motioning to the locker room. "Anytime you can get that, we'll take it."
Whisenhunt said multiple times during training camp fourth-year running back J.J. Arrington needed to make some plays and be consistent in his contributions. A week after breaking off a 78-yard kickoff return in Kansas City, Arrington turned in a 67-yard touchdown run against Oakland and, Whisenhunt pointed out, also made a key block on a successful onside kick (that was negated by an offsides penalty).
"I like what I am seeing from J.J.," Whisenhunt said.
Arrington said he didn't know if he had needed such a push to make the team, although "hopefully, I opened some eyes, I guess."
Arrington credited big blocks by tight end Jereme Tuman and receiver Jerheme Urban to spring him. Rookie tackle Brandon Keith also made a key block,  and Arrington said that was all he needed.
"If I get out front like that, you can just hang it up most of the time," Arrington said.
While it didn't count in the record book because it was the preseason, Arrington's scamper would have been the Cards' longest run since Adrian Murrell had a 74-yard run during the Dallas playoff game in January of 1999.
After penalty problems in the first preseason game, Whisenhunt said he might sit down repeat offenders. When Dockett was slapped with a 15-yard personal foul call following Danbsy's interception, Whisenhunt sent him to the bench.
"Penalties kind of calmed down after that," Whisenhunt said.
"Once again, I haven't seen what happened so I will reserve judgment on that," the coach added. "But obviously that is a big penalty in that situation, a penalty you can't have."
The Cardinals used Tim Castille in his second straight start Saturday, with Castille playing the vast majority of the game (veteran Terelle Smith made a brief appearance). Castille, fighting to prove he can fill the role on the roster, actually spent a large amount of time split wide as a receiver.
"We've been working on that a little bit," said Castille, who grew up playing receiver. "Being a versatile guy, I like that."
Castille said he still needed to improve on his run blocking, which was "OK" in Oakland.
The Cardinals must trim four players off the roster by Tuesday. Whisenhunt said the cuts will likely come Monday and maybe Tuesday, so the team can be sure there are no new injuries that could affect the choices. …
Safety Matt Ware did not make the trip after his wife Dana gave birth to their first child. Jaiden Elizabeth was 6 pounds, 3 ounces and born Saturday. The Cardinals were already short safety Antrel Rolle, who skipped the trip with an ankle injury. …
Okeafor (hip flexor) did not play after attempting to go in pregame. "Also, last year, this is where he got hurt and we didn't want any bad karma," Whisenhunt quipped. "Chike's a karma guy." Okeafor suffered a season-ending arm injury in Oakland in the preseason. …
After being shut out in his first game, wide receiver Anquan Boldin made his first receptions of the preseason, catching three passes for 54 yards.
This article has been reproduced in a new format and may be missing content or contain faulty links. Please use the Contact Us link in our site footer to report an issue.