Guard Deuce Lutui (76) talks with tackle Mike Gandy during practice Tuesday.
FLAGSTAFF – The talk around the offensive line centers around continuity and the fact all five starters remain in place from the season before.
But one man – right guard Deuce Lutui – apparently has some work to do to maintain that quartet.
"If I had to characterize Deuce's play last year, there were flashes of being a pretty good player, but there were also some bonehead mistakes, for lack of a better term, you wouldn't expect a veteran player to make," coach Ken Whisenhunt said Tuesday. "He has all the tools and the second year in the system, he's a lot more comfortable."
Whisenhunt said veteran backup Elton Brown was pushing Lutui for a starting
[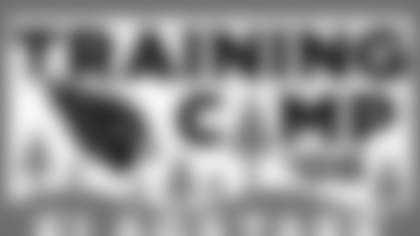 ](http://www.azcardinals.com/news/training_camp.php)
spot, and "we certainly we feel like we have three very good guards."
Whisenhunt has talked many times about competition to win jobs, so the idea that Lutui must beat out Brown isn't entirely surprising. Lutui said he understands his leash isn't exactly long.
"As long as (offensive line coach) Russ Grimm is here, my chances to make mistakes are less and less as time goes on," Lutui said. "I have noticed that even in the few days in camp."
These days, Lutui said his errors come on technique more than mental. He also knows, with this is third season, he must find consistency.
He also said he can't argue with Whisenhunt.
"I have no excuse for any of those bonehead mistakes," Lutui said. "This is my third year, second year in offense and it's looking good for me. All I know is I am still playing."
With Troy Bienemann hurting with a toe injury that wasn't going away, the Cardinals put him on the waived/injured list (likely to end up with an injury settlement) and signed former Arizona State tight end Brent Miller.
The Cards also have Leonard Pope, Ben Patrick, Jerame Tuman and Alex Shor at the position.
"I am concerned with the tight end position because we are working with four guys," Whisenhunt said prior to the Miller announcement. "Leonard is coming off an ankle injury, Jerame Tuman is a 10-year veteran. When you work as many two tight-end sets that we do, I worry those guys as camp progresses will wear down. … With an 80-man roster, I want to be careful with that."
Wide receiver Anquan Boldin (hamstring) remains out, but he is hopeful he can return Wednesday, especially for the team's evening practice. Also still out were cornerback Marcus Brown (hamstring) and center Al Johnson (knee). Linebacker Monty Beisel (back), Watson (knee) and defensive lineman Keilen Dykes (quad) remain on the PUP list.
This article has been reproduced in a new format and may be missing content or contain faulty links. Please use the Contact Us link in our site footer to report an issue.