Fullback Terrelle Smith (45) looks to block Saints cornerback Jason David during the Cardinals' preseason opener against New Orleans.
FLAGSTAFF – Terrelle Smith understood why youngster Tim Castille was working as the first unit fullback at times during the offseason, and why Castille started the second preseason game after Smith started the first.
Smith also understood the two are different players.
"I'm old American muscle," said Smith, the ninth-year pro. "He's hybrid, half electric, half gasoline. I am diesel."
The notion caused Castille, in his second year, to chuckle.
"That's his mentality, he's just a Mack truck," Castille said. "That analogy works. I
[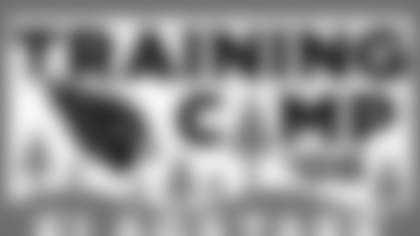 ](http://www.azcardinals.com/news/training_camp.php)
need a little diesel in my game."
The coaches – running backs coach Maurice Carthon in particular – have liked Castille since he arrived as an undrafted rookie last year. He made the roster although he didn't play in any games. Castille played a good game in Kansas City, making four catches – including a 24-yard touchdown – out of the backfield. But catching passes is his strength (Castille grew up playing receiver) and he knows that's not good enough for a Cardinals fullback.
"The way this offense is set up, and for them to absolutely need me, I
have* to be a better blocker," Castille said. "What we do is run the football, so he's the guy, know what I am saying?"
Castille said he not only must improve his run blocking but also his special teams in order to snare a roster spot. Smith, meanwhile, not only had a good block to spring Tim Hightower for his touchdown against New Orleans but also had a catch-and-run in which he carried defenders on his back several yards to set up that score.
"The game is changing and there's not a lot of us (fullbacks) left," Smith said. "Tim has never played a regular-season game. He needs all the reps he can get. When I was younger, I would have worried about (losing reps), but now that I have been in this business almost a decade, hey, he needs the work. When they put him in there, I was like, 'I see what you are doing.' Hey, I'll go to 3s (third-string) if you need me to work with the young guys.
After coach Ken Whisenhunt said Tuesday he wasn't necessarily sure when – or if – he would publicly "end" the quarterback competition and name a starter, current No. 1-on-the-depth-chart Matt Leinart said it didn't matter to him.
"I just keep going off what he has told me," Leinart said. "I can't worry about the other stuff, what he is thinking, what you (media) are all saying. I could care less. I just have to keep doing my thing. But it is motivating. I feel it drives me to be better. That's how I handle it."
VINCENT BACK, MERRITT CUT
Wide receiver Ahmad Merritt, who broke his ankle in preseason 2007, has his comeback with the Cards end Wednesday when he was released. The Cardinals brought back running back Chris Vincent, who was cut earlier in camp.
The Cards also released undrafted rookie fullback Dionte Johnson, who had battled an ankle sprain throughout most of camp. He could possibly return to the practice squad.
Both linebackers Karlos Dansby (elbow) and Chike Okeafor (hip) returned to practice Wednesday morning.  Remaining out were tight end Ben Patrick (ankle), safety Antrel Rolle (ankle), offensive lineman Carlton Medder (elbow), offensive lineman Peter Clifford (calf), defensive tackle Gabe Watson (PUP-knee) and center Al Johnson (knee).
Defensive lineman Bryan Robinson -- the veteran -- and linebacker Gerald Hayes each sat out the afternoon workout for rest purposes and not because of significant injury.
This article has been reproduced in a new format and may be missing content or contain faulty links. Please use the Contact Us link in our site footer to report an issue.