Rookie cornerback Dominique Rodgers-Cromartie does a dance after making an interception late in the season-finale win over Seattle.
Rookie cornerback Dominique Rodgers-Cromartie was named the NFL's defensive rookie of the month for December Wednesday, capping a first year in which he increasingly showed his value as the team's  first-round draft pick.
"I don't think you can have expectations of a rookie corner playing at the level at which he has played," coach Ken Whisenhunt said. "I hoped that he would have an opportunity to play, maybe even start, and have a chance to get some interceptions.
"I can't say he has exceeded the play because we did draft him with a first-round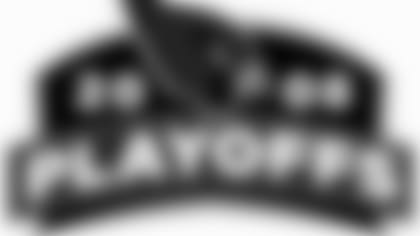 pick. I can say I am pleased with the way he has played."
"DRC" had 15 tackles, six passes defensed, two interceptions and a fumble recovery in the Cards' four games. One of the interceptions he returned 99 yards for a touchdown against St. Louis.
Rodgers-Cromartie also blocked a field goal against Minnesota that was returned for a 68-yard touchdown by teammate Rod Hood.
Rodgers-Cromartie had four interceptions while starting 11 games. He and Tampa Bay's Aqib Talib tied for the most interceptions by a rookie. DRC becomes the second Cardinal to earn the defensive player of the month award, after defensive end Simeon Rice captured the honor in September of 1996.
"I just want to continue to get better and not let it be a letdown from what everyone is expecting of me," Rodgers-Cromartie said. "I know if I could just settle down and really understand … when I am in the film room, I watch but when I can really start watching and learning, I know I can take off."
Quarterback Jake Plummer won the offensive award in November of 1997, and wide receiver Anquan Boldin won it twice in 2003, in both September and November.
Defensive end Travis LaBoy (ankle) was the only player to miss practice for the Cardinals. Four players – wide receiver Anquan Boldin (shoulder), tight end Leonard Pope (knee), defensive tackle Gabe Watson (knee) and linebacker Pago Togafau (knee) – were limited.
Four other players are listed on the injury report but practiced full: safeties Adrian Wilson (toe), Matt Ware (calf) and Aaron Francisco (ribs) as well as tight end Stephen Spach (ankle).
For the Falcons, four players missed practice, including star defensive end John Abraham (thigh/shoulder). Also sitting were defensive end Jamaal Anderson (ankle), tackle Todd Weiner (knee) and defensive tackle Grady Jackson (knee).
Whisenhunt said he was pleased with his players' two days of practice, with everyone understanding the urgency at hand for Saturday's playoff game. Veteran fullback Terrelle Smith said there is even tangible evidence of the players' focus.
"We have been putting the pads on and I don't know many teams that do that this time of year," Smith said. "We (can) take them off halfway through, but most guys are leaving them on, and that's a sign telling you we are willing and wanting to get better each and every practice."
Whisenhunt was asked whether he had a preference if the University of Phoenix Stadium roof was open or closed for Saturday's playoff game, especially with the building noticeably louder when the roof is closed.
"It doesn't really matter to me," Whisenhunt said. "I don't think we want to focus on whether it is open or closed. We want to play well either way."