Cowboys wideout Terrell Owens (81) and Cardinals receiver Larry Fitzgerald (11) high-five each other during Sunday's 42-30 Pro Bowl win.
Cardinals wide receiver Larry Fitzgerald scored the NFC's first touchdown Sunday, and he and Arizona defensive tackle Darnell Dockett collected the winner's paycheck as the NFC won the Pro Bowl, 42-30, at Aloha Stadium in Hawaii.
Fitzgerald ended up with three receptions for 25 yards. Dockett was credited with a lone tackle, but at one point, Fox television analyst Daryl Johnston said Dockett was playing at a higher level than everyone else and was "unblockable."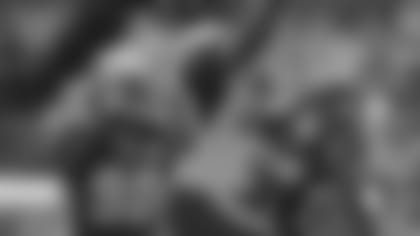 Fitzgerald's score came on a six-yard slant pass from Cowboys quarterback Tony Romo to knot the score at 7-7.
Minnesota Vikings running back Adrian Peterson, who rushed for 129 yards and two touchdowns on only 16 carries, was named MVP.
Cowboys wideout Terrell Owens was the NFC's leading receiver with eight catches for 101 yards and two touchdowns.
The NFC rallied from a 24-7 deficit.
Bengals wide receiver T.J. Houshmandzadeh also scored two touchdowns for the AFC. But the NFC outgained the AFC, 458 yards to 326 yards, and converted all six of their trips into the red zone to touchdowns.
This article has been reproduced in a new format and may be missing content or contain faulty links. Please use the Contact Us link in our site footer to report an issue.