Cardinals nose tackle Bryan Robinson (97) shakes the hand of coach Ken Whisenhunt prior to last week's preseason opener against New Orleans.
FLAGSTAFF – Bryan Robinson has been in the NFL for 11 seasons prior to this one, and by his count he hasn't been a starter somewhere on the defensive line for only two of them.
He's a starter again, at least for now, at nose tackle for the Cardinals. Gabe Watson is hurt, and Alan Branch couldn't convince coaches he belonged as a starter. So Robinson is the man.
"Gabe goes down, they asked me to step in and help push Alan Branch," Robinson said. "I want to see this team get to the playoffs. Wherever they put me. I don't care if I am a backup, I just want to play."
Robinson isn't flashy, with only 22 career sacks. But he brings a steadying influence that became more valuable when Watson wrecked his knee this summer.
Coach Ken Whisenhunt said Tuesday Watson was on target to begin practicing
[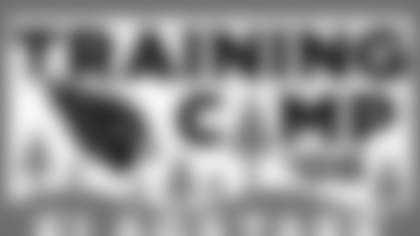 ](http://www.azcardinals.com/news/training_camp.php)
after the Cardinals break training camp Aug. 21. The Cards play in Oakland Aug. 23 and resume practice Aug. 25.
Meanwhile, Robinson is trying to help and trying to maintain a spot in the rotation. Along the defensive line in the Cards' hybrid 3-4 look, there will be choices to be made for both the roster and who is active for games. Besides Watson, Branch and Robinson, ends Darnell Dockett and Antonio Smith are sure things, and that doesn't include rookies Calais Campbell and Kenny Iwebema.
"We're definitely a deeper team than we were last year," Robinson said. "Once guys got hurt (last year), you were kind of like, 'What happened?' As long as we can stay healthy, I think we will be OK. Whether or not Ken will dress everybody or not, that's his call. You usually only play like five guys."
While acknowledging he didn't know how the final roster would be constructed, Whisenhunt said the backup inside linebacker spots "will be a tough decision."
It will get tougher. The Cards are on the verge of signing linebacker Brandon Moore, the younger brother of former Cardinals wideout Rob Moore who was just cut by the 49ers. Moore's signing will be finalized Wednesday, meaning the Cardinals will have to cut someone to make room for Moore.
Moore played for Cardinals linebackers coach Bill Davis when Davis was the 49ers' defensive coordinator.
Before the Moore news began to emerge, Whisenhunt talked about how four players were fighting for two spots. Matt Stewart, Monty Beisel, Ali Highsmith and David Holloway are all trying to back up Gerald Hayes and Karlos Dansby. One of the backups will likely be the roster casualty when Moore arrives.
Cornerback Dominique Rodgers-Cromartie left practice Tuesday with a sprained left ankle. He was due to get X-rays to determine the extent of the injury. Tackle/guard Brandon Keith also sat out with a minor left ankle sprain.
Cornerback Rod Hood sat out practice nursing the sore foot that cost him a couple of practices last week. Hood still played in the preseason opener.
Whisenhunt again said there was no change in the quarterback situation despite the fact Kurt Warner spent his second straight day with the first unit Monday. Tuesday afternoon, Matt Leinart worked with the starters again.
"It's been mostly the rotation we have been doing," Whisenhunt said. "It's a matter of getting (Kurt) reps with the first unit and first receivers. That's what it is all about."
Whisenhunt has yet to announce the playing time breakdown for the game in Kansas City between Leinart and Warner. He said that won't be discussed by coaches until Thursday.
Wide receiver Early Doucet, who hasn't practiced for a week with a bad hamstring, is doubtful to play against Kansas City, Whisenhunt said. The hope is Doucet can begin doing individual drills by Thursday and be able to fully resume practice next week.
Safety Antrel Rolle (ankle) missed practice again Tuesday and remains day-to-day.
This article has been reproduced in a new format and may be missing content or contain faulty links. Please use the Contact Us link in our site footer to report an issue.