Wideout Anquan Boldin can't escape a shoe-top tackle during the Cardinals' loss in Philadelphia earlier this season.
The coaches and players on both sides are trying to say the right things – that the Eagles' 48-20 domination of the Cardinals in Philadelphia Thanksgiving night doesn't have a bearing on Sunday's NFC Championship in Arizona.
But that doesn't mean it can be forgotten, by either team.
"It's human nature in the back of your mind to think about a game you already played or something you did to somebody in the past," Cardinals safety Adrian Wilson said. "I'm pretty sure it's in the back of their minds that 'We gave these guys a pretty good butt-whipping.'
"For them it's confidence. We were on the losing end. It's not good for us – we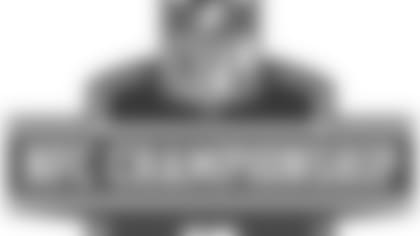 want to try and redeem ourselves."
The Cards had just lost to the Giants, 37-29, at home before leaving on Wednesday for the game. The Eagles scored the first three touchdowns of the game and coasted from there. Quarterback Kurt Warner, under duress all day, had three interceptions. Wide receiver Anquan Boldin suffered through what he called "the worst game I ever had" with a lost fumble and a dropped touchdown pass.
"The reality is the Cardinals were coming off a very tough game against the New York Giants and had three days to prepare to take a road trip back East," Eagles coach Andy Reid said. "There's nothing harder in this league than to do that."
The Eagles insist the game is in the past and won't be overconfident with a big win. The Cardinals insist they won't have a similar performance.
"It sucked," defensive tackle Darnell Dockett said. "We let a lot of people down."
Having a trip to the Super Bowl at stake will help.
"We have to take it serious," fullback Terrelle Smith said. "Payback time, that's how you have to look at it. It was not the way we wanted it to turn out. This time it's a different match, different fight, different game."
Not surprisingly, running back Edgerrin James and his story took center stage Thursday when he was made available to the media. Not surprisingly, both he and his coaches said their relationship is fine despite James' midseason benching.
James subsequently had just 11 carries in eight games, and didn't play a snap in three of them.
Coach Ken Whisenhunt said "Edgerrin and I have always communicated," adding that he didn't think there was necessarily any tension between the two during the season. James said his relationship with Whisenhunt was the same as any player.
"That's my coach and I'm going to come out and play hard for my coach," James said.
Offensive coordinator Todd Haley said he thought of James as a "true professional."
"When something is taken away from you and you think you can still do it or that you're not what's being said about you, it's hard to bite your tongue," Haley said. "For Edge to sit back, keep his cool and never lose faith in his abilities is a tough thing in this league."
James admitted he "never knew" if the Cardinals would indeed use him again, despite Whisenhunt saying multiple times the Cards would need Edge again.
Late in the season James said he expected to be released in the offseason, but Thursday his future was a topic to be avoided.
"Anybody that is thinking about next week or the weeks ahead, they're doing this team a disservice," James said.
James was asked if he ever pinched himself because he can't believe he is in this spot. James smiled.
"I pinch myself on the sideline – I couldn't believe I was on the bench," he said.
Whisenhunt said Boldin (hamstring) looked a little better Thursday, as the Pro Bowler attempts to be ready for Sunday. Boldin was limited again.
In fact, all four players on the injury report Thursday were limited: Boldin, defensive end Travis LaBoy (ankle), tight end Ben Patrick (knee) and punter Ben Graham, who was added to the list with a sore groin.
For the Eagles, running back Brian Westbrook (knee) and tackle Jon Runyan (knee) each skipped practice for a second straight day, although Westbrook denied reports he made his knee injury worse in Philadelphia's win over the Giants last weekend.
WARNER UP FOR MAN OF THE YEAR
Warner was named a finalist for the Walter Payton NFL Man of the Year award Thursday, joining Eagles safety Brian Dawkins and Vikings center Matt Birk. The winner will be announced Jan. 30 at a Tampa press conference prior to Super Bowl XLIII.
The award recognizes a players off-the-field accomplishments as well as his "playing excellence."