Kyler Murray has a T-shirt he's worn a few times during his ACL rehab that serves as a warning for those who see him – telling people he's working with senior reconditioning coordinator Buddy Morris and to leave him alone.
(OK, the language is a little more colorful than that, but that's the message.)
Morris has been at the forefront of the quarterback's rehab these many months. Now Murray's attention moves to offensive coordinator Drew Petzing full-time, after coach Jonathan Gannon said the Cardinals were finally opening Murray's 21-day practice window on Wednesday, designating him to return.
"He gave me the news," Gannon said, adding that Murray will be "full go."
The team also opened the practice window for safety Budda Baker, who is on IR with a hamstring injury.
Wednesday will be Murray's first practice with the team since he tore up his knee Dec. 12, more than 10 months ago.
"Everybody keeps telling me it's a big day," Murray said as he walked out to practice. "To me, it feels kind of normal. It's been a long journey."
Murray will be eligible to play at any time, although Murray will likely need at least two if not all three weeks to ramp back up. If Murray were to take all three weeks, his first game on the 53-man roster would be the Nov. 12 home game against the Falcons.
"He's not coming back to be average," said Murray's close friend, wide receiver Hollywood Brown. "He's coming back to prove a point, and they'll realize that very quickly."
Petzing noted that he dealt with a similar situation last season as the quarterbacks coach in Cleveland. Deshaun Watson opened the season with an 11-game suspension, and when he eventually got back to practice – before he was eligible to play – the Browns had to prep him as well as then-starter Jacoby Brissett.
"It's a unique task," Petzing said. "It was something we knew at some point we were going to deal with. We have a plan in place … to make sure he's getting as much work as humanly possible within the rules."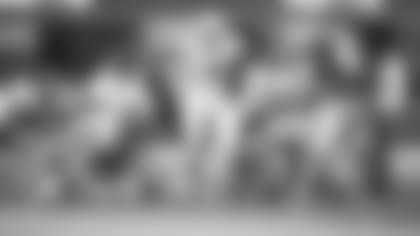 For the Cardinals, current starter Joshua Dobbs still has to play. That makes practice a balancing act.
"The guy who is playing the game has got to get ready to go," Petzing said. "That's priority No. 1. But there is extra time during the day, there is downtime during practice, there are extra ways within the rules where we are allowed to make sure he's getting his reps physically and mentally. A lot of that is done with the backup (Clayton Tune) right now."
Dobbs absorbed the return of Murray exactly as expected -- he's a smart veteran who knew when he arrived this day would eventually come.
Gannon said the decision when Murray actually plays will be an organizational decision but that Murray "is a big part of that."
"It was great having K1 out there seeing him run around and slinging it, but it doesn't change my approach at all," Dobbs said. "We are still preparing for Seattle.
"I've seen every side of this quarterback thing (in my career), and my approach never changes."
Murray has made social media posts talking about how anxious he is to return. He has been involved in all the off-the-field meetings since Gannon arrived and has absorbed the offense that way, but that's much different than, for instance, Falcons defensive end Calais Campbell chasing him around on third-and-8 in the third quarter of a close game.
The Cardinals could use an offensive boost. The team is last in the league in both second-half scoring and fourth-quarter scoring. The fourth quarter has been especially harsh, with opponents leading the Cardinals, 64-7.
"I know the work he's put in," Gannon said. "But he hasn't taken a snap in this offense. We've got to see him do a lot of things."
Dobbs has completed just 36 of 73 passes his last two games, less than 50 percent in a league where being above 60 percent is a must. He also threw his first three interceptions of the season in that time.
It's a stark difference from Games 2-4 this season, in which Dobbs was good and steadily got better.
"Certainly, the more you put on tape – in this league, nobody is perfect – you will have things in your game you aren't as good at, and when defenses start to see that, they are going to start to attack you and put you in that position as much as possible," Petzing said.