Offensive line starters Deuce Lutui (76), Levi Brown (center) and Reggie Wells (74) take a break during practice Wednesday morning.
FLAGSTAFF – When Russ Grimm played for the Washington Redskins, he was part of an offensive line that earned a nickname – "The Hogs" – and stayed basically intact for nearly a decade.
The line Grimm now coaches for the Arizona Cardinals doesn't have a nickname. Its length of service as a unit isn't impressive either.
But in this day of free agency and frequent player movement, the Cards do have the same line in place for a second straight season. The Cards haven't had the same linemen start in the same spots the majority of the season for two straight years since 1996-97, and only two other times since 1980.
That continuity is the reason the Cards believe the line can better what was an
[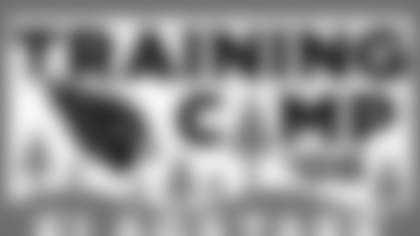 ](http://www.azcardinals.com/news/training_camp.php)
"Chemistry," Grimm said, "has always been a big part of the offensive line."
It's not a simple case of plug and play. Already, starting center Al Johnson has missed a few workouts because of a sore knee, going to Phoenix Wednesday for further tests. Coach Ken Whisenhunt also made it clear that right guard Deuce Lutui will have to up his play to hold off backup Elton Brown. Right tackle Levi Brown is only in his second season.
Unlike last year, however, the group has confidence. Along with left guard Reggie Wells and left tackle Mike Gandy, the unit had a learning curve in 2007. Johnson and Gandy were free-agent newcomers. Brown was just drafted. Grimm and Whisenhunt brought in a new system.
None of those barriers remain in 2008.
"Obviously we're not perfect or where we want to be," Wells said. "But we have taken fewer steps back in terms of preparation and knowing the scheme."
The coaches also have a better idea of how to use their line. Whisenhunt came in with the idea the Cards would use a power-blocking scheme. The learning curve for the linemen, along with running back Edgerrin James' preference to run in zone-blocking schemes, caused a midseason shift.
While the Cards weren't necessarily starting over, it caused hiccups. The players have a better understanding what will be expected this season.
The Cards could pass protect, allowing just 24 sacks, but they finished 29th in the NFL running the ball.
It didn't all go directly to the line, but there were problems to fix. Being together for a second straight year will help.
"I spoke a lot of Tongan to (Levi) and he didn't like that, so I am learning to speak English," Lutui quipped. "Now, we are on the same page coming from (offseason practices). Communication is the key."
Keeping the same system in place and the same offensive line coach – Wells, going into his sixth season with Arizona, has never had the same offensive line coach for two years straight until now – provides an important base.
Grimm said in today's NFL, a line has to expect changes sometimes. Usually, a team has upgraded with a free-agent addition, which would mean it should be easier to bring a new guy in. Professionalism should count for some chemistry.
The idea of trust, however, is frequently broached by linemen who have finally learned about each other.
"We were all trying to get a feel for each other," Brown said. "At times you could tell we weren't all sure we were doing the right things. But the longer you stick with the same guys, you know what that other guy is going to do."
The current Cardinals aren't likely to last as long as the Hogs. Young Lyle Sendlein waits behind Johnson. Gandy's salary cap number is more than $6 million. Lutui must keep improving.
"You like to keep as many core guys intact as you can," Wells said. "Is it ever possible to keep all of them? Rarely.  But we feel we have a fairly young group.
"The more guys you keep together the better."
This article has been reproduced in a new format and may be missing content or contain faulty links. Please use the Contact Us link in our site footer to report an issue.