Cardinals wide receiver Larry Fitzgerald answers a question during the Visa "Financial Football" press conference Monday at the Super Bowl media center.
It was apropos Monday to have Larry Fitzgerald taking part in a Visa-sponsored Super Bowl press conference about a video game built to teach high school students about fiscal responsibility.
The Cardinals' Pro Bowl wide receiver has long been a player who is careful to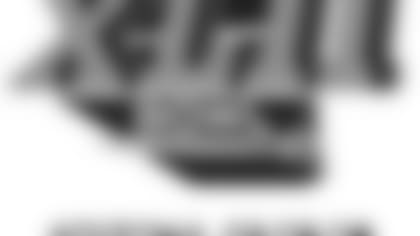 save his money. And more importantly, money is the most important storyline surrounding Fitzgerald this offseason, while the Cardinals and he attempt to restructure his soon-to-be lopsided contract.
Cardinals general manager Rod Graves said Monday morning that he and Fitzgerald's agent, Eugene Parker, have been working on a resolution. Fitzgerald, meanwhile, said he hasn't heard anything of note.
"Hopefully we can get something done," said Fitzgerald, whose salary is scheduled to be almost $15 million in 2008. "We are working on it now. I want to be a Cardinal."
Fitzgerald was asked about the trade talk that has come up on a national basis. Fitzgerald said he has not talked to the organization about any such scenario.
"I have not talked to them about trades or anything, but I want to be a Cardinal, I enjoy it here, I love my teammates and I love playing for the Bidwills," Fitzgerald said.
This Super Bowl ties into Fitzgerald multiple ways. Not only does he play for the "host" team, but his receiving mentors growing up when Fitzgerald was a ballboy for the Minnesota Vikings each have a role this week. Randy Moss is now starring for the Patriots, while Cris Carter is eligible to be voted into the Hall of Fame.
Fitzgerald was also able to stay with the financial theme with those memories too. Moss used to give Fitzgerald $100 to wash his BMW and "let me drive it around before I had my license." Carter, meanwhile, would fly Fitzgerald to his Florida home each summer to have Fitzgerald train with him.
"They definitely taught me a lot," Fitzgerald said.
Those days as a ballboy were the basis of Fitzgerald's brief trip down memory lane. It was his first job, and he said he wanted to spend his money as soon as he got it.
His father told him he should probably think differently. That's a lesson Fitzgerald clearly took and made his own.
"I try to put my money away," Fitzgerald said. "This business is so hard on the body, you never know when your last play is going to be."