The Cardinals practice on the new artificial turf of Walkup Skydome Saturday.
FLAGSTAFF -- The Cardinals had just one full practice scheduled Saturday, and a year ago, it would have been wasted.
Rain forced the Cards inside Walkup Skydome, where the once ancient AstroTurf was replaced this summer with a new, softer turf. This year, the practice could go on basically according to plan.
"We didn't lose a day," coach Ken Whisenhunt said. "We got a lot accomplished."
The players admittedly weren't all that sad in years past to just have a walk-
[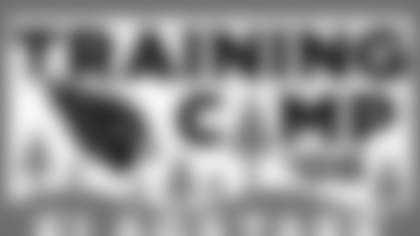 ](http://www.azcardinals.com/news/training_camp.php)
"It is so much better on the knees and the hips and the feet," linebacker Karlos Dansby said. "I am glad they brought the turf in and give us a chance to get some work in."
One player who still had mixed emotions was backup running back Marcel Shipp, who suffered a devastating and season-ending broken leg and dislocated ankle on the old turf in 2004.
"It's better than the other turf," Shipp said. "But I am still real … overprotective of myself on this stuff. I felt good, but I am always under control, put it like that."
He signed his contract Friday night, arrived in Flagstaff Saturday morning, and then first-round pick Dominique Rodgers-Cromartie took part in his first practice in the afternoon.
"The altitude made it kind of hard to breathe, especially with all these pads on," Rodgers-Cromartie said.
Whisenhunt said he saw some of the flashes that made Rodgers-Cromartie an attractive pick. On one play, Rodgers-Cromartie used his speed to break on receiver Ahmad Merritt and then his impressive body control to leap and reach around Merritt to break up a pass without hitting the wideout.
"I've just got to get the playbook back in my head," Rodgers-Cromartie said. "For two months we've been in the weight program (and I) kind of forgot some of it."
In case anyone had forgotten the impact strong safety Adrian Wilson can have, he was on display Saturday. On one play he moved up to make a nice pass breakup on tight end Ben Patrick. But the play that had everyone buzzing was when Wilson smashed running back J.J. Arrington with his shoulder during a 9-on-7 drill, sending Arrington to the turf with Wilson standing over him.
Wilson has declined multiple interview requests, including Saturday afternoon. But Whisenhunt noticed.
"You don't want to get guys hurt," Whisenhunt said. "(But) I don't think there was any malice intended. Adrian is certainly excited about getting back to playing football. It's great to see him out here. A healthy Adrian Wilson is certainly a benefit to our defense."
Receiver Anquan Boldin came out of practice with what the Cardinals initially thought was a cramp but turned out to be a slight hamstring strain. Cornerback Marcus Brown suffered the same injury. Neither are expected to be serious. * * * Contact Darren Urban at askdarren@cardinals.nfl.net. Posted 7/26/08.
This article has been reproduced in a new format and may be missing content or contain faulty links. Please use the Contact Us link in our site footer to report an issue.