Cardinals starting running back Edgerrin James turns 30 Friday but believes it won't affect his production in 2008.
FLAGSTAFF -- Edgerrin James turns 30 Friday.
A youthful number for most, it's a dangerous proposition for an NFL running back.
Edge hears that notion and laughs.
"That's like a cliché," James said, laughing. "I don't think that applies to me. After all I've done, the way I take care of my body, I'm not even concerned with it. Some guys, they haven't even played as long as I have and they are missing practices, not able to play every game.
"Even in the situation I have been in the last couple years, I have been out there for every practice, played every game. I know once our team gets better, it'll be better for myself."
There has to be a certain comfort level the Cardinals have with James. With Edge's 30th approaching, there was much talk the Cards would take a running back in the first couple rounds of the draft.
James needed an heir, the conventional wisdom went. The Cards also needed
[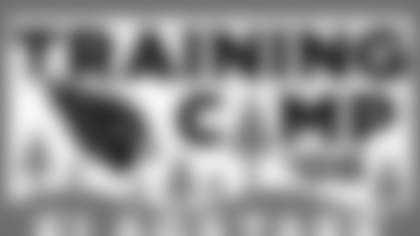 ](http://www.azcardinals.com/news/training_camp.php)
some speed James couldn't give them.
The draft did net a running back. But Tim Hightower wasn't selected until the fifth round, and he certainly wasn't someone who was going to challenge for James' starting spot.
The age issue is something coaches consider with every player, offensive coordinator Todd Haley said, especially when the staff is reviewing and ranking its roster after a season just completed.
For older players, the question is whether there was a drop-off as the season went on. But if it was a big problem with James, a move would have been made to get more help. Instead, the coaches haven't shown any concern about riding James going forward.
"I am excited to see how Edge does," coach Ken Whisenhunt said. "After 1,200 yards last season, which is a good season, hopefully he'll do a little better this year."
During Saturday's practice, Haley said he saw James make a run that he hadn't seen in two years.
"He made a cut and burst through the hole and I was like, 'Whoa,' " Haley said. "It was exciting stuff."
The Cards also expect to make James more effective by using more zone-blocking schemes, which James thrives within better than the power-blocking look with which the Cards began 2007.
James smiled when asked about the scheme though, saying "I don't want to get ahead of ourselves."
"I'll believe it when I have seen it," James said. "One thing I have learned (in Arizona), don't get frustrated. Because you can get frustrated."
Age won't rob James of his honesty and blunt talk. He wasn't happy with his 1,222 yards rushing last season, believing he should be gaining more.
That's in part because there is history to consider. James' 2007 season produced the highest rushing total for a Cardinals' running back since the franchise moved to Arizona – and just matching the total again would shoot James from 13th on the NFL's all-time rushing list to seventh.
Edge would pass up stars Thurman Thomas, Franco Harris, Marcus Allen, Marshall Faulk, Jim Brown and Tony Dorsett – and all but Faulk (who is not yet eligible) are in the Hall of Fame.
"I am aware of where I am at because that was one of the things that was important to me when I came into this game," James said. "I wanted to play for a long time and be productive for a long time. When it is all said and done, I can say this is where I am with the all-time greats playing this game."
Rising much further up the list would take a few more years of 1,000-yard seasons. Those are the numbers with which James wants to be associated – not birthdays.
"I still feel good and I am still interested in (the game)," James said. "I will be one of the top guys, no doubt. I'm not worried about that."
Receiver Anquan Boldin and cornerback Marcus Brown each sat out practice with sore hamstrings. Whisenhunt said both were day-to-day, but the team did not want to push them – especially Boldin – and have either get re-injured. …
Quarterback Kurt Warner took snaps with the first team Sunday, although Whisenhunt said it was in an effort to get Warner some work with the starters. The Cards did the same in the offseason. Leinart remains No. 1 on the depth chart.
This article has been reproduced in a new format and may be missing content or contain faulty links. Please use the Contact Us link in our site footer to report an issue.