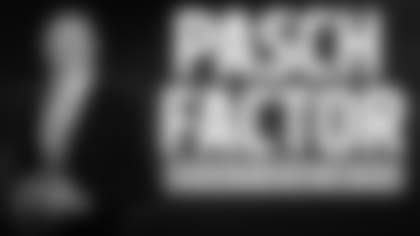 Since we've reached December, I thought it would be a good time to update my award winners for the Cardinals and the NFL. Let's see if these hold up through the next four weeks!
Larry Fitzgerald. Fitz again has defied his age, leading the NFC in receptions with 82. He's only six catches behind the league leader, Antonio Brown, despite being targeted 26 fewer times. In a season where the Cardinals have been marred by injuries, Fitzgerald remains available to play every Sunday. Like every Cardinal fan, I hope Fitz decides to return for a 15th season. However, with so much uncertainty heading into the off-season, I wouldn't be surprised if Larry retired. I don't think anyone knows for sure at this point, perhaps even Fitz himself. The good news is that if Larry decides to play in 2018, and perhaps beyond, it will be in Arizona. When his career does come to a close, he will go down as arguably the greatest professional sports figure in the history of the state.
Others considered: Chandler Jones, Patrick Peterson
Russell Wilson. The Seattle Seahawks are 8-4, and Wilson is the biggest reason why. Their defense is still good, but injuries have hit them hard in the secondary. Wilson has been the
strength of a mediocre offense, throwing 26 touchdown passes, and only 8 interceptions. Plus, he saves his best for the biggest games. He was remarkable against Philadelphia last Sunday, turning in a quarterback rating of 118. I don't actually think Wilson WILL win the MVP award, but I think he SHOULD. No player in the NFL in 2017 has been more valuable to his team than Russell Wilson.
Others considered: Tom Brady, Carson Wentz, Antonio Brown, Drew Brees
Minnesota Vikings. With the Eagles losing last week, I am moving Minnesota to the top spot. Rick Spielman and Mike Zimmer have done an incredible job assembling and coaching this group to a 10-2 record, including an 8 game win streak. Minnesota is doing this with a third string quarterback in Case Keenum, and wide receiver Adam Thielen, who went undrafted in 2014 out of Minnesota State. The Vikings are number two in scoring defense and total defense, despite only having 14 takeaways, which is among the lowest in the league. I don't think the Vikings will win the Super Bowl, but right now, they're the best team.
Others considered: New England, Philadelphia, Pittsburgh, LA Rams
Sean McVay. Despite being the youngest head coach in modern NFL history at age 31, McVay has transformed the L.A. Rams into a contender. The turnaround reminds me of when Jim Harbaugh took over the San Francisco 49ers a decade ago. The Rams are for real, and McVay deserves all the accolades for making them the team to beat in the NFC West.
Others considered: Doug Pederson, Mike Zimmer