Isaiah Jackson, who grew up in Chandler when Pat Tillman was playing for the Cardinals, was just finishing up the Tillman biography "Where Men Win Glory" in his office at West Virginia State when he found himself looking out the window.
Construction had made a mess of things in the offseason, but in the heat of the summer, Jackson – then the linebackers coach at the school -- saw one of his players, Dennis Gardeck, by himself on the dirt track around the stadium, working out.
Jackson couldn't help but see a parallel to Tillman, in some ways, quite literally.
"Heart over everything else," Jackson said.
As the Cardinals go into their final preseason game Thursday against Denver, Gardeck – an undrafted rookie linebacker out of Sioux Falls, where he played his final year after transferring from West Virginia State – is among those fighting for a roster spot. He has made inroads with his special teams play, including a fumble recovery on a muffed punt last week in Dallas, and coach Steve Wilks complimented Gardeck's physical play and effort.
What Gardeck needs to show is consistency and things like commanding the huddle on defense, Wilks added, and "he's going to have plenty of opportunities Thursday to do that."
Gardeck's play will be what ultimately decides if he will be a Cardinal. But to see Gardeck flashing to the ball, his long hair falling out of his helmet in a Tillman-esque echo of the former safety's early years, the eyes through the facemask looking so similar to Tillman, it seems natural to have Gardeck in a Cardinals uniform.
"That's an honor to even be considered in the same sentence as Pat Tillman," Gardeck said. "He just willed his way into the NFL, and that's something I'm looking to do."
Jackson gave his Tillman book to Gardeck once he was finished, and it wasn't the only Tillman tome Gardeck consumed. "I really got into Pat," said Gardeck, a man who once played some defensive line in college at only 190 pounds. Tillman's scrappy play on the field "really resonated with me."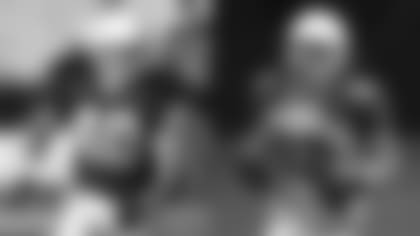 It did too with Jackson, who played football at Chandler High School and was once given by his mother a Tillman jersey – which then hung in his office as a college coach.
"We kind of connected on (Tillman)," said Jackson, now coaching at UC Davis and a college roommate of Cardinals scout Glen Fox.
Gardeck earned Jackson's respect otherwise. Gardeck starred on the field at West Virginia State, and once he planned to play his final year as a graduate transfer, Jackson tried to get him to UC Davis. It didn't work out, and while Gardeck ended up at Sioux Falls, Jackson tried also to get him to his alma mater, South Dakota State.
At least Gardeck was able to participate in SDSU's pro day, which simultaneously got him on the NFL's radar and made SDSU coaches tell Jackson they lamented the fact they hadn't brought Gardeck in as a senior.
Still, Gardeck playing in the NFL was a longshot. Without an agent, he found himself training in Phoenix before the draft alongside his older brother, Ian, a pitcher in the San Francisco Giants organization coming off major arm injuries. With Ian footing the bill, Gardeck simply hoped for a chance.
Coincidentally, the Cardinals gave him one, his locker now mere feet away from the one that still stands for Tillman within the team's facility.
"I have a picture on my phone of the preserved locker," Gardeck said. "It gives me goosebumps every time I walk by."
Gardeck doesn't want the possibility of being on an NFL team to deter that focus. The first time he set foot on an NFL field was for the Cardinals' conditioning test at the outset of training camp. He said there were more people at the Cardinals' initial training camp practice July 28 than any game he played in college.
In college, Jackson would move Gardeck from position to position, and each time Gardeck used affirmation techniques to hone in on his job. Jackson said if he moved him to the "Mike" position, Gardeck would repeat, "I am Mike." Moved to the "Will?" "I am Will."
When the Cardinals signed him? "I am an NFL linebacker."
Gardeck brushes aside any "bubble boy" talk. It isn't that he doesn't understand his position – to the contrary, Jackson said nobody is more honest with himself than Gardeck – but that he doesn't want to be distracted by thinking where he might fit on the roster, or even if he might make the team.
Of the players he has coached, Jackson said Gardeck would have been the pick to at least reach an offseason roster. "But to be where he's at … to be honest, no," Jackson said. "I can't say I pictured that."
Maybe, though, the parallel to Tillman will last a little bit longer.