Cardinals running back Tim Hightower turns the corner to score his touchdown in Thursday night's preseason opener against the Saints.
Tim Hightower was talking to a couple of reporters after Thursday night's preseason opener and mentioning how running backs coach Maurice Carthon wouldn't be taking it easy on him despite what looked like a successful debut.
Coincidentally, Carthon walked through the locker room at that point. Spying Hightower holding court, Carthon said just loud enough to be heard, "As an old coach used to tell me, don't be putting him in Canton yet."
The Cardinals' rookie running back isn't close to the Hall of Fame. He may not be
[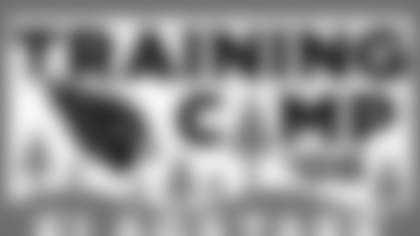 ](http://www.azcardinals.com/news/training_camp.php)
that close to starting in the NFL. After his debut of 23 yards on five carries – which included a touchdown – Hightower is close to validating the fifth-round pick the team spent on him.
Yet Carthon – whose old coach was Bill Parcells -- preaches patience, especially to his new charge.
"This game can change quickly and people change quick, the fans (change), as soon as you make a mistake," Carthon said. "I have learned that from coaches who have coached me and whom I have coached with, and I try to remind guys of that."
Edgerrin James remains the team's top back. The draft was supposed to provide James' heir apparent sometime in the first couple of rounds.
When Hightower was taken, out of small school Richmond, it felt like an afterthought. Instead, after an impressive training camp and first game, Hightower looks like a guy who may just be able to take over for James.
He already seems to have taken control of the backup running back job, a notion underscored when the Cards were willing to release Marcel Shipp earlier this week.
Hightower won't proclaim himself great. He was raised by a father who repeated often that his son needed to believe he was the best, "not out of cockiness but (so) you'll work hard and get better every day."
"I always have a chip on my shoulder," Hightower said. "I never want to think I have arrived. Regardless whether (people) say I have arrived or they say I did terrible, there is always something I take upon myself to get better. I want them to see this is a dependable guy, a hard worker who is a winner and will do whatever it takes to win."
What it will take is Hightower's apparent work ethic. He said he has already benefitted from having James around, getting advice about things like taking care of his body and studying film.
The first thing Hightower wanted to talk about after the Saints' game wasn't his touchdown but when he whiffed a block on blitzing linebacker William Kershaw. Kershaw easily went around Hightower and sacked quarterback Brian St. Pierre on the final play of the third quarter.
The sack "is not acceptable," Hightower said. "I don't like to lose, I don't like mediocrity, and that's just something that I have to learn as a young running back."
Carthon said the missed block will "haunt" Hightower until he can work on the problem in practice.
"He's a guy that wants to get it right," coach Ken Whisenhunt said. "Some of the better players that I have been around in the league seem to have that quality."
Hightower had trouble waiting last week for the first preseason game, anxious to play as each day slowly slid by. He talked to his parents, who helped him realize he was better off taking a deep breath and relaxing.
The game would eventually come. So too should Hightower's success. He sees no reason to rush it.
"As far as my future, I don't want to get ahead of myself," Hightower said. "I am sticking with one day at a time."
This article has been reproduced in a new format and may be missing content or contain faulty links. Please use the Contact Us link in our site footer to report an issue.