First-round pick Dominique Rodgers-Cromartie meets the media prior to his first training camp practice Saturday. Rodgers-Cromartie signed a six-year deal.
FLAGSTAFF -- The two-hour-plus ride from Tempe to Flagstaff Saturday was done, in Dominique Rodgers-Cromartie's words, "complete silence."
It was nebulous on whom to place the blame. Rodgers-Cromartie said he expected the driver, Cardinals' football administrator Justin Casey, to put on the radio at some point. Casey said he was pretty tired – he was in the office until almost 1 a.m. helping complete the contract of the Cards' No. 1 draft choice, and then was up at 5 a.m. to go pick up Rodgers-Cromartie for his physical – and besides, he expected Rodgers-Cromartie to fall asleep.
In lieu of noise, the cornerback instead mulled his journey – not from Phoenix to training camp, but from late-blooming high school player to small college player to rich NFL player.
"It gave me time to think about what I've got to do and the work I've got to put in and the things I overcame to get here," Rodgers-Cromartie said.
To make room for Rodgers-Cromartie on the roster, the Cards released running back Chris Vincent.
Financial details of the six-year contract were not disclosed, but based on the No.
[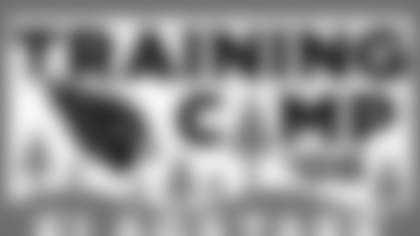 ](http://www.azcardinals.com/news/training_camp.php)
 16 overall pick from 2007 – Green Bay defensive lineman Justin Harrell – Rodgers-Cromartie stands to have a contract worth more than $15 million with guaranteed money north of $8 million.
General manager Rod Graves also said Saturday that the sixth year of the contract is voidable by the player, making it essentially a five-year pact.
The money, for the time being, isn't an issue for Rodgers-Cromartie. He isn't sure what he's going to do with his payday. He might fix up the 1985 Monte Carlo he's been driving the past few years – Rodgers-Cromartie called it a "garage-sitter" – and then buy another car. He wasn't specific, but he told his hometown newspaper it might be a "Cadillac truck."
"I'll see if I can get some ideas (how to spend) in the next few days," Rodgers-Cromartie said.
To say the arrival has been a whirlwind for Rodgers-Cromartie isn't exactly accurate. He admitted he's had his bags packed "for two weeks" waiting to hear he had agreed to terms. He was sleeping when the deal finally got done, missing six calls and text messages from agent Eugene Parker telling him "it's time to go to work."
Rodgers-Cromartie bounced out the door at his home in Nashville once he realized it was time, getting to the airport four hours in advance of his flight.
He arrived in Flagstaff to pass his conditioning test and take part in his first practice Saturday afternoon, thankful he only missed two workouts.
"Right now, we're still doing things we did in OTAs and he was there for that," defensive backs coach Teryl Austin said. "He's a pretty bright kid. He'll have to adjust to the speed but I don't see any problems."
Rodgers-Cromartie will work behind starters Rod Hood and Eric Green, a spot with which he has no problem. Starting this season, he said, would be "cool" but not an immediate goal.
Fitting in and making a contribution is his first priority. His pedigree at Tennessee State seemed to say Rodgers- Cromartie's learning curve might make that a more difficult process, but both the player and his position coach disagree.
"If you play ball, you play ball," Austin said. "Doesn't matter where you play. It doesn't matter who you play against if you play well and do the things you are supposed to do. I don't worry about that. I worry about what he does on tape."
Said Rodgers-Cromartie, "The only difference is you get that elite competition every week. Not (where) some weeks you have a good receiver and other weeks you can relax."
Getting focused for camp was a theme Rodgers-Cromartie mentioned a couple of times.
Maybe that was the benefit of a quiet ride up I-17.
"The main thing I thought about," he said, "was getting in and doing my work."
This article has been reproduced in a new format and may be missing content or contain faulty links. Please use the Contact Us link in our site footer to report an issue.