Cardinals running back Edgerrin James wears a big smile during his team's Wild Card playoff win over Atlanta last weekend.
Asked again about bringing back Edgerrin James to be the Cardinals' main runner after eight weeks of near inactivity, coach Ken Whisenhunt responded in his best deadpan.
"It was planned all along," Whisenhunt said. "We knew if we gave him a couple of weeks off he'd be ready to go at the end of the season."
Whisenhunt was joking. What he wasn't joking about was that he thought all along the team may have to turn back to James once the playoffs arrive. James, while getting just 11 carries in eight games, was hoping the same thing.
"I got some adversity," James said. "Did I deserve adversity? No, I'll never agree with that. But the thing about it is, this is where I am at, this is what I signed up for. You sign up with an NFL team, you take the good with the bad.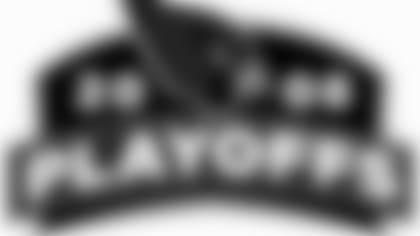 "If it got to the point where I couldn't play, I would've just gone home. I would have said, '(Expletive) it, I ain't gonna play.' But it didn't get to that point. I love to play the game and I'm not going to be somebody who is the sore loser. I want to be somebody that regardless of how things went, I want to try and man up and stand there and not pout about things."
His teammates say they aren't surprised with James' resurgence -- "He never went in the tank on us," wide receiver Larry Fitzgerald said – and the Carolina Panthers host the Cardinals Saturday knowing their opponent suddenly has some balance.
"Once you get a team like Arizona, that throws as well as they do, to add a running game to it, makes it almost unstoppable," Carolina linebacker Thomas Davis told the Rock Hill Herald.
James, after gaining 100 yards on 14 carries in the season finale against Seattle, gained 73 on 16 carries against Atlanta in the Wild Card round. They were not gaudy numbers but obviously effective.
James insists he didn't need a break to stay fresh. Turning 30 before the season, James said he took a different approach with his always demanding offseason training, focusing more on his lower body and lifting heavier to prepare his legs.
Whisenhunt said the Cardinals still like the future of former starter and rookie Tim Hightower. But it's clear James are the main legs for the Arizona running game for the duration of the postseason.
"Growing up, nothing was ever given to me, you always had to earn everything that was given," James said. "So I wasn't going to take that approach and turn into a different person all of sudden, where I was used to everything being given to me. I just kept working. You do the right things and everything will always end up the right way."
Another practice, another day of rest for wide receiver Anquan Boldin and his injured hamstring. Boldin said there was no change in his status from Wednesday and that he was still wait-and-see.
Whisenhunt said the fact Boldin was unable to practice for the week mirrored the same situation safety Adrian Wilson was in after Wilson nursed a bad hamstring before the Buffalo game. Wilson still played in certain packages, and delivered a knockout blow to Bills quarterback Trent Edwards early in the game.
"There are a lot of things you can use Anquan in that would be welcome," Whisenhunt said.
The Cardinals want Boldin to play. But they also can gain a little confidence knowing they are 3-1 in games he has missed this season.
"No matter when it is, if we have him for the whole game, half the game, a quarter of the game, whatever, any time '81' is on the field he will be a threat to make big plays," Fitzgerald said. "But we have experience with him being out. Steve (Breaston) and Early (Doucet) have stepped up this season."
When the Cardinals released punter Dirk Johnson in favor of Ben Graham, Whisenhunt said the team needed to improve at the spot because it would be crucial in the playoffs.
So it wasn't a surprise Whisenhunt was pleased with Graham's performance against the Falcons last week. On six punts, Graham dropped three inside the Atlanta 10-yard line and one at the Atlanta 16. One kick led directly to Antonio Smith's sack for a safety.
"That's my role in this team. It doesn't change," Graham said. "That was my philosophy when I came here, was to help the team win with good field position and it was an important part of the (Falcons') game and it will be an important part of the game this week."
Whisenhunt said he was "optimistic" about defensive end Travis LaBoy (ankle) being available to play Saturday, and tight end Leonard Pope (knee) continued to practice fully. Tight end Ben Patrick (knee) sat out again.
Teams don't have to put out official designations for their injured players until Friday.
For the Panthers, starting guard Geoff Hangartner (ankle) was the only player to be limited, and that was an upgrade after sitting out the first two practices of the week.