A spirited spiking of the football by Anquan Boldin would be fine, but the Cardinals don't want to let their emotions overwhelm them against Atlanta.
In the NFL since 2001, Adrian Wilson hasn't been to the playoffs yet.
The Cardinals' Pro Bowl safety wants to believe he will react well, that when he walks out on the field for warm-ups before the game, he'll spy the NFL's Wild Card Weekend logo painted on the grass and understand what is at stake and that "it's time to grind."
But Wilson would be disingenuous if he said for sure that will happen.
"I don't know if I will be prepared for the excitement," Wilson said. "It will be hard
When: Saturday, 2:30 p.m.
Where: University of Phoenix Stadium
TV: NBC (Ch. 12)
Radio: News/Talk 92.3 FM and Sports 620 KTAR (pregame at 11 a.m.)
The Cardinals host the Atlanta Falcons Saturday in the team's first playoff game since 1998 and the franchise's first home postseason game since 1947. A good chunk of the roster is used to seeing the season end after the regular-season finale.
Even coach Ken Whisenhunt, in describing the energy of a playoff game, said it was like playing on "Monday Night Football" multiplied by 10.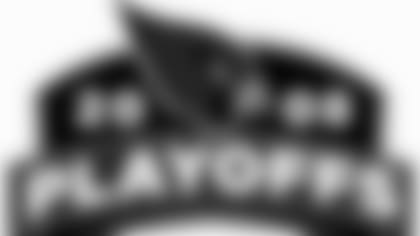 How the Cardinals can handle that will be a major factor in how they play.
"Obviously, you have to rein those emotions in," Whisenhunt said. "What we have done this year, which has gotten us into trouble at times, is guys get so geared up to make a play that they lose their discipline."
The Cardinals want to use the emotional edge they will gain in having home-field advantage. The Cards have won 12 of 16 home games the past two years and the players, especially on defense, thrive on the electricity.
Offensively, the unit should benefit on the experience of quarterback Kurt Warner and, apparently, running back Edgerrin James, who is playing again after a sparse role the second half of the season. Whisenhunt called Warner a "calming influence," and James said the duo can definitely help in the huddle.
"It's just like if you are on an airplane and you see the flight attendants shaking, you're like, 'What the (expletive)?' Everybody gets scared," James said with a grin. "Anytime you are in the air and the plane gets to shaking and the flight attendants remain calm and they are still handing out the peanuts, I know that keeps me calm. I would compare it to that."
James said the Cardinals have to avoid overthinking the situation and not waste their energy.
"You want to warn all the guys, 'Don't come in three hours before the game getting hyped early,' " James said. "You need that energy you wasted. We will need that in the fourth quarter. In the playoffs it's going to come down to the fourth quarter. No one is going to pack it in. No one is going to give up."
The Falcons aren't exactly a roster stocked with playoff experience either, and one key position – quarterback, with Matt Ryan – is manned with a rookie.
But Atlanta can lean on a stellar running game, which makes it easier to deal with jitters. That's why Wilson and the defense must dance between being psyched and being sound.
"If you get overly hyped, there is a chance you will miss something," Wilson said. "That's something you want to protect yourself against, make sure you are on your 'P's' and 'Q's,' playing at a high level."
The Cardinals have four players listed as questionable for Saturday's game: DE Travis LaBoy (ankle), WR Anquan Boldin (shoulder), DT Gabe Watson (knee) and TE Leonard Pope (knee). All are expected to play.
This article has been reproduced in a new format and may be missing content or contain faulty links. Please use the Contact Us link in our site footer to report an issue.