Jonathan Gannon had played all the sports once upon a time, great schoolboy athlete that he was, earning a reputation in basketball and even his less-preferred track.
But as the Cardinals' new head coach wrapped up his introductory press conference on Thursday at the Dignity Health Training Center, he made clear why football was his passion.
"There is nothing like running out of the tunnel," Gannon said, with Cardinals players who were sitting in the front row nodding their heads in agreement. "There's really not. These guys know that. Not too many things in this world that can get your emotions and your adrenaline pumping like a football game does.
"And the process that needs to take place for you to give yourself a chance to win a game, just awesome."
The players watching Gannon – among them, quarterback Kyler Murray, tackle D.J. Humphries, tight end Zach Ertz, running back James Conner, cornerback Byron Murphy and wide receiver Rondale Moore – got a sense of what GM Monti Ossenfort and owner Michael Bidwill liked in the interview process with Gannon: A high-energy, knows-what-he-wants coach who figures to attack his job the same way he attacked his first public words about his new position.
"We're going to be very adaptable, we're going to be violent, we're going to be explosive, and we're going to be smart," Gannon said. "We're are going to maximize the talents of the players that we have, and that's how we're going to win games.
"And don't get it twisted – we're going to win games."
Staff-building started already, with Gannon beginning interviews with existing Cardinals coaches and reportedly putting in for interviews with Browns quarterbacks coach Drew Petzing, Saints running backs coach Joel Thomas and Commanders wide receivers coach Drew Terrell for the offensive coordinator spot.
Gannon is a defensive coach, but whether he calls plays will be based on who he hires as a defensive staff.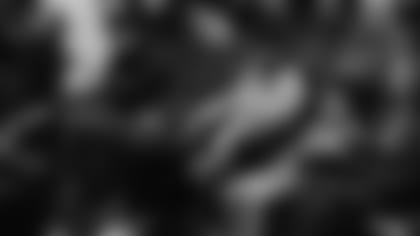 "I don't believe in a scheme, I believe in putting players we have in positions to be successful," Gannon said. "We will look different week to week."
When Ossenfort interviewed for GM jobs a year ago, he was asked what candidates he would want to hire as a head coach, and while he had a ready list, he realized he didn't have a personal connection with them. So he set out to meet some of those who were on his list, and his meeting with Gannon left him impressed.
While Ossenfort knew he wanted to interview Gannon, the rules prohibited it until Eagles were done and Bidwill didn't want to distract any candidates with a request either. Gannon said he didn't know he would interview with the Cardinals until Eagles GM Howie Roseman brought it up after the Super Bowl loss.
"Our process led us to Jonathan," Ossenfort said. "Jonathan's energy when he entered our room, it was non-stop from the beginning. It was even more impressive coming off the Super Bowl (loss) just hours before."
For Bidwill, Gannon's plan to get Murray back on track at quarterback also stood out.
"He came in with a vision and plan aligned with where we wanted to be," Bidwill said.
Ertz has been with Gannon before. Ertz spent an offseason, training camp and half a season with the Eagles with Gannon on staff before Ertz was dealt to the Cardinals. Gannon was an "unbelievable leader" who had the backing of the Philly defensive players, Ertz said.
That last half-season in Philadelphia wasn't an easy time for Ertz, knowing it would be his last year there, but he said Gannon was "consistently reaching out to me, connecting with me."
Thursday was also important to hear from Gannon, for Ertz and the other players there.
"This was the first chance he had to talk to the organization and to the players about what the standards are going to be. I wanted to be here to hear it from here," Ertz said. "He's really setting the tone. It's awesome to be a player in this organization right now."
There are always challenges to a job, Gannon said, including every one he's ever been in – and he noted, he's always succeeded.
He doesn't see this any differently. He's "never worked" since he gets to coach football, and he believes in what he's doing.
"I've never going to put a ceiling or a floor on any roster or player that is under my watch," Gannon said. "I know there is work to be done, but I like the core pieces here."