Antrel Rolle (21) returns to Washington with a new position and with the memories of friend and former Redskin Sean Taylor
A year ago when the Cardinals traveled to Washington, life was much different for Antrel Rolle.
He was the Cards' nickel cornerback, having been demoted as a starter in training camp. But when his team faced the Redskins, he had a chance to see his childhood friend, Redskins free safety Sean Taylor – who, like Rolle, wore jersey No. 21.
The Cards return to Washington this weekend. Rolle is a starter again, playing the same free safety position that his buddy Taylor turned into a Pro Bowl art form. But Taylor won't be there, having been murdered during a home invasion just a few weeks after the Cards and Redskins played in 2007.
"It's not weird, it's just that I know I'm not going to see my friend anymore," Rolle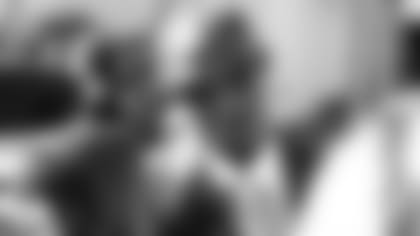 said. "He is watching over us, watching the Redskins, watching myself and wishing both teams the best."
Whether Rolle can ever turn into the quality of safety Taylor had become remains to be seen. His time at free safety is still a work in progress.
Coach Ken Whisenhunt said he has been concerned about Rolle's situation from the preseason because of a lack of work – Rolle sprained his ankle late in the preseason opener returning a punt, curtailing his practice and game time.
Because of that, "there will be a little bit more of a learning curve or an adjustment period," Whisenhunt said. "But some of the things he has done already leads me to believe he will be a very good player there for us."
The Cardinals trust Rolle enough to keep him as the slot cornerback in some nickel packages, and Whisenhunt said the Rolle's intelligence will make sure he doesn't fall behind in his safety education despite playing a second position.
Rolle said he is trying to learn not only from coaches but also strong safety Adrian Wilson.
"As long as we're on the same page, it'll be all right," said Rolle, who is second on the team through two games with 12 tackles and has a pair of passes defensed.
Whisenhunt said teaching Rolle does not include having the former first-round pick emulate other safeties, but Rolle said he takes the time to study some of them anyway.
"I try to steal bits and pieces from all of them," Rolle said.
Wilson is an obvious one. Rolle said he looks at the Colts' Bob Sanders and the Vikings' Darren Sharper.
And, of course, he pays attention to what Taylor used to do.
When Taylor was killed, Rolle returned to practice on just two hours sleep over two days dealing with the tragedy. At the time, Wilson and cornerback Eric Green were each ruled out for the season because of injuries, and besides, Rolle said at the time, Taylor would "want me to go out and represent him."
Rolle did, wearing his No. 21. A few days later, Rolle attended Taylor's funeral. And now, Rolle is playing the same spot on the field.
"I am pretty sure he figured I'd be back there (at safety)," Rolle said. "I miss him dearly. I wish I could be playing against him. But we have to move forward." * * * Contact Darren Urban at askdarren@cardinals.nfl.net. Posted 9/17/08.
This article has been reproduced in a new format and may be missing content or contain faulty links. Please use the Contact Us link in our site footer to report an issue.