There have been times – not many, mind you – when Shawn Jefferson has reverted back to his playing days as an NFL wide receiver, pulling on the pads at a practice to teach his players something they don't seem to be understanding.
It happened in Miami, when his guys weren't completely figuring out what Jefferson wanted when blocking in the run game. Jefferson knew he had to come up with a way for his point to be made.
"If I'm doing that," the Cardinals' new wide receivers coach acknowledged Tuesday, "we've gotten to an extreme situation."
Putting on pads for coach who hasn't played since 2003 might not be the first choice, but Jefferson – hired to replace David Raih in an effort to boost the improvement of young receivers like Andy Isabella and Christian Kirk – approaches the job knowing that when it comes to the redundancy of teaching technique and route-running "every day is a challenge to go home and find creative ways to do things."
Sometimes that means donning the pads.
"You have to find a way to connect with these guys more than anything," Jefferson said. "You have to be a little more intentional with these guys. You have to get on their level. You have to find a way to get on their level without compromising my values and my fundamentals and my attention to detail."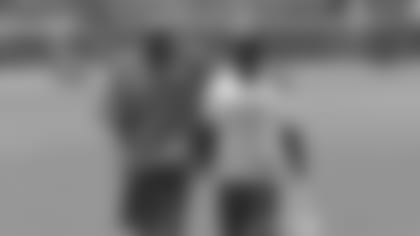 Jefferson is in his 16th season as an NFL assistant, having spent the last two seasons with the Jets and the previous three seasons before that in Miami. It's early in the process, but when it comes to the wide receivers currently on the Cardinals' roster:
-- Jefferson said he has been spending most of his early time breaking down video on potential free-agent wide receivers the Cardinals could potentially target, so he is just getting to the evaluation of players like Isabella, Kirk and KeeSean Johnson.
"This team has talent, Isabella has talent, KeeSean as well," Jefferson said. "My job is to come here and to get the most out of both of them."
-- He received a text of congratulations from Larry Fitzgerald when he got the job, but Jefferson said "I have no insight over what he is going to do" in terms of choosing between retirement or playing in 2021.
"I try not to bother guys during this time," Jefferson said. "This kid is the ultimate professional. I look forward to talking with him."
It was funny to hear the soon-to-be 38-year-old Fitzgerald referred to as a kid, however.
-- Jefferson, who once coached new Hall of Famer Calvin Johnson in Detroit, said DeAndre Hopkins is "probably the only one in the league I can compare to Calvin right now, has the skillset Calvin had, playing above the rim and in those competitive situations coming down with the ball." Jefferson also said he had not heard anything about Hopkins and his limited practice time.
-- The ability to see his son, Rams receiver Van Jefferson, twice a season is exciting, but "when we're on that field, I'm going to want to kick his butt," Shawn Jefferson said.
In terms of Jefferson's own young receivers, the uncertainty of the offseason – and whether COVID will prevent on-field work again – is something Jefferson has already considered. Getting face-to-face work with Isabella, Johnson and Kirk specifically is important to Jefferson.
"I certainly hope we do get an offseason and I get a chance to spend some time with these guys on the field, talking about technique and drill work and to get a chance to bond with these guys," Jefferson said. "They get to know me, I get to know them, they know the expectation I have for them, I know the expectation they have for themselves.
"Offseason is the time to set the standard. I think it's critical and I'm hoping the NFL allows us to have that time on the field. If not, I have to be creative in the film study and make it come alive for them so when we do get to the field, that light comes on."