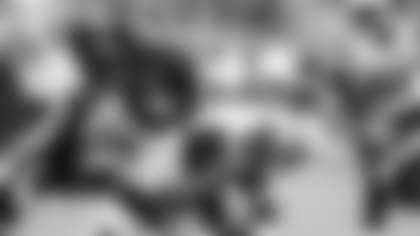 The Cardinal's defense swarms for a tackle during Saturday night's loss to San Diego.

In one quarter, the Cardinals' defense piled up four sacks and held Chargers running back LaDainian Tomlinson to four yards on three carries.
With that, the group took the rest of the night off in the Cards' loss to San Diego, feeling good where they stand at this point in the preseason.
"It was very positive," said defensive end Darnell Dockett, who had one of the sacks. "We made our plays. We let one ball get behind us and we have to find a way to get better pressure and not let that happen.
"We didn't have to do a lot of blitzes. We just wanted to keep it simple, work on our technique and start getting ready for San Francisco (in the season opener)."
Calais Campbell, Bryan Robinson and Karlos Dansby had the other sacks, and Robinson nearly had a second.
"We have the potential to be great," Campbell said. "If we can just keep the team thing going, we will be fine."
Coach Ken Whisenhunt downplayed both the good and bad from his team in the game, but if the starting defense – which has yet to surrender a point in their preseason work – can play like this, it will be hard to overlook.
"We are just trying to be consistent," Dansby said.
With an 89- and 63-yard kickoff return, rookie LaRod Stephens-Howling would seem to have come closer to locking down a roster spot – not that Stephens-Howling is saying such.
"Naw," Stephens-Howling said. "You can't settle here. One at a time, keep improving."
Whisenhunt was measured in his praise.
"We know San Diego is one of the top kickoff coverage teams so it was good to see him do that," Whisenhunt said. "But once again, they are just playing coverage and he got out of a tackle. But it was nice to see him make those plays in a game. He's shown up in practice and you always wonder if he can carry that over to a game. I was pleased to see that."
Wide receiver Early Doucet got his first preseason action after hurting his shoulder, making one catch for four yards and also enduring a huge blow from Chargers safety C.J. Spillman – drawing a 15-yard penalty – that knocked Doucet's helmet off.
"It was one of the those hits where, as an onlooker, you may be a little shocked but for me, it just gave me a little confidence that I could take a hit like that and bounce back," Doucet said.
Doucet said he actually played more than he expected to play. "I felt pretty good and they let me stay in a little longer."
Rookie kick returner Michael Ray Garvin said he was "disappointed" to be sitting out after knee surgery. The procedure was performed Thursday, and Garvin said it was a simple matter of trimming a loose flap of his meniscus and that he was confident he could be back in a couple of weeks.
That said, Garvin admitted he wasn't sure of the effect it would have on him, especially given that speed is his top asset.
Linebacker Cody Brown left the game with a wrist injury – Whisenhunt said he didn't know how badly Brown was hurt – and center Ben Claxton had a thigh injury. Linebacker Pago Togafau left at one point, but he was only suffering from cramps. ...
Also sitting out for the Cardinals were CB Bryant McFadden (ankle), LB Ali Highsmith (ankle), WR Steve Breaston (knee), DT Keilen Dykes (quad) and T Elliot Vallejo (kneecap). RB Beanie Wells dressed but did not play with his sore ankle.